Wellman And Navarro Announce 10 Stop #RESISTour Against Trump
Mike Wellman is a retailer, publisher and writer as well as an outspoken opponent to the current Presidential administration. He and artist Rafael Navarro are taking their Guns A'Blazin' comic on tour… or as they call it #RESISTour… from May 6th to July 23rd, making stops at 10 comic shops and conventions in that time. The tour is to both promote the indie buzzbook and raise money for two charities. 50% of all sales will be donated to the ACLU and a donation jar for Planned Parenthood will be out at their appearances. The amounts will be donated immediately after each signing.
Wellman spoke about the politics behind the tour:
Since Donald Trump took office, just a few short weeks ago, so many important organizations such as Planned Parenthood, the Environmental Protection Agency and so many more it's hard to keep up, have come under assault. This is our way of pushing back against the Trump Administration's regressive policies and xenophobia. We're certainly putting our money where our mouth is on this batch of appearances.
Though they are using their comic to fuel their desire to help the charities and to inspire change, they don't plan to bring politics into the comics itself. Navarro explained:
Knowing our politics, some readers have suggested we incorporate Trump into the story as a major super-villain, but it's our hope that this saga remain timeless while this is nothing more than a four year hiccup for America. This book is and was always meant to be an ESCAPE and we need escapism now more than ever.
The tour kicks off on May 6th, Free Comic Book Day, at the Comic Bug in Manhattan Beach.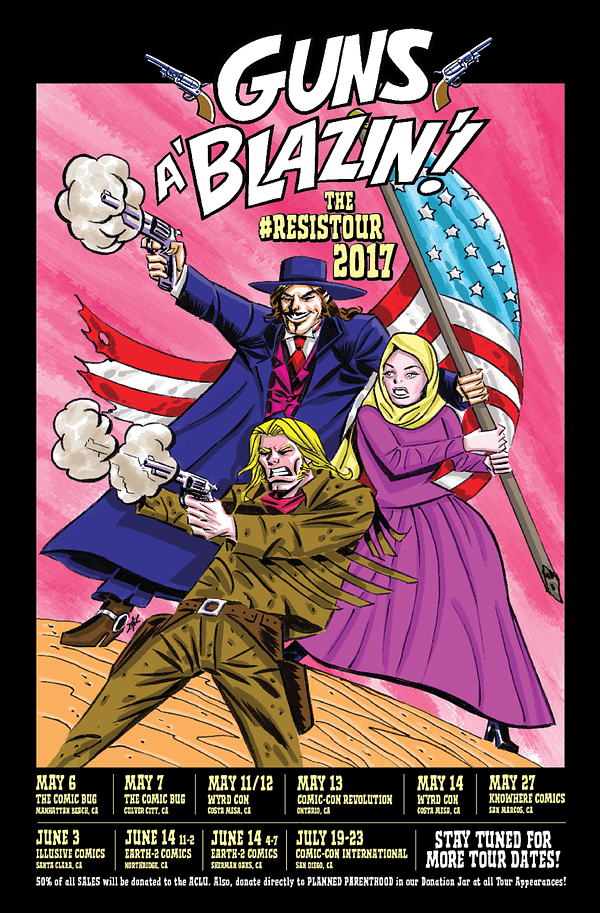 May 6
The Comic Bug
Manhattan Beach, CA
May 7
The Comic Bug
Culver City, CA
May 11
Wyrd Con
Costa Mesa, CA
May 12
Wyrd Con
Costa Mesa, CA
May 13
Comic-Con Revolution
Ontario, CA
May 14
Wyrd Con
Costa Mesa, CA
May 27
Knowhere Comics & Games
San Marcos, CA
June 3
Illusive Comics & Games
Santa Clara, CA
June 14
Earth-2 Comics
Northridge, CA 11-2
Sherman Oaks, CA 4-7
July 19-23
Comic-Con International
San Diego, CA