What Avengers: Endgame May Owe to Roy Thomas and Avengers #71
Roy Thomas co-created Carol Danvers as Ms Marvel – now Captain Marvel – with Gene Colan back in Marvel Super-Heroes #13 in 1968. The new Captain Marvel movie being released on March 8th will reveal her new origin but still based around the Kree/Skrull War Saga that Roy Thomas wrote in Avengers #89-97 in 1971-1972.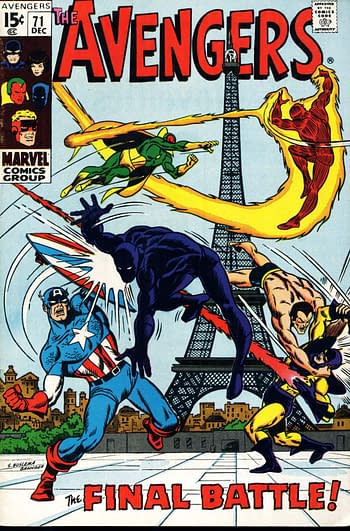 But did you know the upcoming Avengers: Endgame movie might also have something to do Roy's Avengers story from Avengers #71 one year previously? could it have been found by the Russos while flicking through the Kree-Skrull War issues?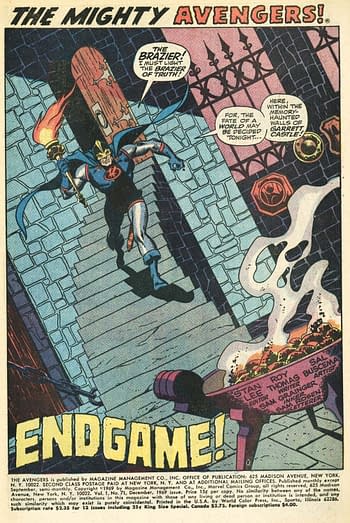 Roy Thomas tells Bleeding Cool,
I was surprised and kinda pleased to see that the fourth Avengers movie has the secondary title Endgame. By a weird coincidence, or whatever, it was 50 years ago that I titled an issue of The Avengers "Endgame!" complete with an exclamation point, of course, because that's how we did things in those days. It was the final chapter of a three-part story that saw Kang the Conqueror and a new creation, The Grandmaster, playing a cosmic chess game, using the Avengers on one side–with the brand new Squadron Sinister (ancestors of the Squadron Supreme) and then the future Invaders (the WWII Captain America, Human Torch, and Sub-Mariner) on the other.

Back in junior high in Missouri, I'd taught myself to play chess from an encyclopedia… and that's where the phrase "endgame" comes from, of course. Chess has "openings," "middle game," and "endgame." The "Grandmaster" name came from chess, too, since that's the highest rating (except for being world champion) that one can have in the game. Chances are, though, that nobody will ever make a movie using the chess-derived title I used in a 1970s Fantastic Four issue: "Zugswang." Don't ask!
We won't, Roy.
Either way, there's may be a number of elements from Avengers #71 that are in the movie….