When Did Wiccan Lose His Flight? And What Does It Mean For The Marvel Universe?
In the recent New Avengers launch, all the character get anti-gravity belts to fly with. Leading Wiccan to be rather unnerved by the whole experience and to say, As FemmesInTheFridge asks "couldn't Wiccan fly in every book he's been in?" Pretty much….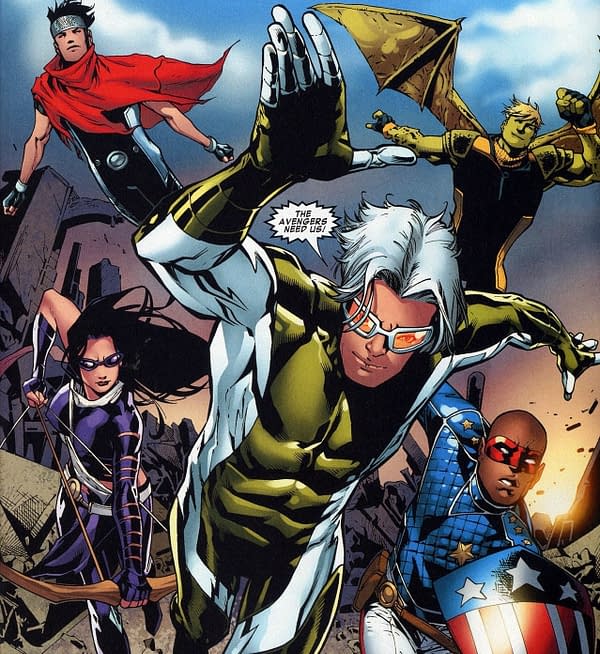 And a quick check with the wikis…
Flight: Wiccan can engage in self-propelled flight without the use of vocalized spells and temporarily allow others to fly within his presence.

When the Young Avengers first appeared, they deliberately tried to pattern themselves after the classic Avengers. As a result, Billy called himself "the Asgardian" and openly used his magic only for Thor-like abilities: flight and lightning-casting. Once they began acting openly with their powers, Billy changed his name to Wiccan and began using a variety of spells.
Al Ewing has become one of Marvel's biggest names, courtesy of the All-New All-Different Marvel Universe refresh. Currently writing New Avengers, Ultimates and Contest Of Champions, and, as we have seen, defining the very nature of the Marvel Universe right now. One of those people who we might expect Marvel to announce an exclusive deal with any day now. But he's also ferocious in his research.
Was this change deliberate or accidental? Could it be the sign of living in the eighth iteration of the Marvel Universe rather than the seventh? And will this be the get out for any slipups too?
Of course it also makes me wonder if the crystal head of the Neohedron… could they also be related to the crystals of neutronium/Iso-8? It is after all written by Al Ewing…