William Stout: A Career To Envy
The first panel of SDCC 2017 for me was Dinosaurs, Monsters, Movies, and The Blues: Worlds of William Stout, and for my taste it couldn't have been a better first panel. This is William Stout's 48th San Diego Comic Con, which means he has been to every single one and whether you know it or not you've seen his work somewhere. Over his almost 50 year career he has created work on many different areas and this panel was an attempt to cover his career.
Stout started talking about attending Cal Arts in Los Angeles, and how they had a rule that if students had paid published work it could be substituted for homework, so he did everything he could to get published as much as possible and not do his homework.
Early in his career, Stout was able to work under Russ Manning and he even moved to New York to work for Harvey Kurtzman on Little Annie Fanny. His time in New York did not last long and he soon moved back to Los Angeles. Stout discussed his love of music and how he often bought bootleg records of artists he enjoyed. He discussed how one time he commented when buying one that he wished the art on the covers was better and this led him to drawing album covers for the Trademark of Quality bootleg record label. The first he did was for the Rolling Stones All Meat Music Winter Tour 1973. Stout also did the cover for the first bootleg release of The Who's Quadrophenia called Tales From The Who.
Stout's work on bootleg record covers led to him being hired by legendary Los Angeles based record label Rhino Records to design their logo, Rocky Rhino. Along with the creating the logo for Rhino Records, Stout often drew album covers for them. Probably his most infamous piece of work in his entire career was the cover for BeatlSsongs! BeatleSongs! was an album filled with songs by various artists but not with covers of Beatles songs, but instead with songs about the Beatles. The cover included an image John Lennon's killer, Mark Chapman. Both Stout and Rhino Records received death threats as a result of this cover and even an article in People magazine. Stout's career creating movie posters began in 1977 with his iconic poster of Ralph Bakshi's film Wizards. When Stout asked what they wanted from him he was told to draw the poster as if it was his own movie. One of the most famous film posters that Stout did was for Monty Python's Life of Brian. Stout also did a poster for Monty Python's Meaning of Life which I had actually never seen before.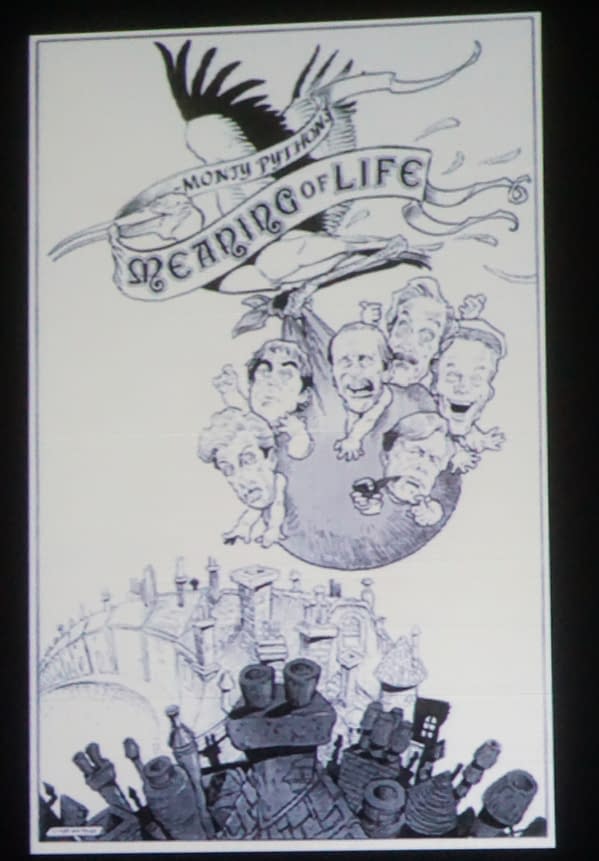 In 1978 Stout began his career as a film production designer, working on designs for a planned Buck Rogers trilogy. While the films were never made, the Buck Rogers tv show was made instead. Other films Stout did design work on included Conan the Barbarian, Conan the Destroyer, and the Masters of the Universe film. Below are couple images from the Conan films.
Stout has done a number of books filled with his art on dinosaurs over the years, and this led to him receiving a manuscript for Jurassic Park before the book was published. When Stout finished reading the book he discovered that Michael Crichton had acknowledged Stout as an inspiration for the book. Stout was eventually hired by Universal to do production design work for a sadly never made prime time television Jurassic Park animated series. Much of Stout's work on this can be found on the Internet.
Other film or film related work that Stout showed off was this amazing drawing involving the Harry Potter characters. Stout was hired by Warner Brothers to work on merchandising for Harry Potter before the first film was ever made. Stout did a full page pin-up of Hellboy in the third issue of Hellboy Weird Tales. Guillermo del Toro bought the piece and asked Stout to personally bring it to him so they could have meeting. At the meeting, Guillermo asked Stout to do the designs for a film he wanted to make, it would be called Pan"s Labyrinth. (I highly recommend The Making of Pan"s Labyrinth by del Toro and Nick Nunziata, it is filled with Stout's designs.) During this initial meeting, del Toro received a phone call from Warner Brothers. Overhearing one side of the conversation, Stout heard del Toro say "I would be honored, but I'm afraid I'll have to turn you down, I have to make my little Spanish film." What del Toro turned down in front of Stout was an offer to direct the next Harry Potter film.
Stout also discussed when he was hired to design a Wizard of Oz theme park for the state of Kansas. In Stout's online store he sells a sketchbook filled with various of Oz related sketches, including much of design work for the theme park as well as his design work on The Muppets Wizard of Oz.
In recent years Stout has been more focused on having his own adventures and also celebrating the music he loves the most. On the adventure front, Stout has made multiple trips to Antartica, even learning to scuba dive just so he could do it while he visited Antartica. He has some amazing paintings on his website of both modern and prehistoric Antarctica. On the musc front Stout has released the first book,Legends of the Blues, of a planed three book series on the Blues. Stout probably could have used another hour to go through all the pictures on his slide show, and he had to quickly go through probably 50 in rapid fire succession because time ran out, but the last image he left us with was a painting he called Amazing Grace. The image, see below, he says shows what an artist can do that a photographer never could. While the panel is over, I want to highly recommend that you take the time to visit WilliamStout.com, not just for his amazing store and galleries of amazing art that cost nothing to look at on his site, but also because of his online journal. Stout has hundreds of entries going back to 2004, filled with stories on the creative process, amazing life experiences, memorials written about many amazing talents we have last in the last 13 years, and so much more. As far as the store, I have bought from Stout in the past and he is quick to deliver and is responsive to any questions.
For further musings from Joshua Stone, you can follow him on Twitter @1NerdyOne, but it is not required