We just mentioned that Brian Azzarello may be taking over from Rob Williams on a Suicide Squad relaunch for DC Fresh Start.
But it looks as if Rob will be having a very fresh start of his own, reviving the classic British comic book Roy of the Rovers for new publishers Rebellion. With 2000AD artist Ben Wilsher, as a series of graphic novels, beginning in September with Roy of the Rovers: Kick-Off. Consider it a kind of Roy Race: Year One…
While children's football dram author Tom Palmer will be writing Roy of the Rovers novels with Roy of the Rovers: Scouted in October.
First published in 1954, Roy of the Rovers was a comic strip about fictional footballer Roy Race, who played for Melchester Rovers. First appearing in weekly anthology comic Tiger, it then spun off into its own title, Roy of the Rovers. The comic ran until 1993, with a few revivals since in comic and strip form. 'Roy of the Rovers' has become a common football commentary term for strong end-to-end dramatic gameplay on the pitch.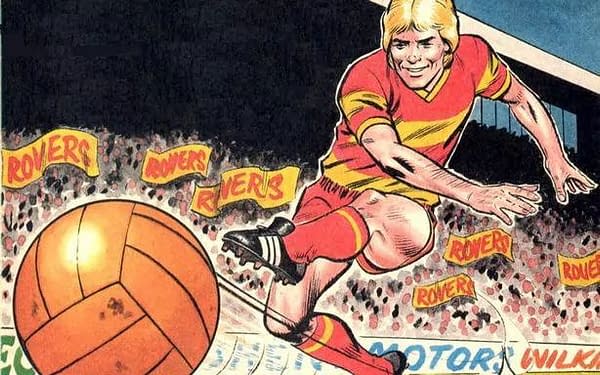 And now, after their purchase of IPC characters and comic books, Rebellion plans to publish three 56-page hardback graphic novels for each football season, with the first three launching in September 2018, January 2019, and April 2019. Middle grade illustrated fiction novels titles will be released alongside the graphic novels, launching in October 2018 and following on in February 2019 and May 2019.
Keith Richardson and Rob Power will be editing each title, respectively,
Rebellion CEO Jason Kingsley OBE commented:
"Roy of the Rovers is an enormously exciting project for us, and we've been working hard to ensure that we respect the legacy of this iconic British character. We've assembled an incredibly strong team to bring Roy Race back for the 21st century, and I look forward to following Roy's journey through the always exciting world of modern football."
Rebellion Head of Publishing Ben Smith commented:
"We're delighted to have such a high calibre of creative talent on board for our reboot of Roy of the Rovers. Rob, Ben and Tom's stories are bursting with all the excitement, drama and football fervour of the classic Roy of the Rovers comics, while giving us a thoroughly modern take on the character. We can't wait for a new generation of fans to read them."
Rob Williams commented:
"I read and loved Roy of the Rovers as a boy – I even had the old Gola Melchester Rovers kit – and I have very fond memories of the Roy annuals arriving on Christmas Day with wonderful David Sque art on their covers. Roy's a British football icon. Even now, a 'rocket'-like goal is a Roy of the Rovers moment. So I'm delighted to be part of the passionate team bringing Roy's adventures to a new era of football fan."
Tom Palmer commented:
"Millions of girls and boys dream about being their favourite football player and being scouted and playing for their favourite team. I had that dream. Sadly it didn't come true for me. But, being scouted and succeeding in my trial to write Roy of the Rovers fiction is a dream that has come true. There is no other fictional footballer I would rather be and write. And I intend to write these books with the same passion and commitment Roy shows when he pulls on the red and yellow of Melchester Rovers."
And Ben Willsher commented:
"Roy of the Rovers was a big part of my childhood. The annuals stacked up in my bookshelf, and the comics burst out of my cupboards. Growing up I dreamed of helping Roy score goals and lead Melchester to the top…. I finally get to do that- result!"
Enjoyed this article? Share it!