Writer To Writer – Frank Barbiere Talks With Peter Milligan About Terminal Hero
Frank Barbiere, writer of Solar: Man of the Atom #7, talks with Peter Milligan about Terminal Hero #4, both on sale now. FRANK BARBIERE: In Terminal Hero, you use a lot of shocking, horrific imagery in the story. What is it that scares you personally? Do you think your ideas of "horror" translate over to the book well?
PETER MILLIGAN: I don't see the book as an out and out horror story. But I definitely wanted shocking and horrible themes and moments. Sometimes I tried to achieve this through imagery but more often through horrific or shocking scenes. Most of all I wanted a sense of psychological horror, or terror. The existential terror of Rory being told he only has months to live. And then a different kind of horror — due to this treatment that Rory is taken — when Rory finds himself doing and thinking of doing things he didn't think he was capable of. I've said earlier that this story began with me dwelling on a number of people close to me who found themselves like Rory with terminal cancer. I don't know if that scares me — maybe it does, maybe the idea of loss is scary — but I know it moves me. And I wanted to get some of this across. I think the book is having a really good go and handling a really difficult subject.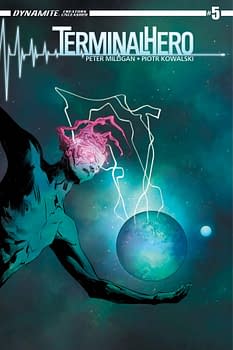 FB: Horror is normally regarded as being fairly tricky to pull off well in comics, due to the lack of audio and "jump out" scares. I think here (and throughout your career) you've done an amazing job evoking a feeling of horror. Are you very specific with your imagery in your scripts, or do you let collaborators interpret? The colorist as well as Piotr are doing a phenomenal job—are you ever specific with your color palettes in script?
PM: I think the kind of horror you get in big Hollywood movies doesn't work in comics. Less to do with audio and more to do with how time is controlled when you decide when you turn the page of a comic book. Personally I don't find demons and monsters scary or horrific. I think the trick is to make it personal. With Terminal Hero, Piotr etc, I've been fairly specific when I had to be but where there's room I've been more than happy for Piotr or the colorist to surprise me.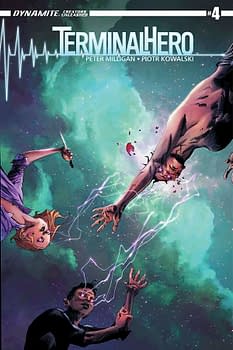 FB: Is there any material you shy away from, even when telling stories that are edgy or meant to horrify readers? Any kind of preference as to what you find "too much" or just not fit for comics? It seems that Terminal Hero has a bit to do with body horror—is that something you find genuinely frightening?
PM: I'm not aware of shying away from anything in particular. But I have to say I don't think I write stories that are meant to be out and out horror stories. Terminal Hero, body horror? Hm. That's interesting. It's not what I intended. But the book IS about bodies. How this alien thing, this tumor, takes it over and destroys it and you.
FB: Has any of your work managed to actually creep you out when you're looking at the art? It's always a treat to see pages drawn and colored by collaborators, but when working with creepy imagery have you ever managed to scare yourself going back through some finished pages you had scripted?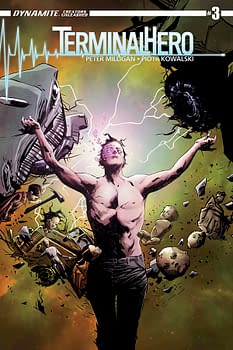 PM: There was one short story I did with one of my long-term collaborators, Brendan McCarthy. It's called The Hollow Circus and it can be found in The Best of Milligan and McCarthy. It was based loosely on the story of an uncle who committed suicide in terrible and tragic circumstances. Both Brendan and I drew on some deep psychological stuff for the words and the pictures and the result, though only a short, was amazingly haunting, creepy and moving.
FB: What are some of your favorite horror works or anything you find personally inspirational while working on Terminal Hero? Any specific music you listen to for ambience?
PM: I didn't draw on horror works for inspiration. This sounds grim but I drew on life and experience. And I never listen to music for ambience. As Franz Kafka said, "The silence isn't silent enough …"
For more on Terminal Hero, click here.