Writer's Commentary On Altered States: Red Sonja By Brandon Jerwa
Like a director's commentary track you'd get on a Blu-Ray, here is the writer's commentary track for Dynamite's new Elseworld-like title Altered States: Red Sonja by Brandon Jerway. The art here is by Juanan Ramirez.
This "some says she died" riff has actually been bouncing around in my head since I wrote the multi-chapter story that closed out Dynamite's longest run of Red Sonja, following my pal Eric Trautmann's grand turn with the She-Devil. Did you know his run was the longest of ANY Sonja writer, including her creator? It's true. Go read those books right now.
The core of this story was sort of handed to me by Dynamite editorial, in the sense that they wanted the NYC setting, and the "essence of Sonja" angle. The idea was to pay tribute to that classic X-Men story (issue #190) in which those filthy muties teamed up with Sonja (who was still being published by Marvel at the time) in a New York City that had been transported to the Hyborian Age.
This ended up dovetailing nicely into an idea I had almost pitched them a few years ago, in which a young woman in modern times learned that she was the reincarnation of a certain red-headed warrior from an ancient age. PAGES 3-4
I like writing women, and I assume I must not be terrible at it, because they keep asking me to do it. Sonja Majeure is one of those characters that I would love to spend some more time with, because a mere 20 pages seemed like half of a good first date, at least from a writer's standpoint. I hope you'll be a little more fulfilled by the experience.
A review of this book noted a sense of Hollywood revitalization to this story, and that's an accurate callout. That wasn't part of the marching orders, but I figured that this one-shot was essentially a proof-of-concept for a new interpretation of Red Sonja. So, I wrote my version of a Red Sonja TV pilot.
(SFX note: "Wing-a-ding-ding" is how my girlfriend approximates my phone's text tone, so I just had to stick it in there.)
(Wink-and-a-nod note: I refuse to apologize for the "what is best in life" gag.)
PAGES 5-8
Again: I had 20 pages. Things had to move along pretty quickly, so it's a balancing act of getting to know this workaholic young woman who loves her job, and the big WHOOPS of, y'know, accidentally resurrecting this terribly villainous sorcerer who has just been so lovingly exposited into our consciousness.
Kulan Gath is a classic, and I was happy to have him at my disposal for this little tale. He's an easy-out-of-the-box villain, because he's just a total dick who wants to rule the world with his evil magic. No window dressing required.
My apologies to He-Man, but this is what happens when you pick up a sword from an ancient time. That's just science, folks.
I didn't want modern Sonja to be completely written out of existence by Red Sonja's metaphysical arrival into the story, so I knew immediately that her body would change, but her mind and voice should stay intact. Well, her mind would be a shared space, but more on that in a second. She doesn't realize how profoundly she's changed yet, so it's a tense moment that can be diffused with some humor.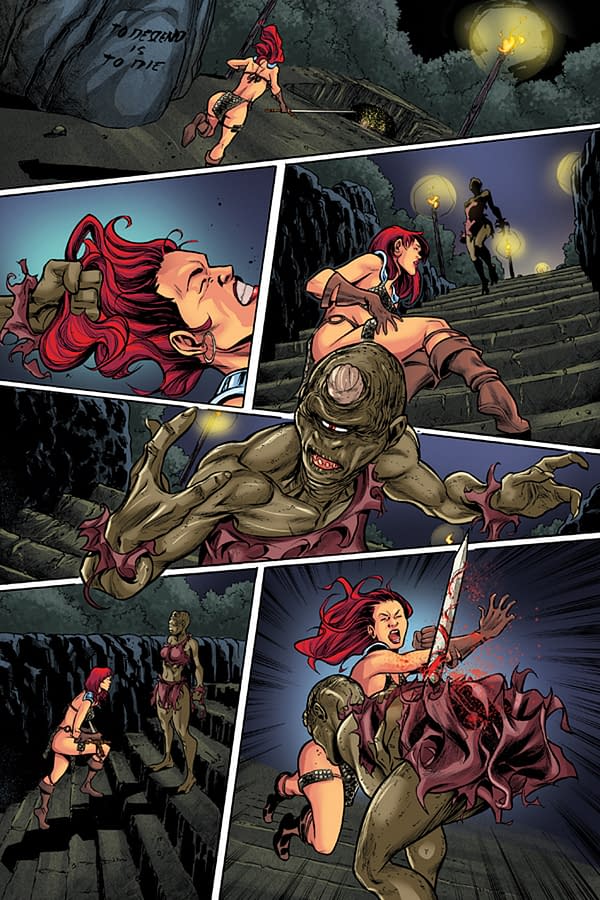 PAGES 11-14
This is a woman of action! I had neither the time, nor the patience, to let our heroine walk around confused and traumatized. She's a smart cookie, and she sorts out a plan with haste. I like to think that I'm clever enough to do the same, but who are we kidding?
As she descends into the subway tunnel, Sonja realizes that she's not entirely alone. The "real" Sonja possesses some degree of connectivity and awareness of the situation. I promise that I wasn't just scratching my career-long itch to write FIRESTORM. Seriously. I totally mean it. (Honestly, it was the smartest move to make for a story like this, at least in my humble opinion.)
PAGES 15-16
Wow, the rats are HUGE down here!
Sonja and Sonja are bonding at a high rate of speed now, and it's a solid partnership. This furthers my point that I didn't want modern Sonja to be sidelined. She has to grow as a character in her own right, even if she never appears again…and wouldn't that be a shame?
PAGES 17-20
As expected, here's the Boss Fight. Sonja-Sonja versus the jerky Kulan Gath, with our heroines making short work of the villain's dastardly plan. Not much fat on the bird here, because we need to wrap this up quickly!
Even though this one-shot has a pretty cut-and-dried ending, I know exactly how I'd continue the story if I had the chance. I get attached to characters often, and Sonja Majeure is definitely one who will stick with me for a while. Maybe this book will be a massive hit, and Dynamite will come running to me with a big series order! Maybe Hollywood will use this as the basis for a series! Maybe my chance at superstardom has finally come!
Yeah, or maybe I'll pick up an ancient sword and find myself transformed into a weightlifter redhead in a chainmail bikini. Somehow, that almost seems more plausible…
For more information on Altered States: Red Sonja, click here.