Bat And Cat Romance, Mike Baron Flash, Tales From The Dark Multiverse – More DC Comics Big Books for 2020
We looked at a few Omnibus volumes DC Comics has lined up for 2020. And the ever-increasing size of Event Leviathan. But there are a number of other collections coming up from DC Comics worthy of note, new one-offs, collections of surprising materials, new formats for old, along with the titles you may already anticipate. Here's a few worthy of checking out and making plans for in the next year.
Tales from the DC Dark Multiverse HC
$29.99 On sale Mar 03, 2020, 250 Pages,
DC has delivered some of the most influential and ground-breaking stories in comic's history with titles such as The Killing Joke, Identity Crisis, The Death of Superman and much more. Now after the events of Dark Knights: Metal, a gateway into the Dark Multiverse has opened and its stories revealed.
Featuring top talent authors and artist, Tales from the DC Dark Multiverse is going beyond the Multiverse and diving deep into the dark with new timelines and altering the defining moments in DC history. What are the consequences if The Joker's aim had hit James Gordon instead of Barbara? What would the DC Universe look like?
Tales from the DC Dark Multiverse is a hard cover format collecting alternating stories of the DC Universe.
The Bat and the Cat: 80 Years of Romance HC
$39.99, Feb 04, 2020, 250 Pages
DC is celebrating 80 years of the greatest rivalry turned romance in comics in The Bat and the Cat: 80 Years of Romance! This hardcover edition features Batman and Catwoman's greatest team-ups from their 80-year history together, from some of the best writers and artists in the industry!
Over the past eight decades, Batman and Catwoman have remained at the forefront of popular culture, across movies, TV and books, which is in no small part thanks to the stories collected here. Following Batman and Catwoman's courtship from their earliest days from the 1940s on opposite sides of the law to their modern-day engagement and more, this book features the best tales from Batman and Catwoman's storied history together.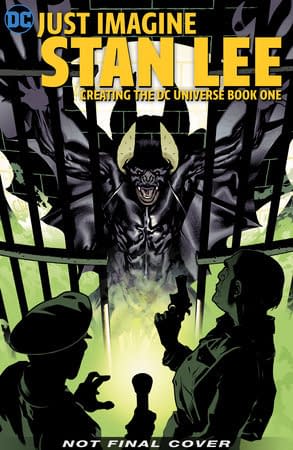 Just Imagine Stan Lee Creating the DC Universe Book One TPB
$34.99 On sale Mar 17, 2020, 352 Pages
A new collection of the 2001 event in which Stan Lee reinvented DC's greatest heroes. Back in print following the comic book legend's passing in 2018.
Stan Lee, the writer who co-created Marvel's greatest super heroes, reimagines DC's greatest heroes.
Collects Just Imagine Stan Lee with Dave Gibbons Creating Green Lantern #1, Just Imagine Stan Lee with Jerry Ordway Creating JLA #1, Just Imagine Stan Lee with Jim Lee Creating Wonder Woman #1, Just Imagine Stan Lee with Joe Kubert Creating Batman #1, Just Imagine Stan Lee with John Buscema Creating Superman #1 and Just Imagine Stan Lee with Kevin Maguire Creating Flash #1
DC Universe by Amanda Conner HC
$39.99 On sale Mar 24, 2020, 244 Pages
Artist Amanda Conner dissects and analyzes the process behind some of her most popular illustrations and covers, providing behind-the-scenes information, sketches and more, in this hardcover collection! Designed in the tradition of hugely popular books like DC Comics: The Art of Jim Lee and DC Poster Portfolio: Stanley "Artgerm" Lau.
Featuring a retrospective of fan-favorite artist Amanda Conner's work for DC Comics, including her iconic work on Harley Quinn.
Batman: City of Bane Tie-ins TPB
$17.99 On sale Apr 14, 2020, 180 Pages,
Evil has finally won as Batman plunges into the dark vulnerable. Fallen as far as he will ever fall, discover the nature of Bruce Wayne as he claws his way back up from rock bottom.
As everything is falling apart for Batman, everything is falling into place for Bane. His master plan is finally coming together during the best time ever, Batman's downfall. Featuring help from unexpected characters, follow what might be the end for Batman as he crawls back up from the dark to only then reach Bane… who has been patiently waiting for this moment for a long time.
DC Poster Portfolio: Year of the Villain
$24.99 On sale Apr 14, 2020, 42 Pages
The best artwork from DC's 2019 event "Year of the Villain" is collected here in a format friendly to fans and collectors alike.
DC's Poster Portfolios are the perfect way to celebrate the artwork of your favorite characters. Full-color prints featuring covers and pages from the hit event "Year of the Villain" are fully removable so fans can frame and display any piece of their choosing. Illustrated by Artgerm, Francesco Mattina, Joshua Middleton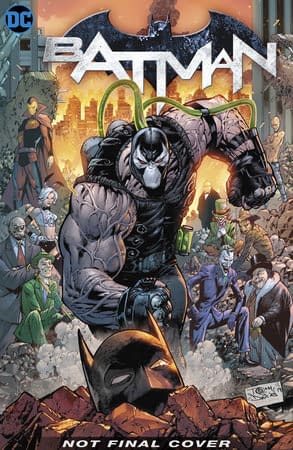 Batman Vol. 12: City of Bane Part 1 HC
$24.99, On sale Apr 14, 2020, 144 Pages
Eisner Award winner Tom King reunites with Mikel Janin as he continues his best-selling Batman run. Batman faces his most personal battle yet as he is locked in a life or death battle with… his father?
Ever since Batman's impending wedding went south on him, the Caped Crusader has had the sinking suspicion that there has been someone lurking in the shadows setting events into motion. After the attempted assassination of Nightwing he starts to question his commitment to his war on crime, his relationships and even his own sanity.
There has been an unseen hand orchestrating these events. And while the true villain has yet to reveal himself, his minions are starting to step forward and break the Bat down once and for all–beginning with Thomas Wayne, the Batman from the Flashpoint Universe!
Collects Batman #75-79.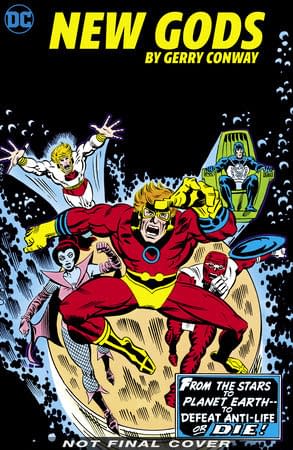 New Gods by Gerry Conway HC
$39.99, On sale Apr 07, 2020, 344 Pages
The New Gods have starred in some of the most compelling stories in all of comics, written by masters like Jack Kirby and Gerry Conway. Now comes New Gods by Gerry Conway!
The Anti-Life Equation, a simple set on functions that would give Darkseid ultimate power over all sentient life, is exactly the type of thing the New Gods want to keep away from the Lord of Apokolips. However, the battle for the fate of the universe comes knocking on Earth's door. Six earthlings are all determined to possess a part of the equation, and the New Gods must reach them before Darkseid does.
Collects New Gods issues #12-19, 1st Issue Special #13, Super-Team Family #15, Adventure Comics #459-#460 Justice League of America #183-185.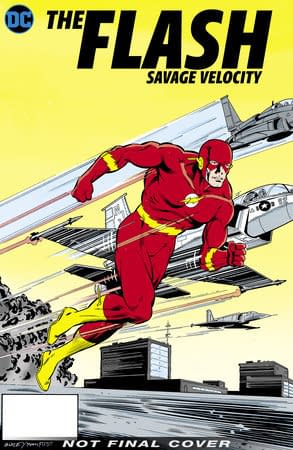 The Flash: Savage Velocity by Mike Baron TPB
$39.99 On sale Mar 31, 2020, 480 Pages
Collected for the first time comes Eisner Award nominee Mike Baron's The Flash detailing the aftermath of the epic DC Universe changing event, Crisis on Infinite Earths.
During the Crisis on Infinite Earths, Barry Allen–a.k.a. The Flash–made the ultimate sacrifice and gave his life to save millions. In his stead, the world welcomes the new Fastest Man Alive, as Wally West picks up his mentor's mantle.
Collects The Flash issues #1-18 and Flash Annual #1.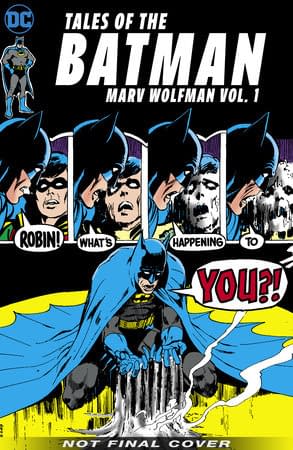 Tales of the Batman: Marv Wolfman HC
$39.99 On sale Mar 31, 2020, 392 Pages
Marv Wolfman is one of the biggest writers to ever put pen to paper in the name of comics, now, DC collects the best Batman stories from the famed co-creator of The New Teen Titans and Crisis on Infinite Earths.
Illustrated by artists including Irv Novick, Don Newton, Pat Broderick and Rich Buckler, and featuring guest appearances by Tim Drake, Two-Face and the whole Bat-Family, these classic tales showcase one of the greatest talents ever to write for the Caped Crusader!
Collects Batman #328-335, #436-439, Detective Comics #408, The Brave and the Bold #167, World's Finest Comics #288, New Teen Titans #37 and Batman and the Outsiders #5.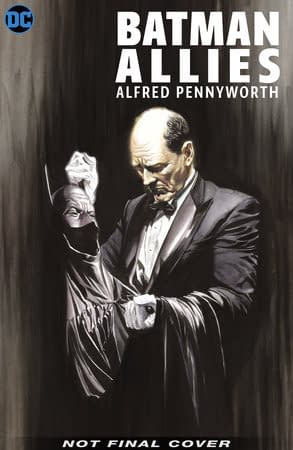 Batman Allies: Alfred Pennyworth TPB
$19.99 On sale Mar 24, 2020, 248 Pages
Alfred Pennyworth has been at the side of Bruce Wayne for his entire life. In these Batman Alliescollections, DC has curated the best stories of Batman's best friends.
Batman's oldest ally, his father figure, his base camp operator and his butler. Alfred Pennyworth has been integral in so many of the Caped Crusader's tales and now it's time for a spotlight on him. With stories from the Golden Age of comics all the way to Rebirth, this collection has something for every fan of our favorite butler. See his first appearance, get his origin story, meet his daughter and even Undead Alfred!
Adventures of Superman: Jose Luis Garcia-Lopez Vol. 2 HC
$49.99 On sale Feb 04, 2020, 300 Pages
José Luis García-López's work on Superman comics spans decades. Adventures of Superman: Jose Luis Garcia-Lopez Vol 2 features some of his best work including the Elseworlds and Realworlds stories and covers from Action Comics, Superman, Superman Family and Superman Unchained.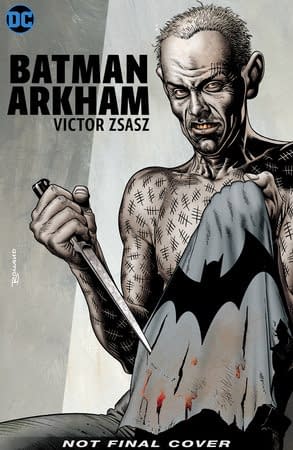 Batman Arkham: Victor Zsasz TPB
$19.99 On sale Feb 11, 2020 272 Pages
No remorse, no mercy…just ruthless death: Victor Zsasz has long been one of Batman's most formidable enemies, and now some of his most infamous stories come collected in Batman Arkham: Victor Zsasz.
Victor Zsasz is a sadistic serial killer who carves a tally mark onto himself for each of his victims. A constant source of fear for his victims and the Dark Knight, Zsasz belongs to the collective of enemies that make up Batman's rogues gallery.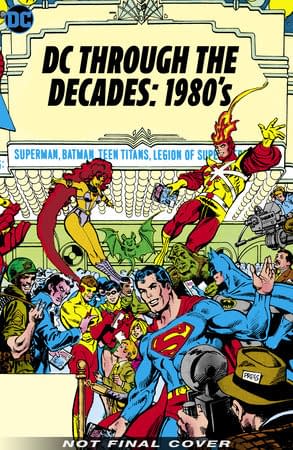 DC Through the Decades: 1980s TPB
Edited by Paul Levitz
$29.99 On sale Feb 25, 2020 400 Pages
A "best of" collection of issues from the '80s, all curated by Paul Levitz, showcasing first appearances and seminal moments from the decade.
The '80's were a rad time for comic books. DC was killing it with groundbreaking titles like Crisis on Infinite Earths, The Man of Steel, Batman: The Dark Knight Returns and the most iconic graphic novel of all time, Watchmen. Paul Levitz helps curate this radical collection. Paul has has been part of the DC family for over 45 years and was at the helm of DC in the '80s. He helped the comics industry transition from a newsstand-based industry for kids to the talent-driven, story-focused entertainment industry it is today.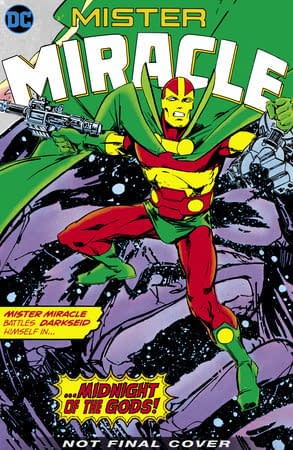 Mister Miracle by Steve Englehart and Steve Gerber HC
Illustrated by Marshall Rogers, Michael Golden
$39.99 On sale Mar 03, 2020, 216 Pages
In the aftermath of Jack Kirby's epic run on Mister Miracle, comics masters Steve Englehart and Steve Gerber cemented Mister Miracle's lore in the DC Universe forever!
Mister Miracle returns after a three-year absence, but so do the villains of Apokolips.
In the aftermath of the New Gods saga, Mister Miracle After Kirby focuses on Scott Free's attempt to escape something no one has been able to: death.
Collects Miracle Miracle #19-25, The Brave and the Bold #112, #128, #138 and DC Comics Presents #12.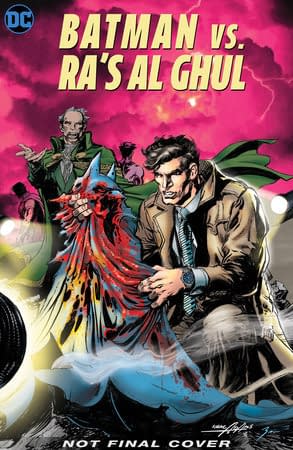 Batman Vs. Ra's Al Ghul HC
Written by Neal Adams
$24.99 On sale Mar 03, 2020 160 Pages
From comics industry titan and Ra's al Ghul's original artist, Neal Adams, comes an all-new story featuring one of the Dark Knight's greatest enemies!
Gotham City is under seige by terrorists, and Batman is determined to find the source. But when Boston Brand tries to intervene, he discovers an even more disturbing and deadly truth: the terrorists are led by an inhuman monster. Ra's al Ghul has volunteered his own private security force to aid the GCPD, and now they are the only thing standing between nuclear terror and the townspeople.
But al Ghul's true goal is hidden from everyone's eyes. He will destroy the city and kill Batman — this time for good. Watching in horror is…Bruce Wayne?
Collects Batman vs. Ra's Al Ghul issues #1-6.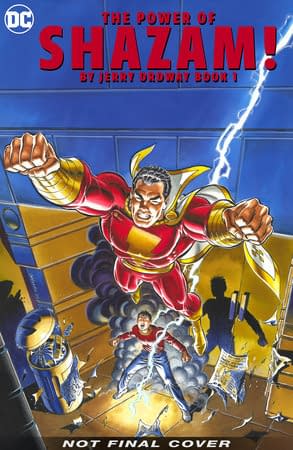 The Power of Shazam! By Jerry Ordway Book One HC
$49.99 On sale Mar 10, 2020 400 Pagesyoung Billy Batson with the powers of Solomon, Hercules, Atlas, Zeus, Achilles and Mercury.
A word is spoken, lightning strikes and out emerges young Billy Batson with the powers of Solomon, Hercules, Atlas, Zeus, Achilles and Mercury.
The wisdom of Solomon, the strength of Hercules, the stamina of Atlas, the power of Zeus, the courage of Achilles and the speed of Mercury with the sound of one word, SHAZAM!
After a series of terrible events with no guidance left behind, Billy Batson was headed down a dark path until a new path magically appeared… a path that would change his life forever.
DC's Wanted: The World's Most Dangerous Supervillains HC
$39.99 On sale Mar 17, 2020 300 Pages
One mission. One goal. To take down all the superheroes we know. Take a journey into the dark minds of DC's most dangerous super-villains!
DC's Wanted: The World's Most Dangerous Supervillains spotlights not so much the heroes of the DCU, but rather their most notorious foes. Featuring villains such as Signalman, the Puppeteer, Clock King, the Joker, the Mist, Captain Cold and Mr. Who. Follow each one of these super-villians as they plot to destroy the superhero in their path.
Collects Wanted #1-9.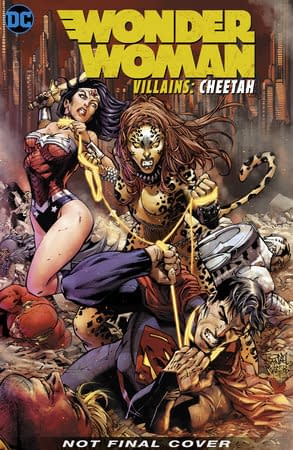 Wonder Woman Villains: Cheetah TPB
Illustrated by George Perez, Liam Sharp
$19.99 On sale Mar 17, 2020 216 Pages
The greatest appearances of the Cheetah, the archenemy of Wonder Woman, are collected for the first time in Wonder Woman Villains: Cheetah.
DC collects the first apperance of Cheetah and her most exciting tales in a single volume written by top comics writers including Greg Rucka, Geoff Johns and George Pérez. Collects Wonder Woman #6 (1943), #274, #275 (1980), #9 (1987), The Flash #219 (2005), Wonder Woman #214 (2005), Justice League #13-14 (2012), Wonder Woman #23.1 (2013), Wonder Woman #8 (2016) and Who's Who in the DC Universe #4 (1990).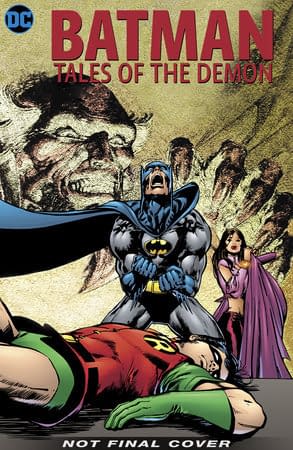 Batman: Tales of the Demon HC
$49.99 On sale Mar 17, 2020 232 Pages
Meet the Demon's Head in Batman: Tales of the Demon, featuring one of Batman's most formidable adversaries, the founder of the League of Assassins, the one they call Ra's al Ghul!
Batman scales the side of the Statue of Freedom for a secret meeting with an informant inside the torch. During the meeting the informant is assassinated, leaving Batman with his final words instructing him to find a person called Darkk on the Soom Express. Finding and confronting Darkk Batman is assaulted, leaving him unconscious, and finds himself in a dungeon unmasked. There he meets the Daughter of the Demon, Talia who jump-starts his journey in finding the League of Assassins and it's founder, Ra's al Ghul.
This volume collects the earliest Ra's al Ghul stories written by Dennis O'Neil and illustrated by artists Neal Adams, Michael Golden, Irv Novick, Bob Brown and Dick Giordano.
Collects Detective Comics #411, #485, #489-490, Batman #232, #235, #240, #242-244 and DC Special Series #15.

DC Poster Portfolio: Joshua Middleton
$24.99, On sale Feb 18, 2020, 42 Pages
Joshua Middleton is an Eisner Award-nominated artist known for his work on Batman, Aquaman, Batgirl and more, and now his critically acclaimed DC work can be found in DC Poster Portfolio: Joshua Middleton.
This collection features Middleton's cover work and variant pieces including popular and favorite DC characters that shouldn't to be missed. Collects Joshua Middleton's DC cover portfolio for titles including Batman, Aquaman, Batgirl, Martian Manhunter, Catwoman, Harley Quinn, Superman, Vixen and more.
Swamp Thing by Tim Seeley & Joelle Jones TPB
$16.99 On sale Feb 18, 2020, 144 Pages,
A trail of missing campers. A vision coming true. A new threat is upon the swamps of Louisiana involving with blood and more blood. Join Briar and Swamp Thing as they face this unknown evil head-on in Swamp Thing by Tim Seeley and Joelle Jones.
The story begins in the swamps of Louisiana, where two college students go suddenly missing. Something very dark is afoot as Briar and Swamp Thing investigate the scene. Using her witch-eye, Briar sees the color red…she sees blood and a lot of it. Her vison is coming true…it's the coming of the Barren!
Collects Animal Man #3, Shadowpact #3 and Swamp Thing #3.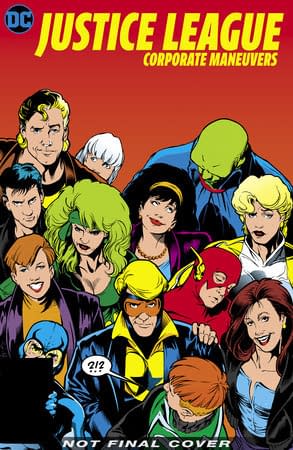 Justice League: Corporate Maneuvers TPB
$24.99, On sale Feb 18, 2020, 304 Pages
For the first time since its original publication, Keith Giffen's Justice League Quarterly brings a quirky and unique take on the Justice League!
Introducing the Conglomerate, a new super-team assembled by Booster Gold! Booster's new pals and gals are Maxi-Man, Praxis, Gypsy, Echo, Vapor and Reverb, but pretty soon Booster's got to wonder if their industry backers want them to be heroes…or corporate puppets.
Collects stories from Justice League Quarterly #1-4.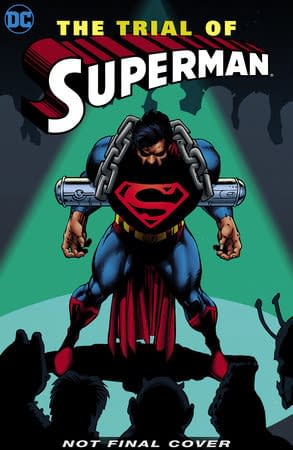 Superman: The Trial of Superman 25th Anniversary Edition TPB
$19.99 On sale Mar 03, 2020, 344 Pages,
With his powers drained by a monstrous villain, Superman is forced to stand trial for the destruction of Krypton before an intergalactic tribunal. Taken to another galaxy and weakened, what lies ahead for Superman as he faces "the Tribunal"?
A multi-part storyline comes together over a collection of DC Comics' Superman titles in The Trial of Superman. The story finds Superman on trial by a mysterious galactic court known as the "the Tribunal" and features the return of Cyborg Superman, a confrontation with Lex Luthor, the entire Superman Family and much more.
Collects Superman: The Man of Steel #50-52, Superman #106-108, Adventures of Superman#529-531, Action Comics #716-717 and Superman: The Man of Tomorrow #3.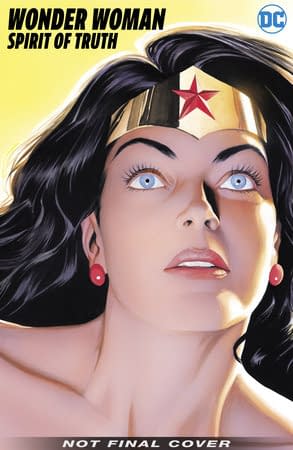 Wonder Woman: Spirit of Truth HC
Written by Paul Dini Illustrated by Alex Ross $17.99 On sale Mar 10, 2020, 72 Pages,
On the surface, she is absolutely perfect. With incredible power, intelligence and beauty, the Amazon Princess seems to have it all. But deep inside, Wonder Woman is having a crisis of faith as she struggles to discover the truth behind who she is, what she represents, and the true nature of her mission. Emmy Award-winning producer Paul Dini and acclaimed artist Alex Ross's critically acclaimed classic tale is now back in this hardcover deluxe edition!
Wonder Woman: Spirit of Truth reveals the hardships and obstacles that Wonder Woman must face due to public perception based on her appearance and womanhood. But in this journey of self-discovery, the Amazon princess learns more about the person she is as she fights both physical threats and biases.
The star character of Fall 2019's highly anticipated film Wonder Woman 1984 takes center stage here in this iconic tale, with character study sketches, pin-ups and other bonus material!
Batman: City of Crime Deluxe Edition HC
Written by David Lapham
$39.99 On sale Mar 17, 2020, 320 Pages
Failing to recognize a young girl's cry for help, which results in the death of six teenage girls, Batman descends into Gotham's underworld, uncovering the city's long-hidden, dark truths.
The Dark Knight is on a mission to shut down a drug ring ruining the lives of the people of Gotham. However, following a series of deaths of teenage girls, some pregnant, Batman vows to find the root of this problem. Believing the culprits to be part of a pregnancy ring, Batman scours the underbelly of Gotham looking for clues…leading to something bigger than anticipated.
Pushing the limits, David Lapham drags Bruce Wayne through one of his most controversial plots in Batman: City of Crime.
Collects Detective Comics #800-808 and #811-814.
Batman/Superman Vol. 1 HC
Written by Joshua Williamson
$24.99 On sale Mar 17, 2020, 160 Pages
Batman teams up with the Man of Steel to track down and help those who have been infected by a ravenous, mutated Joker virus. Just one problem: they don't know who they are.
A virus is spreading, and it's not just after innocent people but some of our most powerful heroes, as well. The biggest question isn't why or how, but who?
The Batman Who Laughs was one of the premier villains crawling his way from the depths of the Dark Multiverse and wreaking havock on the DC Universe. Now he has been infecting some of the biggest heroes across the DC Universe with a mutated version of the Joker virus that is coursing through him.
Cue the team-up of two of the greatest superheroes in history: Batman and Superman. They decide to work together to find out who is infected and hopefully cure them before it's too late.
The Authority Book One TPB
$24.99 On sale Mar 31, 2020, 408 Pages
Warren Ellis' New York Times bestseller THE AUTHORITY is back in paperback. Pick up one of the most renowned tales in the WildStorm imprint's history!
The Authority are heroes in only the strictest sense of the word. Ruthless and unforgiving, this group of insanely powerful superhumans face down countless menaces to Earth, protecting mankind with their cold version of justice. An invasion from an alternate Earth, an international terrorist who is laying waste to major cities and a hostile alien intelligence who calls himself God all fall under their rule.
This is THE AUTHORITY. Pay allegiance. Or get your head kicked in.
Created by legendary writer Warren Ellis (THE WILD STORM, TRANSMETROPOLITAN) and artists Bryan Hitch (JUSTICE LEAGUE), Paul Neary (The Ultimates) and Laura Martin (WONDER WOMAN), THE ITY is considered one of the most groundbreaking titles in modern comics history. Collects issues #1-12, PLANETARY/THE ITY: RULING THE WORLD and a new story from WILDSTORM: A CELEBRATION OF 25 YEARS.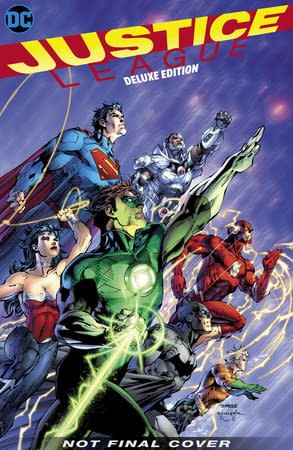 Justice League: Origin Deluxe Edition HC
$49.99 On sale Mar 31, 2020, 360 Pages
The blockbuster creative team of Geoff Johns (Doomsday Clock, DC Universe: Rebirth) and Jim Lee (Batman: Hush, X-Men) re-imagine the classic heroes of the DC Universe for the 21st century in Justice League: Origin. Now collected in a beautiful deluxe edition format.
In a world where inexperienced superheroes operate under a cloud of suspicion from the public, loner vigilante Batman has stumbled upon a dark evil that threatens to destroy Earth as we know it. Faced with a threat far beyond anything he can handle on his own, the Dark Knight must trust an alien, a Scarlet Speedster, an accidental teenage hero, a space cop, an Amazon Princess and an undersea monarch to help him.
Can Batman, Superman, the Flash, Cyborg, Green Lantern, Wonder Woman and Aquaman put aside their differences to save the world? Or will they destroy one another first?
Collects Justice League #1-12.
Justice League of America: The Nail: The Complete Collection TPB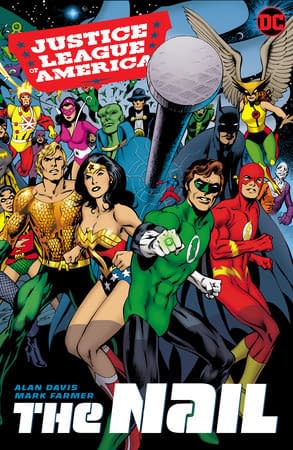 $29.99 On sale Mar 31, 2020, 312 Pages
Imagine a world without the Man of Steel. Welcome to the alternate history of Justice League of America: The Nail: The Complete Collection.
Formed by the World's Greatest Heroes, the Justice League of America stands tall as the mightiest group of protectors Earth has to offer. Since the group's founding, one hero above all others has stood as their inspiration, guiding light and moral center: Superman.
In a fascinating alternate-reality story of tiny accidents that cascade into cataclysmic disasters, writer/artist Alan Davis creates a world that never knew a Superman, and a Justice League that is about to face its greatest test of might and morality. All because of something as simple as a nail.
Collects JLA: The Nail #1-3 and JLA: Another Nail #1-3.
Freedom Fighters: Death of a Nation TPB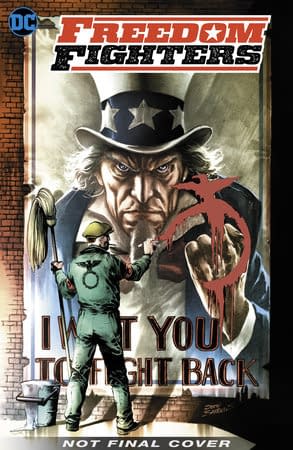 $24.99 On sale Apr 07, 2020, 260 Pages
Welcome to Earth-X, where the Nazi war machine used metahumans to win World War II and conquer the planet. After decades of fascist rule, the resistance has just been sparked in the form of the FREEDOM FIGHTERS.
When a Kryptonian rocket crash-landed in 1930s Czechoslovakia, the Nazi war machine found themselves with the most powerful weapon on the planet: baby Kal-El. With their new Overman on the march, Adolf Hitler's brutal regime set its sights on the invasion of America, and by the 1960s all hope seemed lost. A group of metahuman Freedom Fighters fought valiantly to save their country, but they were ultimately crushed and their leader, Uncle Sam, was driven to the graveyard of avatars, never to be seen again.
Now, over 50 years later, a new resistance has arisen…an ALL-NEW FREEDOM FIGHTERS! To crush the Hitler regime and restore their country, The Human Bomb, Phantom Lady, Black Condor and Doll Woman launch a geurrilla hit-and-run campaign to reignite the American spirit. Only a renewed American spirit can bring the powerful Uncle Sam back from the dead to lead the people in the uprising of their lives.
Collects Freedom Fighters #1-12 Written by Robert Venditti Illustrated by Eddy Barros