Zoe Quinn Creates a New Character for Marvel Comics (Fearless #3 Spoilers)
When Marvel Comics published Fearless #1, Bleeding Cool reported that it was 'an Actual Feminist Polemic' but that Marvel Fanboys would want it anyway, for the appearance of certain fan favourite characters, new to the Marvel Universe.
We noted that there had been much outrage from certain corners of fandom at what they considered to be feminist polemics in Marvel Comics titles, especially that week with the reaction to the Thor's Love And Thunder movie news. And that some people on social media are happy to mistake telling an interesting story for, and I quoted, 'an intersectional feminazi propaganda tract'. Which said more about their own identity politics than anyone elses.
But when it came to Fearless, that Marvel Comics seems to have decided that if people are going to say that stuff anyway, no matter what they do, they might as well actually do it. Fearless #1 was a declaredly feminist comic book, with plenty of women creators, female characters in the focus, and inspirational empowering on-the-nose messages throughout. And people could buy it, or not, as they chose.
With issue #3 that included hiring game developer, comics writer and focus for gamergate hatred, Zoe Quinn, to write a Patsy Walker: Hellcat story. Which is published today. It may be just a short one-off story but it may have a greater impact.
As Patsy Walker has to deal with a copycat version of herself acting in an extreme fashion in public… revealed as an errant demon who had found inspiration in Patsy. And, rather than returning to Hell, created a brand new identity rather than copy that of Hellcat.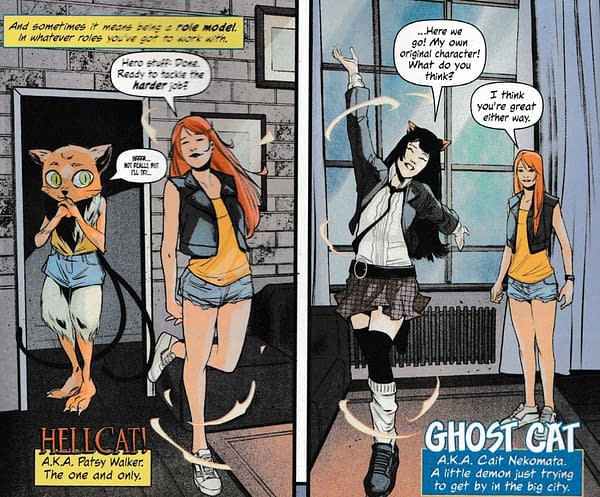 Welcome to the Marvel Universe, Ghost Cat. Who knows where you'll end up?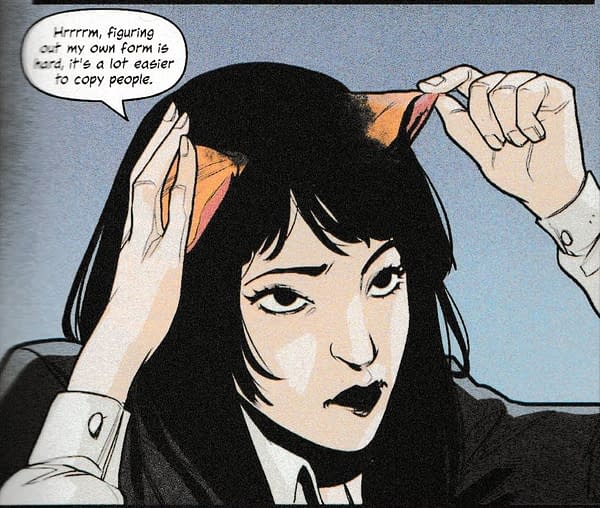 FEARLESS #3 (OF 4)
(W) Seanan McGuire, Zoe Quinn (A) Claire Roe, Cresta, Marika, Alti Firmansyah (CA) Yasmin Putri
YOUR FAVORITE HEROINES UNITE FOR ACTION-PACKED ADVENTURE!
NOW A FOUR ISSUE SERIES!
Alien invasion at a summer camp for young girls? You know who to call. Captain Marvel is on her way – and she won't be alone. Some of Marvel's biggest heroes unite for the battle of the season! Then, a new mystery puts Patsy Walker – a.k.a. Hellcat – on the prowl! And don't miss your dose of Herstory with profiles on classic and contemporary creators!
Rated T+In Shops: Sep 25, 2019
SRP: $4.99