"Call Of Duty: Black Ops 4" Introduces The New Endowment Pack
Activision and Treyarch released information this week on the new Call Of Duty: Black Ops 4 Endowment Pack that they've put into the game. The packs are specially made for the game to support veterans with proceeds from their sales going toward helping vets find high-quality jobs. We have descriptions of the pack and the special theme you can buy below, and you can read more about them and their creation here.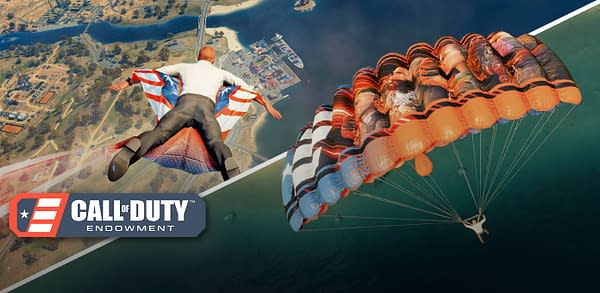 Call of Duty: Black Ops 4: C.O.D.E. Jump Pack

If you live in the United States or United Kingdom, you can support veterans today by picking up the new Call of Duty: Black Ops 4 – C.O.D.E. Jump Pack, first on PlayStation 4, with other formats to follow. This pack includes a special wingsuit, parachute, and trail. 100% of proceeds received by Activision for this pack will go directly to funding nonprofits that place veterans into high-quality jobs. Support vets and purchase your pack today from the Features section of the Black Ops 4 Store!

Call of Duty: "Night Raid" PlayStation 4 Dynamic Theme

We are also partnering with Marine Corps veteran, writer, and artist Max Uriarte to debut the all-new "Night Raid" PlayStation 4 theme (image above). All proceeds from the sale of the Night Raid theme go directly to the Call of Duty Endowment to help fulfill its mission. Answer the call on your PlayStation 4 by going to 'Settings', 'Themes', 'Select Theme', and choose 'Night Raid – Dynamic Theme' to equip this unique theme today.