"Rick and Morty" Meet "Death Stranding" in This Hilarious Mashup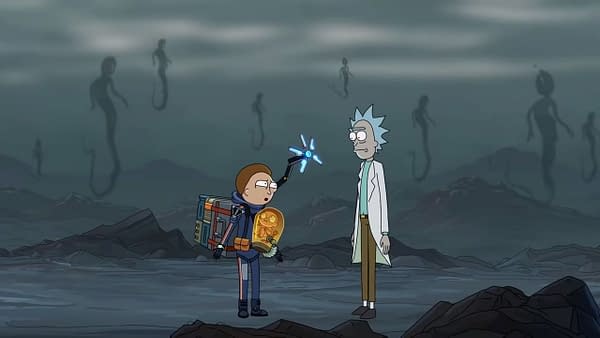 When it comes to Death Stranding promotions, Rick and Morty seems like the least likely crossover. And yet, here we are.
Adult Swim premiered a hilarious short ad featuring Rick and Morty wandering through the game's post-apocalyptic wasteland. Poor Morty is the pack mule here, clad in Sam Porter Bridges' outfit with his odradek scanner and BB. Rick isn't very helpful of course, but when is he ever really when it comes to Morty?
It's a fun reference to the game, and a timely one at that. It's not a surprising one, though. Rick and Morty co-creator Justin Roiland is a video game developer himself. He's a massive gamer as well. If you enjoyed a little game called Trover Saves the Universe, you've enjoyed his handiwork. It's cool to see him paying tribute to what will likely be one of the biggest game this generation.
It remains to be seen whether this is just a fun joke made by the Rick and Morty cast to promote the game or if it may be in the new season. The first episode of the 10-episode fourth season is about to begin the Sunday following Death Stranding's release. That comes on November 8. Who's to say there isn't a lengthier segment on the first new episode? That would certainly be interesting.
Either way, the countdown to November 8 has officially begun. We can't wait to see what Kojima has in store for us.