One of the fun throwback moments at PAX West came from MetaArcade as they showed off their latest game Tunnels & Trolls Adventures. The game takes more of a D&D approach to the old school "choose-your-own-adventure" book style of writing and gameplay. The game itself is designed like a book, where you flip open pages and read the adventures, then you'll be given a couple different decisions as to what direction to go in and follow through. There are various adventures that are super quick to play and require little effort beyond reading and making a choice, and then there are more in-depth versions that give you a more in-depth experience.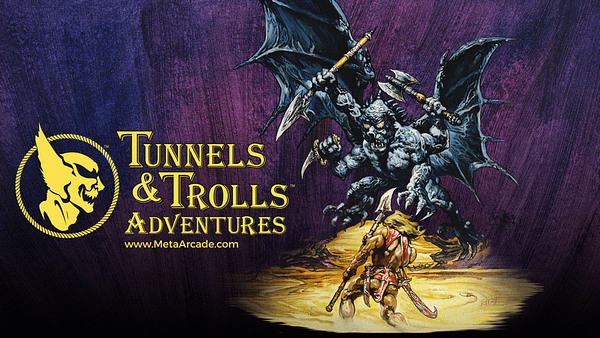 The build that I got to play at PAX West wasn't completely fleshed out, but it gave me a good idea of what they were going for, especially with character building and dice rolling. It was nice to see a fresh take on an old model that looked exactly like the black-and-white Scholastic books I used to read back in the day. The dice rolling mechanic in it works out pretty well and is fair, even when one die rolled on top of another and came down, it fell in my favor. My chat with them sounded like Tunnels & Trolls Adventures was still a few months out for smartphones, but it may be worth the wait.
Enjoyed this article? Share it!