Focus Home Interactive has officially put the pre-orders up for Farming Simulator 19 Platinum Edition for PC, Mac, PS4, and Xbox One. As part of the promotion, the devs even showed off some of the special pre-order bonuses players can pick up in the game. The CLAAS Dominator 108 SL Combine Harvester and the CLAAS Torion 1914 Dev Mule Wheel Loader. The Platinum Edition will be released on October 22nd, 2019.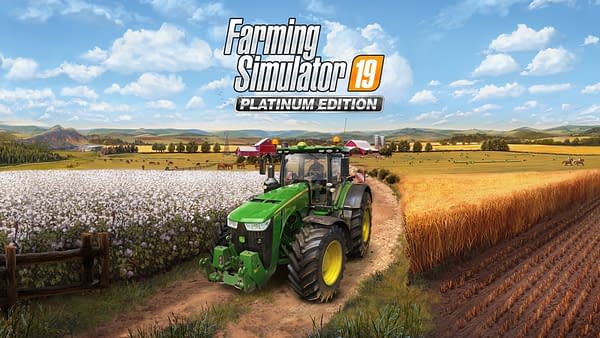 Farming Simulator 19 Platinum Edition and the Farming Simulator 19 Platinum Expansion, the most complete farming experience ever! Build on the wealth of content available in the original Farming Simulator 19 with more than 35 new vehicles and tools from CLAAS, one of the biggest farming brands in the world. Get the CLAAS Dominator & Torion Pack when you pre-order via the Focus Home Interactive shop, digital storefronts and major retailers.

The original Farming Simulator 19 experience lets you build the farm of your dreams with two sprawling environments, 350 vehicles and tools, and dozens of crops and animals. The new Farming Simulator 19 Platinum content is available in either the standalone Platinum Edition, which includes the base game, or the Platinum Expansion upgrade for current Farming Simulator 19 owners. Farming Simulator 19 Premium Edition and Farming Simulator 19 Season Pass owners on PlayStation 4 and Xbox One will be able to download the Platinum Expansion on their respective consoles at launch.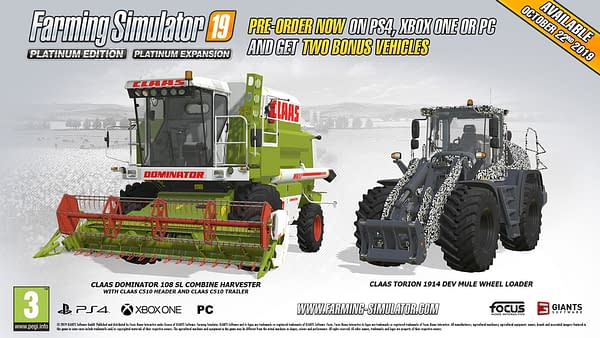 Enjoyed this article? Share it!