Skybound Entertainment Reveals Party New Card Game Whine Night
Check out the latest card game from Skybound Entertainment as the company will release Whine Night on March 22nd.
---
Skybound Entertainment has revealed a brand new party card game this week, as players can get their drink on with Whine Night. This has been created by first-time game designer Jennifer Everett (RGM Designs) with graphic design and art by Erika Floyd (Brazen Babes Design). They have essentially made a game for those who love to talk hot goss and share stories with friends. Basically, you draw a card and answer the prompt as a group, with everyone voting for the best response. We have more info on the game below, along with a pair of quotes about it, as the game will launch in retail and online on March 22nd, 2023.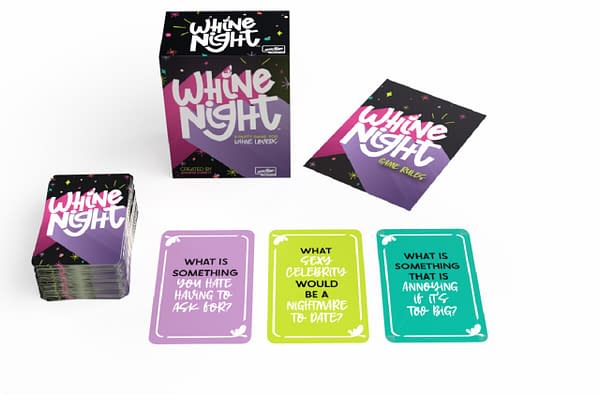 "Whine Night is a conversational party game for 2-8 players that revolves around answering prompts from different cards. With 300 prompts, each card can unearth stories that will entertain partygoers for hours on end. After everyone votes on whose whine was the best, the player with the most votes gets the point. At the end of the night, whoever won the most rounds wins! "
"I love that this game is so different than anything else out there in the adult party space!" said Jennifer Everett. "It's almost like scrolling through TikTok, as so much of the content is just a reminder of how funny our day-to-day lives are if we really sit back and think about work, home, and relationships. It's also a great reminder not to take life too seriously!"
"As Skybound Tabletop expands beyond hobby games, Whine Night is an exciting introduction to our offering of social party games," said Garima Sharma, Vice President of Product & Strategy, Skybound Entertainment. "The game features prompts that everyone can relate to, from the mundane frustrations we face in our day-to-day routines around the house to the baffling encounters we see in our workplaces and entertainment out in the world. We can't wait to see how players react."