For the past week or so, Super Mario Maker fans have been raving about one particular level as we make our way to Super Mario Maker 2. If you're not familiar with the story, there's a famous an RNG level called "Lucky Draw" made by a New Zealand creator known as Phenotype who basically makes weird levels that no one takes seriously. The course is designed so that you have a 1 in 7.5 million chance of beating it, and as you can see from the video below of someone trying, you'll know why. There are three Magikoopas who immediately throw magic at a couple of question blocks, which can be turned into anything at random. If the right thing is triggered, it will send something down to hit the P Switch below and send you to your death. But that 1 in 7.5m will send you all the way to the end to beat the level.
A few people have beat it, but it was determined that all of them were cheaters using hacker programs on their Wii U. Because who the hell actually beat this course in 0.18 seconds? That's impossible without cheating as there's nowhere for you to go but to the end or into the lava. But finally, for real, someone actually did it. It was just a regular gamer named Jake, not a streamer or a pro, who set his Wii U to repeat the Super Mario Maker course over and over after each death. He wasn't recording or streaming the accomplishment, but you can see here him taking a photo of the end screen showing he beat it in just over four seconds.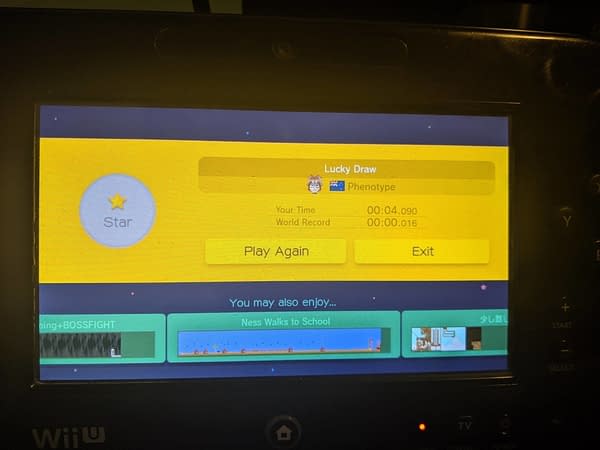 Now that this Super Mario Maker challenge is officially over, we look forward to seeing what people make with the new one when it comes out on June 28th.
Enjoyed this article? Share it!