2 Deadpool Bars Coming: One in LA One in NYC
Who doesn't want to have an adult beverage in a Deadpool bar? Maybe don't answer that, but the excited parties more than likely outweigh the wet blankets.
The Merc with a Mouth has long been a fan favorite character, but the 2016 film starring Ryan Reynolds launched the red-and-black anti-hero into the cultural zeitgeist with a unicorn. The much-anticipated sequel is right around the corner, with Deadpool 2 set to open in theaters in May, despite lengthy last-minute reshoots and some mixed reports of test screening results.
I digress — the real news here is that there are two Deadpool-themed bars coming for a limited time; one in Los Angeles and the other in New York City. Kind of the perfect place to sample the new Mike's Harder adult beverages with Deadpool-inspired flavors.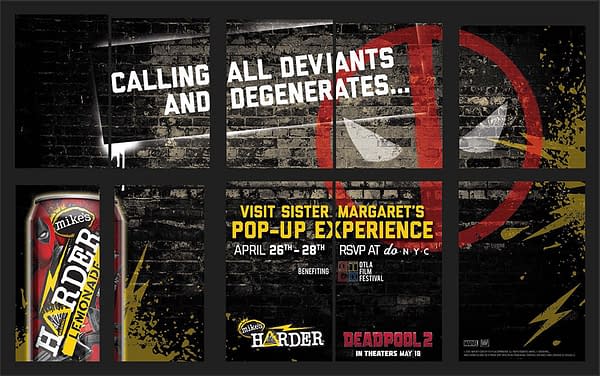 The two Sister Margaret's School for Wayward Girls bars are a promotional marriage between Mike's Harder and Fox, one that we can't really complain about. It fits the character, it speaks to the target audience (we guess) for the sequel film, and the timing is pretty great.
Both the bar locations will feature exclusive Deadpool 2-themed Mike's Harder cans (no word on any other kind of collectables and swag, but we're assuming there will be some).
Alligator Lounge in Brooklyn will play host to the NYC bar from April 26th through the 28th and will reportedly serve pizza. Maybe the TMNT will stop by.
Los Angeles's the Slipper Clutch in DTLA (Downtown Los Angeles) will host the California bar experience from May 10th through the 12th, and they'll reportedly be serving — wait for it — CHIMICHANGAS.
Mike's Harder is even sponsoring a Deadpool 2 contest, offering the chance for a 21+ fan to attend the film's premiere. You can check that out (and enter) here.
Deadpool 2 is set to open on May 18th in US theaters.