New '47 Meters Down: Uncaged' Poster Takes a Bite Out of CinemaCon
47 Meters Down sequel 47 Meters Down: Uncaged has a new poster debuting as elevator wraps at this years CinemaCon in Las Vegas. The first film starred Mandy Moore and Claire Holt, and was hugely profitable, making $61.7 million on a small budget of $5 million. The sequel has also had a couple of different titles now, including 48 Meters Down and 47 Meters Down: The Next Chapter. The official title was changed to 47 Meters Down: Uncaged in December. This one stars John Corbett, Nia Long, Sophie Nelisse, Corinne Foxx, Sistine Stallone, Brianne Tju, Davi Santos, Khylin Rhambo, Brec Bassinger, and Leslie Pepen. It is being directed by Johannes Roberts from a screenplay by Ernest Riera.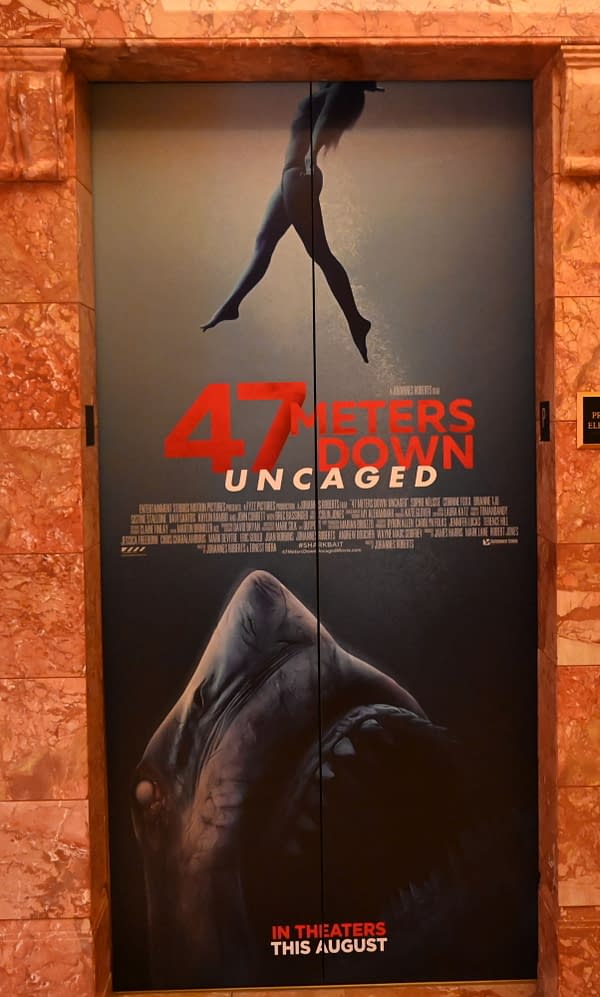 47 METERS DOWN: UNCAGED tells the story of four teens diving in a ruined underwater city, who quickly find themselves in a watery hell as their adventure turns to horror when they learn they are not alone in the submerged caves. As they swim deeper into the claustrophobic labyrinth of caves they enter the territory of the deadliest shark species in the ocean.
47 Meters Down: Uncaged will hit theaters in August.
Keep it locked here all week for all the news, tidbits, merch, posters, trailers, and more coming out of CinemaCon!