Why "Parasite" Winning Best Picture Oscar Opens New Doors in Hollywood [OPINION]
When one covers Hollywood, there's a certain level of cynicism that comes into play considering its inconsistent history. Before we get into that let's give credit where it's due with the Film Academy recognizing Bong Joon-Ho's Parasite as Best Picture in the 2020 Oscars. Could anyone else picture a contemporary foreign language film 5-10 years ago and beyond? What would the Academy consider otherwise? Most probably think historical drama or martial arts epic if it were from Asia.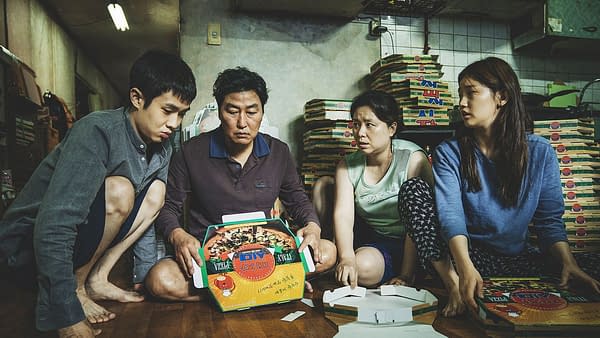 "Parasite" and Other Asian Films in the Oscars
Prior to Parasite, you had the martial arts epic Crouching Tiger, Hidden Dragon (2000) from Ang Lee, nominated for Best Picture at the 73rd Annual Academy Awards. Before that, you had Bernardo Bertolucci's biopic The Last Emperor (1987) that won Best Picture.
Now that Parasite won, it opens doors for mainstream films overseas. When nominated, the international studios also receive exposure in front of the cinema's grandest stage. The Best Picture can be the "World" Best Picture. The industry should consider doing away with "Best Foreign Language Film" if it can compete with the same films state-side. Hollywood came a long way considering their past practices and its ongoing battle for representation.
Giving Credit Where It's Due
It's undeniable the influence of Asian cinema on American filmmakers. Long before Parasite, Americans filmmakers were inspired by the likes of Akira Kurosawa, John Woo, Ishirô Honda, Masaki Kobayashi, and Yimou Zhang. Without Kurosawa, George Lucas never creates Star Wars (1977). Without Kurosawa's Seven Samurai (1954), we don't get John Sturges' The Magnificent Seven (1960). Who knows how John Wick or The Matrix turn out without the influence of Woo and Yuen Woo-Ping? Even one of the most respected filmmakers in American history Martin Scorcese owes his Best Director Oscar honors he won for The Departed (2007) to Andrew Lau and Alan Mak's Korean-based Infernal Affairs (2002) films.
Problems Still Faced Today
While whitewashing gets enough negative attention to not be a common practice, there were still Caucasians who got nominated for Oscars. In the case of Linda Hunt, she won Best Supporting Actress playing an Asian male in 1982's The Year of Living Dangerously.
While it's a bold first step, the industry has a long way to go to make up for its past bigoted practices. Keep in mind, we are not that far removed when Ridley Scott justified casting Whites in ethnic roles in Exodus: Gods and Kings (2014). Paramount also lost the opportunity of creating or elevating an Asian actress with 2017's Ghost in the Shell. Studio selected Scarlett Johansson selected to play "The Major." That's just two examples from the last decade alone.
Today, Hollywood started coming through putting up rather than shutting up about equal representation in all levels from acting, directing and at the executive level. We still have a long way to go.
Parasite is currently in theaters.