Captain America: Civil War Joins Fuller House Season 2 On Netflix In December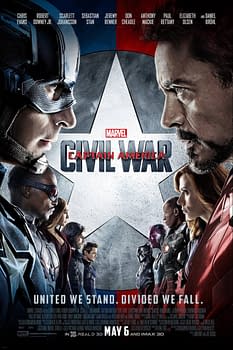 As we all know from following Bleeding Cool's extensive ongoing coverage of Fuller House, that show is returning to Netflix for a second season on December 9th. The sobering drama sees the cast of 80s sitcom Full House (minus the Olsen twins) return to their San Francisco home to try to raise children after D.J. Tanner's firefighter husband is tragically killed, leaving D.J. a widower and her children fatherless. Naturally, hilarity ensues.
But as Netflix has released their lineup for December, some more big news – not as big as Fuller House Season 2, mind you, but big nonetheless – has also hit the web. It seems that Captain America: Civil War will debut on the streaming service on Christmas Day, celebrating the birth of the baby Jesus with big budget superhero vs. superhero action, just as the Lord intended!
Recently, the Hollywood rumor mill has been churning out unsubstantiated rumors that Disney is interested in purchasing Netflix, and this kind of collaboration will probably encourage rumormongers in that regard.
Some other movies and shows hitting Netflix in December that I personally enjoy include documentaries Honey I Shrunk The Kids and Harry and the Hendersons, My Little Pony: Friendship Is Magic Season 6, D2: The Mighty Ducks, National Lampoon's Animal House, Beverly Hills Cop, and psychological thriller Chill With Bob Ross. Here's the full lineup:
Dec. 1:

Always
Angels in the Snow
Beverly Hills Cop
Beyond Bollywood
Black Snake Moan
Chill with Bob Ross: Collection
Compulsion
D2: The Mighty Ducks
David Blaine: Street Magic
Dreamland
For the Love of Spock
Girlfriends' Guide to Divorce: Season 2
Glory Daze: The Life and Time of Michael Alig
Harry and the Hendersons
Hitler: A Career
Holiday Engagement
Honey, I Shrunk the Kids
House of Wax
Hannibal
Merli: Season 1 – NETFLIX ORIGINAL
Merry Kissmas
National Lampoon's Animal House
Picture Perfect
Rainbow Time
Rodeo & Juliet
Swept Under
Switchback
The Angry Birds Movie
The Crucible
The Little Rascals
The Legend of Bagger Vance
The Rock
The Spirit of Christmas
Toys
Uncle Nick
Waking Life
Way of the Dragon
We're Back! A Dinosaur's Story
White Girl
Wildflower
Zero Point

Dec. 2:

Fauda: Season 1—NETFLIX ORIGINAL
Hip Hop Evolution: Season 1—NETFLIX ORIGINAL
Pacific Heat: Season 1 –NETFLIX ORIGINAL

Dec. 3:

Lost & Found Music Studios: Season 2 – NETFLIX ORIGINAL

Dec. 5:

Mad
The Good Neighbor

Dec. 6:

Blue Jay
Homeland (Iraq Year Zero: Season 1)
Reggie Watts: Spatial—NETFLIX ORIGINAL
The Devil Dolls
The Model

Dec. 8:

The Cuba Libre Story: Season 1—NETFLIX ORIGINAL

Dec. 9:

Captive: Season 1—NETFLIX ORIGINAL
Cirque du Soleil Junior – Luna Petunia: Season 1 NETFLIX ORIGINAL
Club de Cuervos: Season 1—NETFLIX ORIGINAL
Fuller House: Season 2—NETFLIX ORIGINAL
Four Seasons in Havana: Season 1—NETFLIX ORIGINAL
Medici: Masters of Florence: Season 1—NETFLIX ORIGINAL
Spectral—NETFLIX ORIGINAL
White Rabbit Project: Season 1—NETFLIX ORIGINAL

Dec. 10:

Lucky Number Slevin
Phantom of the Theater

Dec. 11:

Breaking a Monster

Dec. 12:

Ricardo O'Farrill: Christmas Special—NETFLIX ORIGINAL

Dec. 13:

Colony: Season 1
Killswitch
I Am Not a Serial Killer
Nobel: Season 1—NETFLIX ORIGINAL

Dec. 14:

Versailles: Season 1

Dec. 16:

Barry—NETFLIX ORIGINAL
Call Me Francis: Season 1—NETFLIX ORIGINAL
Crazyhead: Season 1—NETFLIX ORIGINAL
No Second Chance: Season 1—NETFLIX ORIGINAL
Rats
The Adventures of Puss in Boots: Season 4 —NETFLIX ORIGINAL

Dec. 19:

Miss Stevens

Dec. 20:

Disorder
Gabriel Iglesias: Sorry For What I Said When I Was Hungry—NETFLIX ORIGINAL
My Little Pony: Friendship Is Magic: Season 6
Ten Percent: Season 1—NETFLIX ORIGINAL
The Break: Season 1—NETFLIX ORIGINAL

Dec. 23:

Travelers: Season 1—NETFLIX ORIGINAL
Trollhunters: Season 1—NETFLIX ORIGINAL

Dec. 25:

Marvel's Captain America: Civil War
When Hari Got Married

Dec. 27:

Ajin: Season 2—NETFLIX ORIGINAL
Chasing Cameron: Season 1—NETFLIX ORIGINAL

Dec. 28:

Comedy Bang! Bang!: Season 5

Dec. 29:

The Hollywood Shorties

Dec. 30:

The Eighties: Season 1

Dec. 31:

Big in Bollywood