Chris Hemsworth Says Avengers 4 Will Be Even More Shocking Than Avengers: Infinity War
It's been over a month since Avengers: Infinity War came out and fans are still wondering what we can expect from Avengers 4. Marvel isn't saying much right now, but the stars are starting to drop some hints about what we could expect from this feature. Chris Hemsworth recently spoke to Esquire and talked about how Avengers 4 is even more shocking than Avengers: Infinity War.
If you were shocked by [Infinity War], I think the second one is even more shocking, for other reasons entirely. That's what kind of blew me away the first time I read both scripts, is how they managed to orchestrate so many different characters but give them each their own separate shot and moments, and have it be elevated and feel fresh and unique—not just like a messy, thrown-together assembly of these guys.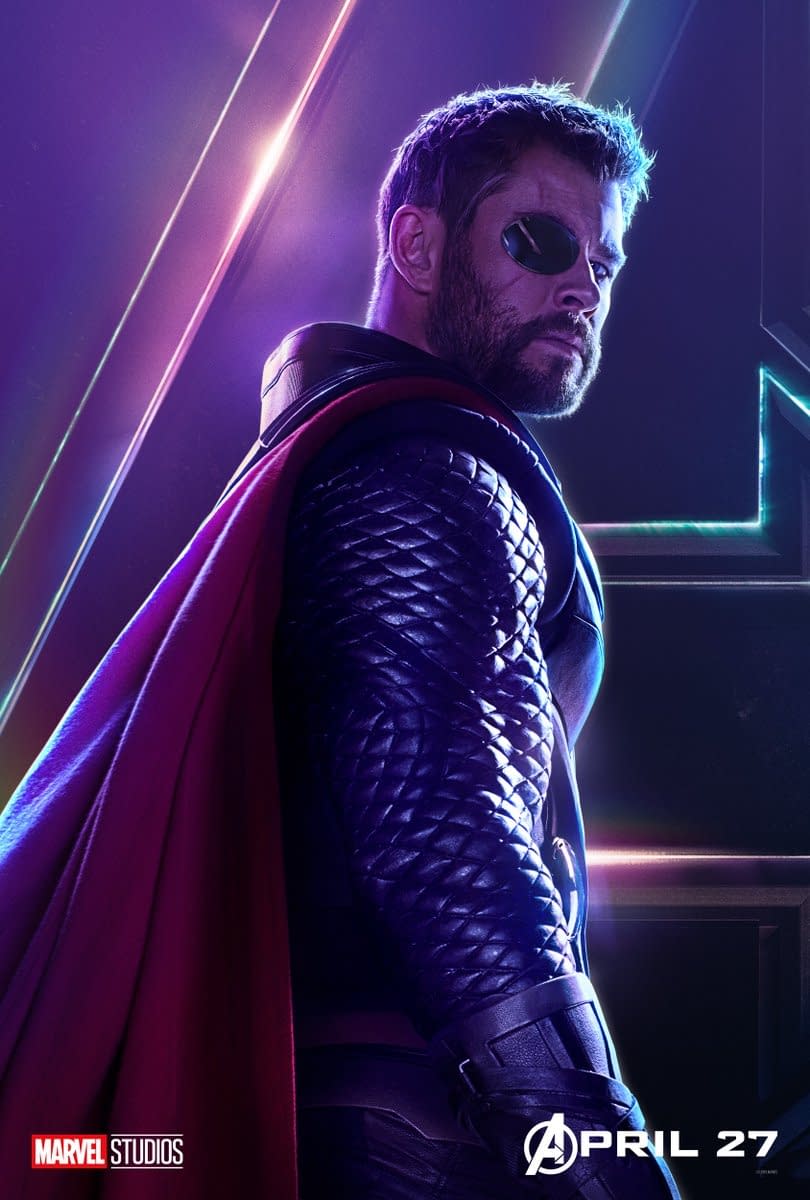 Hemsworth went on to say that he's really excited for people to see this next step in the superhero universe.
The second one I'm probably even more excited about. Just for people to see. I just think it's another step again. Each step we seem to take with these films, I've loved the fact that there's been growth and evolution and it continues to surprise people as opposed to sort of flatlining, which was obviously always a fear—that they'd run out of ideas or run dry of creative excitement. For me, this whole experience has been incredible. In particular the last one.
Marvel is skipping out on Comic-Con International this year, so we don't really know when they're going to show us any footage from this one or make an announcement. Marvel seems to know that they have a product people will seek out regardless of how they decide to release a trailer, but maybe they'll do something toward the end of the year like the big event they did in late 2014.
Untitled Avengers Movie / Avengers 4, directed by Anthony and Joe Russo, stars Robert Downey Jr., Josh Brolin, Mark Ruffalo, Tom Hiddleston, Chris Evans, Chris Hemsworth, Jeremy Renner, Chris Pratt, Elizabeth Olsen, Sebastian Stan, Benedict Cumberbatch, Paul Bettany, Chadwick Boseman, Benedict Wong, Zoe Saldana, Karen Gillan, Vin Diesel, Dave Bautista, Pom Klementieff, Scarlett Johansson, Don Cheadle, Tom Holland, Bradley Cooper, Sean Gunn, Brie Larson, Evangeline Lilly, Paul Rudd, and Anthony Mackie. It will be released on May 3rd, 2019