MGM is getting ready to release Creed II and that means ramping up all of the marketing. Now we have a new featurette that teases the "sins of the father". In this movie we're getting the next generation rematch of Drago and Creed with two father figures on both sides of the battle fighting for two very different reasons. We get to see some footage along with talking to a few members of the cast about what this movie means to the characters.
Over at USA Today they are doing their fall preview and got the chance to speak to director Steven Caple Jr. about the stakes and share a new image.
"The stakes are much higher within the fight and even outside of the ring," Caple says. "Creed is all about technique and speed, everything that Rocky taught him."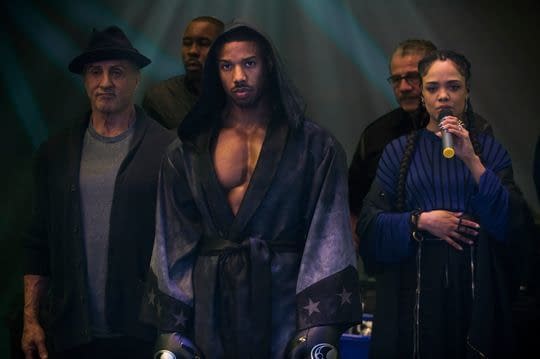 One of the big conflicts in this movie is Rocky and Ivan Drago seeing each other again after their big fight. While Rocky might have won that fight in the end he had to lose his best friend to do it and he's terrified of history repeating itself.
"It's kind of like, 'I don't want this to happen. I don't want to see a flashback of '86.' He has his doubts about this fight, for sure."
Creed was lightning in a bottle but thus it looks like this sequel could catch that lightning again. The first movie was very much a familiar story with a fresh coat of paint and this movie appears to be the same thing. It worked once so now we get to see if it works again.
Summary: Under the tutelage of Rocky Balboa, newly crowned light-heavyweight champion Adonis Creed faces off against Viktor Drago, the son of Ivan Drago.
Creed II, directed by Steven Caple Jr., stars Michael B. Jordan, Tessa Thompson, Sylvester Stallone, Dolph Lundgren, and Florian Munteanu. It will be released November 21st.
Enjoyed this article? Share it!