Hanging Out With Comic Book Men's Ming Chen And Mike Zapcic At Foxprowl-Con
By Dylan Gonzalez Ming Chen and Mike Zapcic make up one half of the Comic Book Men leads. I traveled up to Batavia, New York to see the guys at the Foxprowl-Con and pick their brains a little about the behind scenes on the show, their con experiences and hot sauce.
Dylan Gonzalez: I'm here with Mike and Ming from Comic Book Men. Want to say hello?
Ming Chen: What's going on, man?
Mike Zapcic: How ya doin'?
DG: I'm doing all right. So Comic Book Men is in its fifth season and as far as I'm concerned, it's running strong. To each of you, what has been the single coolest experience from being part of the show?
MC: This is so official. I feel like you're Barbara Walters or something.
DG: (laughs)
MC: The single greatest thing that happened on Comic Book Men? Probably meeting Stan Lee. That was pretty awesome. A living god. The guy has created an entire universe of which, had he not done it, we wouldn't be sitting here right now.
MZ: You are going to burn in hell for that. You're calling Stan Lee, a human being, a living god?
MC: He is a living god! I think God would even say he's a living god. I have no doubt.
MZ: I disagree.
MC: The man is definitely blessed.
MZ: He definitely has talent, but calling him a god? A legend. A legend is more fitting. And Stan's a really cool guy and it was great to meet him. We met a lot of really cool people. George Perez, Kevin Eastman, Nichelle Nichols. Kevin met Shatner. The Shat.
DG: Actually that is my next question. Who was your favorite cameo to appear on the show? Clearly Ming's is Stan Lee.
MC: If it wasn't Stan Lee, Billy Dee Williams was cool. I've always thought of Lando as the coolest guy in the Star Wars galaxy, bar none. Han Solo? Cool, but I think Lando taught him everything about cool. Immediately they land on Bespin, sees Leia and he's like, "Well, well, well, what do we have here?"
MZ: Of course he is. She's the only woman in the galaxy, for God's sakes.
MC: Yes, using some ridiculous pickup lines along the way. Star Wars pickup lines? They work amazingly well these days. Everybody loves Star Wars. But just remember this wasn't the case all the time.
MZ: Oh dear god in heaven…
MC: This wasn't the case up until the mid 90's. No one really thought about Star Wars.
MZ: No this didn't-
MC: Between '83 and '95, no one really did. It was actually Kevin [Smith] and Clerks who brought Star Wars back with the whole discussion of the Stormtroopers and the toilet manes and all that. And people were like, "Oh wow, Star Wars, yeah, right, I remember that movie."
MZ: So you're saying that Kevin caused Lucas to say, "Hey you know what? I better get on writing those other six movies."
MC: Very possible. DG: Who'd be your dream guest to have on the show?
MC: Now that you mention it, George Lucas. We can ask him about A New Hope through Return of the Jedi. We can ask him what happened with I, II, III.
MZ: They sucked!
DG: Would you ask him about Kingdom of the Crystal Skull?
MC: Yeah. I would like to ask him about Indiana Jones.
MZ: It sucked!
MC: And I would love to ask him what it's like to bathe in a pool of money.
DG: You wouldn't want to ask him about Howard the Duck?
MC: Howard the Duck's coming back! It's totally coming back.
DG: But not THAT Howard the Duck.
MZ: The things I want to ask George Lucas about are things that he will not touch. The dirt. I'm sure he's got plenty.
DG: So, getting back to the show-
MZ: Aren't you going to ask me who my dream guest is?
DG: Oh, sh*t, I'm sorry.
MZ: Oh, we're only focusing on Ming here! Because he has his own hockey jersey, all right.
MC: I'm on a hockey team, bro! Get with the program!
MZ: Now I'm getting my own damn one. I actually have two dream guests. I want Bruce Campbell and, oddly enough, Joel Hodgson. We've been trying to get him for three seasons and he's been busy. I don't know if you've been keeping with the Interwebs.
DG: He's bringing back Mystery Science Theater 3000.
MZ: He's got a very successful Kickstarter campaign. It's already made 3 million bucks.
DG: To bring back one of the greatest TV shows of all time.
MZ: Hell yes.
MC: We should have done that a long time ago. We could have had Mystery Science Theater like five years ago.
MZ: Well, he's been working on it.
DG: Right on.
MC: Good guests, Mike.
DG: Well, before I erroneously ignored Mike's dream guests (laughs)-
MZ: It's all good.
DG: What's the environment like behind the scenes? I've been to the Stash a bunch of times and hung out with you guys some, but what's it like with the crew? And I mean, not just with Johnson and Walt, I mean the whole crew.
MZ: We're all friends there. We are a family. We've been doing this for five seasons so these guys are like other employees at the Stash. It's really cool.
MC: We're very lucky the crew likes the same stuff as we do. Aliens, Star Wars, Back to
The Future. All of those. We will quote Aliens all day. It's kind of like summer camp when your old crews get back together again. I love it.
MZ: And not Wet Hot American Summer.
DG: Did you guys watch the new one?
MZ: Oh yeah. I dig it. I mean everyone's a little longer in the tooth, which I think is very funny.
MC: But the crews, they tell me, every year, people fight over which jobs to get and getting on our crew. They say it's some of the most fun they've had working in the reality TV industry. That's pretty flattering. But yeah, we love them all. DG: The show takes place primarily at the Stash and in and around New Jersey. But you guys have made a name for yourself at a lot of cons. What's some of your favorite con experiences?
MC: For me, I love meeting the people who watch the show. To me, going to a con is like being invited to the coolest party going on that weekend. I didn't get invited to a lot of parties. I don't know about you, Mike.
MZ: I used to crash a lot of parties. I also had a fake ID so I would buy the beer.
MC: Right, but crashing means we weren't invited. Growing up as a kid, I always wanted to get invited to the cool parties. And sometimes you roll into a party and you have to introduce yourself to everybody. You're trying to roll in with some game. You see what I'm saying? You go in and that guy's a movie producer, that guy's a stuntman. So you roll into a con, everyone knows who you are and you don't have to pump yourself up anymore.
MZ: Yes, you do! You still have to pump yourself up! You STILL have to introduce yourself to a lot people. They are people like, "Oh my god, who's that guy? Oh my god, it's Steven Yeun! No, it's not. It's Ming. Ming Chen."
MC: (laughs)
MZ: I echo what Ming says, but some of my favorite con experiences? We got to listen to Jim Steranko and he told us the story about slapping Bob Kane.
DG: He's awesome.
MZ: He's fantastic. We became friends with Jimmy Leary, Clem the Loose Skinned Demon from Buffy the Vampire Slayer. That was pretty cool. Jumping into lines on photo ops.
MC: Meeting all the other guests that are at the cons, that's really fun.
MZ: And all the Walking Dead people.
DG: You guys are big fans.
MZ: Oh yeah.
MC: Yeah, for sure.
DG: You are a mainstay at the Walker Stalker Cons.
MZ: We are super fans of the show. We love them.
MC: Love the show. Love it. And that con.
DG: Fitting since you guys are on the same network.
MC: We like following them [on the network]. It's a good thing.
DG: Is there any place you'd like to visit, con related or not?
MZ: I'm thinking Seattle. I'd love to go to Emerald City Comic Con.
MC: I love Atlanta. Dragon-Con is awesome. Couple cons in Nashville I'd love to go to. All over. Kansas City would be awesome.
MZ: Salt Lake City.
MC: Portland would be awesome.
MZ: We'd love England.
MC: We haven't really been overseas yet. The show's been playing sporadically overseas. We would love to take over England, Paris and Dusseldorf. China! Let's take over the Chinese market.
MZ: I'm sorry, Ming, they don't like slackers over there.
MC: I'm not a slacker, I'm a go getter!
MZ: We're both go-getters, but we can't bring Johnson with us.
MC: He isn't going to go to China.
DG: I don't think they'll let him into China.
MZ: I wouldn't blame them.
DG: (laughs) I think we touched on it, but what is it about the cons you love?
MC: We went to cons before Comic Book Men and we would have a blast. So now we're on the other side of the table, we get invited, they put our pictures in the program. That part is really cool. I like meeting the little kids who are into the show. Never in a million years did I think little kids would be into it.
MZ: No, we get entire families who watch the show.
MC: I've met people from three-year-old kids to eighty-year-old grandmas who like the show. It's pretty cool that it appeals to that many people.
MZ: Funny side note. Ming got a pair of panties from a grandma who is a fan, wrapped around a room key. And that was twenty minutes ago.
MC: Yeah, Batavia! I love this town!
DG: Ming, for those of us that follow you on Instagram (mingchen37), you're a pretty hardcore marathon runner. What drives you to do the marathons?
MC: That last two I ran for a charity. I ran for The Wayne Foundation. I admit, both I wanted to back out of because I didn't train. I was lazy, didn't train properly, didn't follow a schedule and half-assed everything. But I couldn't drop out because I was doing it for a charity. I grinded my way through it. Running is fun, though. I would love to be one of those elite, skinny runners, but I like cake and hamburgers too much. I run to eat. If you follow me on Instagram, there's a lot of food going on. Whatever city I go to, I try to find the best food. Gotta run all that off. I run to eat, my friend.
DG: Mike, you've recently expanded into the world of hot sauces. Would you care to touch on that a little?
MZ: I've been making hot sauce for about three years now. I'm a former chef so I'm thinking of sharing my recipe with a manufacturer and putting out my own line. Actually, with my partner here, Ming & Mike's Hot Sauce, I think that'd be pretty cool.
MC: That'd be great.
MZ: Mike Made, Ming Approved. How's that sound?
DG: That's a good slogan.
MC: We need an awesome label.
DG: Any other future products from Chef Zapcic?
MZ: We'll see. Barbeque sauce, some dry rubs maybe.
DG: There's always something cooking up.
MZ: Oh ho ho! (More laughter)
MC: Whatever it is, it's going to be awesome sauce.
DG: What does the future hold in store for Comic Book Men?
MZ: You got eight more episodes coming this season, so we promise you a wild and woolly time. What else can we promise?
MC: Hopefully ten more seasons after that.
MZ: Yeah, that'd be nice.
MC: I've got ten in me, maybe more. I don't want to stop ever.
DG: Going to have put your kids through college eventually.
MC: Definitely doesn't hurt for that. But you watch the show and you can tell we're having fun. Why stop the fun? Let's keep having fun.
MZ: I like fun!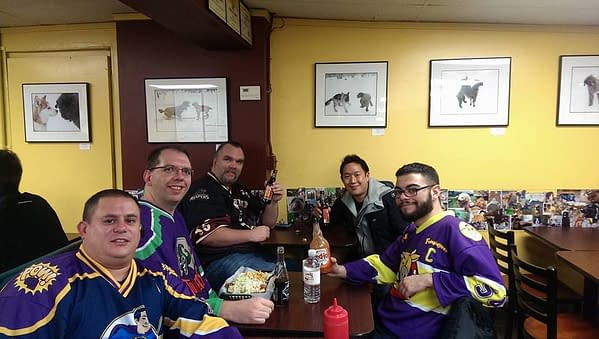 Following our interview, I sat in on the Comic Book Men panel. It was a very casual discussion, with the room opened up for questions almost immediately. Chen and Zapcic touched on how they got involved with Kevin Smith. Chen had started out as a fan and created a Clerks website. He had not so legally ripped a number of deleted scenes off the Clerks laserdisc and uploaded them to his fan site. Kevin caught wind of the site and was so impressed that he hired Ming to craft his early web domain.
Zapcic had started out in culinary and was also a fan, though he had been dissuaded to watch Clerks. His first film was Mallrats, which he greatly enjoyed. He also revealed that he, Walt Flanagan and Smith had all frequented the comic book store Comixology at one point or another. When the Stash got built, he began to shop there and Flanagan offered him some time if Walt needed off, as well as a discount, which is hard to get from Flanagan, stated. Since then he has been hired on full-time.
Most of the questions revolved around their time with the show, what their favorite Kevin Smith film was, the usual fare. However, Zapcic regaled the audience with a hilarious story about going out on the town in Poughkeepsie, New York and encountering James Spader, who was filming a movie. Zapcic, Spader and another friend hit up a bar and partied the night away. At some point, Zapcic lifted a bottle of champagne from Spader's car and brought it in to the bar to imbibe more. Spader proceeded to ream him out for stealing and opening it and a near fistfight ensued. Zapcic's friend pulled him away, but not before he could yell out "Mannequin sucked!" The two proceeded to walk six miles home, as Spader had been their ride.
Zapcic stated that if he ever encountered Spader, he would apologize and give him a bottle of Dom Perignon.
After the panel, Zapcic returned to his room as he was not feeling great, but Chen joined my friends and I back to Rochester to indulge in a local favorite, garbage plates. We hit up Dogtown and pounded back plates of burgers, hot dogs, mac salad, home fries and hot sauce. Over plates, we discussed Chen's favorite stops during his con travels, food and craft beer.
What could have been a typical con experience turned out to be a great time, hanging with the guys from Comic Book Men.
Dylan Gonzalez happens to love beer and comic books and luckily found a place to write about both because he has no idea how to actually make money in the real world. He lives in a cave in New Jersey.
Tweet him at @BeardedPickle, follow his own beer blog at http://boozegeek.tumblr.com/or email him at dylan.gonzalez1990@gmail.com.