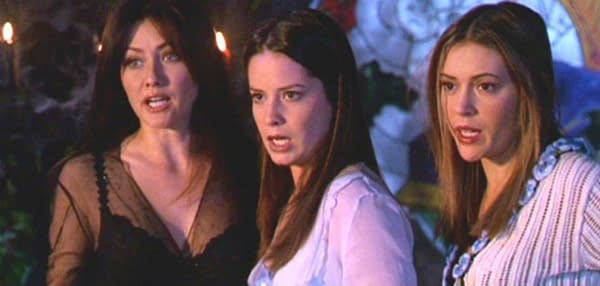 It's a day ending in "Y," so naturally we have news of another television show from the past getting a reboot or a revival. In this case, it's a reboot, and the show in question is Charmed, the 1998 show about sisters who are witches that ran for eight seasons, based on a true story. The original starred Shannon Doherty, Holly Marie Combs, Alyssa Milano, and Rose McGowan, and also featured Big Bang Theory's Kaley Cuoco as a supporting character in the final season.
The new version, according to The Hollywood Reporter, will be helmed by Jane The Virgin showrunner Jennie Snyder Urman, and written by Jane The Virgin writers Jessica O'Toole and Amy Rardin. Pretty much, if you worked on Jane The Virgin, you're a shoe-in for a job here. The original Charmed aired on The WB, so it's fitting that the new one will air on its successor, The CW.
Oh, and one more thing: this version of Charmed will be set in 1976.
It's worth mentioning that Dynamite has recently launched a Charmed comic, set in the continuity of the original show, so both versions may very well exist simultaneously.
Enjoyed this article? Share it!