Director James Cameron just revealed the title for the upcoming 6th Terminator film, which will see the return of Arnold Schwarzenegger and Linda Hamilton.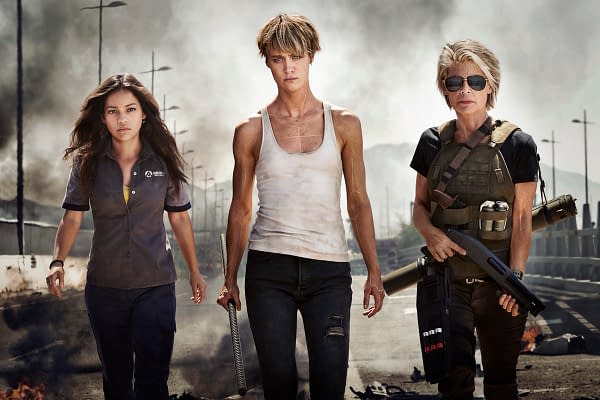 While speaking with Yahoo News during a red carpet stop for Alita: Battle Angel, Cameron shared the title of Terminator 6, as well as some insight about the version of Hamilton's Sarah Conner and Schwarzenegger's T-1000 we'll be seeing:
"We're calling it, Terminator: Dark Fate. At least that's our working title right now.

It's hardened her, but in a way that made her much stronger. Maybe less likable, but stronger. And ultimately, she becomes a really important character in passing the baton to the new characters that come in. It's a very female-centric film, which I'm glad Tim [Miller] embraced those themes.

"Tim's a very willful and opinionated director, and he's got his own ideas for the film. I'm kind of like the Pips — he's Gladys."
Terminator 6 stars Mackenzie Davis, Gabriel Luna, Natalia Reyes, Diego Boneta, Arnold Schwarzenegger, and Linda Hamilton as Sarah Conner. James Cameron is producing as well as contributing to the story, along with director with Tim Miller and Skydance's David Ellison.
Terminator: Dark Fate opens in theaters on November 1st, 2019.
Enjoyed this article? Share it!