M. Night Shyamalan Jumps To Warner Bros., Ignites The Horror Wars
M. Night Shyamalan has inked a huge first look deal with WB, the latest strike in the new Horror Wars in Hollywood right now.
---
M. Night Shyamalan is heading to Warner Bros. The director has signed a multi-year first-look deal with the studio, starting with his next feature as a director, Trap, releasing on August 2, 2024. Also included is the just announced The Watchers, being directed by his daughter Ishana Night Shyamalan. That will release on June 7, 2024, and is her feature debut behind the camera. All of this is the latest in the horror wars at studios, as the genre has been proven to be the only sure thing in Hollywood at the box office at this point. Earlier this year it was revealed that WB's cash cow James Wan is merging his Atomic Monster with Blumhouse and they are set up at Universal., which is where Shyamalan has been the last few years. Deadline had the news.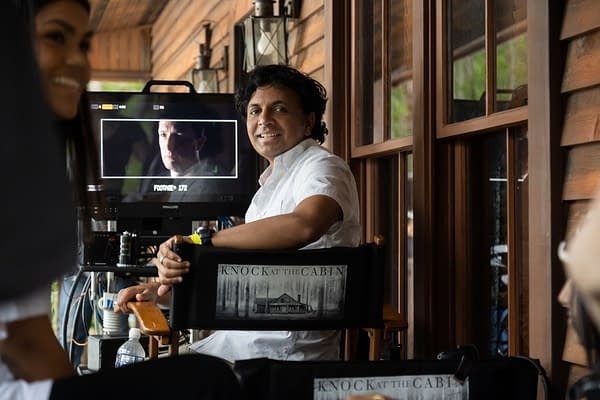 Shyamalan Brings $$$, And That Is A Fact
"Night is one of the most iconic and influential directors of his generation and an auteur in every sense of the word," De Luca and Abdy said jointly. "From The Sixth Sense through Split to his latest chiller Knock at the Cabin, he's one of the few directors in contemporary cinema whose name alone promises a bold, singular vision, compelling original storytelling, and a provocative, surprising, and entirely unique experience at the theater. We couldn't be more thrilled to welcome him to the Warner Bros. family, and look forward to an exciting collaboration with Night and the entire Blinding Edge team."
This is a hell of a get for Warner Bros., as most were wondering what their horror division would be like after the void left by Wan leaving. Shyamalan is right on par delivering hit after hit on a small budget too, so WB hit a home run with this one.