AMC Theatres and Regal Cinemas have the tradition of screening the annual Oscar nominations for audiences to get a second chance at the Academy's finest. Unfortunately, the only studio let out of their mix is Netflix. Netflix netted 24 Oscar nominations, more than any studio and the highest for the streamer to date. Both chains said they wouldn't screen its movies, according to the Los Angeles Times. AMC and Regal are the largest theatre chains in the country.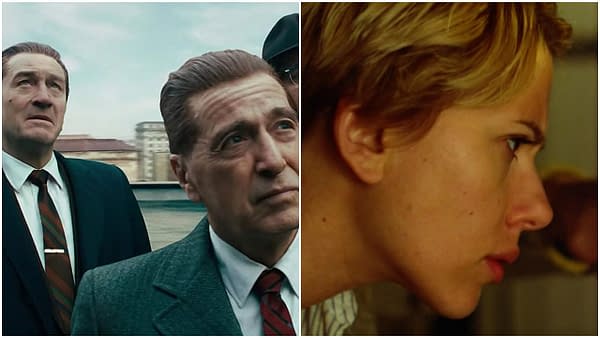 A spokesperson for the Leawood, Kansas-based AMC declined to comment. Regal, owned by U.K.'s Cineworld Plc, said its Best Picture Film Festival would not include any nominated films without a standard theatrical release. The two films most affected are Martin Scorsese's The Irishman with 10 nods and Noah Baumbach's Marriage Story with six nods.
"The Irishman" and "Marriage Story" Oscar Nominations
The Irishman is also nominated for Best Director; Best Supporting Actor nods for Al Pacino and Joe Pesci; Best Adapted Screenplay, Best Costume Design, Best Cinematography, Best Production Design, Best Film Editing, and Best Visual FX. Marriage Story is also nominated for Best Actress for Scarlett Johansson; Best Actor for Adam Driver, Best Supporting Actress for Laura Dern, Best Original Screenplay, and Best Original Score.
The boycott from AMC and Regal is due to their long-running feud with Netflix. The chains object to the streamer's decision to release films on its platform before the planned theatrical dates. They prefer to have a 90-day window of exclusivity. Both chains did the same for the streamer's 2019 nominations. When it came to The Irishman, Netflix decided on a four-week limited theatrical run before its streaming debut. Despite the chains' refusal to screen the films, the streamer gave their competition access to the films ensuring Academy consideration.
The lack of compromise didn't slow down releases for both films as Netflix secured more than 1,000 screens for Marriage Story and at least 2,000 for The Irishman. The latter became one of the streamer's most popular films with 26.4 million households watching.
The Irishman and Marriage Story are available on Netflix.
Enjoyed this article? Share it!