Cloverfield Director Reveals the Meaning of the Film's Final Scene
The director of the 2008 found-footage film Cloverfield recently offered more information on the cryptic final scene often debated by fans.
---
It's been just over 15 years since the theatrical release of Cloverfield, a found footage phenomenon that offered a horror spin on the repetitious (yet still reliable) monster movie medium. At the time of its release, the film became an unexpected hit for Paramount, earning enough acclaim and profits to generate an entire franchise via 10 Cloverfield Lane and The Cloverfield Paradox, however devout fans of the original were left with 15 years of longing for something more substantially tethered to the events of the first film.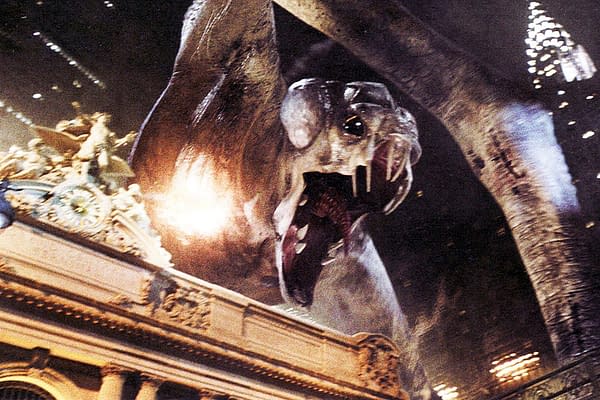 Then came the huge revelation that a proper Cloverfield sequel is officially in the works (recently teased by Cloverfield director Matt Reeves), and the sci-fi franchise received a much-needed return to what made it so iconic to begin with. As a little reminder for those with a hazy recollection, the first installment ended with a massive bombing of New York City to destroy the creature that's believed to have awoken from the sea. However, a final cut within the tapes revealed an object falling into the ocean weeks prior to the initial rise of Clover.
Cloverfield End Scene Reveal
The event had been discussed as being a possible satellite from Tagurato (an in-universe company responsible for endless trouble) and even possibly Clover itself, which Reeves recently addressed in an interview with Syfy for the film's big anniversary. Reeves tells the publication, "At the end of the movie, you can see the moment when it [the monster] comes to [Earth]… When we revisit that footage where they're on the Ferris wheel at the end, you can see the meteor flying down and hitting the ocean. That's actually the beginning of the baby being on Earth."
There you have it, folks! After a long time of analyzing the marketing info, Cloververse tidbits, and much more, it appears that Clover did, in fact, fall from space before growing into the feared creature we know today.
What hopes do you have for a Cloverfield sequel, and do you think we will witness an even larger creature similar to Cloverfield Paradox? Sound off below!