Major shots have been fired in the war between television and movies as Arrowverse producer Marc Guggenheim is planning to adapt True Lies for TV.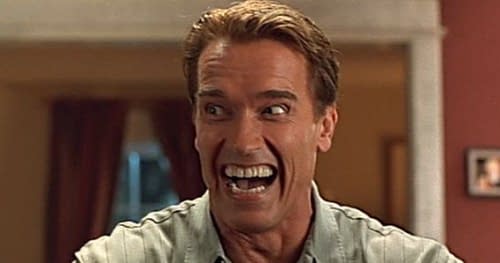 Usually, it's the movie industry that takes old TV shows and adapts them as tongue-in-cheek box office bombs starring Johnny Knoxville, but TV is fighting back! According to a report on THR, Fox has made a "put pilot" order for True Lies, a reboot of the 1994 film starring Arnold Schwarzenegger and Jamie Lee Curtis. James Cameron is set to executive produce.
The decision to adapt True Lies as a TV show was first suggested by grizzled TV veteran Jimmy Malone, who reportedly told Guggenheim, "You wanna know how to get Hollywood? They pull a knife, you pull a gun. They send one of yours to the hospital, you send one of theirs to the morgue. They make a Baywatch movie starring The Rock and it bombs big at the box office, you turn a James Cameron movie into a TV show at Fox that will last one season, tops. That's the television way!"
Unfortunately, Malone was gunned down by Hollywood thug Frank Nitti, who later bragged that Malone died "screaming like a stuck Irish pig." Guggenheim reportedly tossed Nitti off the top of building, asking, "Did he sound anything like that?"
There's no news yet on a cast or release date for the True Lies TV show, but stay tuned.
Enjoyed this article? Share it!