Seventh Son Lacks Any Real Magic
By Octavio Karbank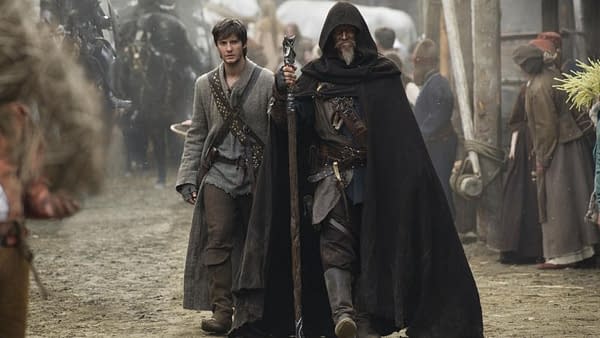 Time was that epic fantasy flicks were a dime a dozen. You had the greats like Conan the Barbarian, Dragonslayer and Legend to name a few. Nowadays? Barring Lord of the Rings, not so much. So when a movie like Seventh Son comes out, fantasy buffs can only hold their breaths in anticipation and hope that it will be crowd-pleaser. Unfortunately, despite the marvelous star power of Jeff Bridges and Julianne Moore, Seventh Son falls flat with a resounding thump.
It's the same old story; Chosen One gets recruited by old master and learns, in the span of minutes of screen time and one or two instances of "deep" soul searching, to fight the evil plaguing his world. The storyline has been used countless times before, if only because of its general appeal. For all practical purposes, it does not need to be changed. Some say that all the good stories have already been told and that the only thing you can do is tell those stories differently and make them, hopefully, better.
Director Sergey Bordov took this idea to heart and did his darndest to capture the essence of a "good versus evil" narrative. Yet when you have over four people working on the screenplay and the movie still turns out to be an unenthusiastic mess, you know you took a wrong turn somewhere. Having never read the novels, I can't speak definitively about whether they make for a decent read or if the movie is anything like the series. However, I can say that if you choose to adapt a straightforward fantasy novel into a movie and aren't throwing out any of the source material, there shouldn't be a problem. I'll have to take a peak at the books and see what's what.
As you begin to realize just how disappointing Seventh Son is, you've already invested too much time to simply leave the theater. Both Jeff Bridges and Julianne Moore, arguably masters of their craft, are clearly giving their all, but strangely, their combined acting powers don't assist the movie any. Rather, their acting, being one of the only enjoyable aspects of Seventh Son, comes across as almost awkward and exaggerated when standing side-by-side with the two-dimensional monsters and characters we encounter.
Ben Barnes, the star of the show, from The Chronicles of Narnia: Prince Caspian and the lesser-known Dorian Gray, delivers as honest a performance as possible given how he basically stumbles through every scene. He doesn't actually "look" bored, but the enthusiasm comes across as feigned and gets misinterpreted as bad acting. Yet Mr. Barnes is not a bad actor, so I'm left wondering what manner of direction he received during the film's shooting.
Like a late-night fever dream over on the SyFy channel, Seventh Son's caliber barely stands above that of a TV movie. With a multitude of great actors that also includes Djimon Hounsou and Olivia Williams, and an ever-abundant amount of campiness and cheese, the movie should've been decent, even if ironically so. It's a shame to see Seventh Son end up being such a bone-crushing disappointment. Better luck next time folks.
Octavio Karbank is a writer and bona fide Whovian. Living in Massachusetts, you can find him on Twitter @TymeHunter and his blog www.cozmicventures.com