Tenet and Wonder Woman 1984 Both Shift Their Release Dates
The summer movie season has seen yet another delay. Warner Bros. has announced that they are moving the Christopher Nolan movie Tenet from its July 17h release date to July 31st, according to Deadline. While that isn't exactly a huge move, it does show that the movie business is extremely nervous about returning to empty theaters during the ongoing COVID-19 pandemic. However, Warner Bros. isn't leaving July 17th empty as they are also re-releasing Nolan Inception into theaters for its 10th anniversary.
"We're especially thrilled, in this complex and rapidly changing environment, to be bringing Christopher Nolan's 'Tenet,' a global tentpole of jaw-dropping size, scope and scale, to theaters around the world on July 31," said Toby Emmerich, Chairman, Warner Bros. Pictures Group. "It's been longer than any of us could've imagined since we've seen a movie on the big screen, and to acknowledge Chris' fans as we count down to 'Tenet''s opening day, we are also excited to offer his masterpiece 'Inception' in theaters for its 10th anniversary on July 17."
This isn't a bad idea when it comes to testing the waters of whether or not someone is going to go to a theater considering the new restrictions. The National Association of Theatre Owners, whose convention CinemaCon was one of the cons canceled in March during the worst of the pandemic, has been pushing to keep the theatrical experience and is very much on board with this re-release idea.
"We are excited that our partners at Warner Bros. will offer a new generation of film fans the opportunity to enjoy Inception the way it was originally intended to be seen – on the big screen. Over these last months we have been keeping Warner Bros. closely informed of our work towards reopening our theatres in accordance with governmental health and safety requirements, and we are looking forward to audiences enjoying Tenet in our theatres all around the world on July 31st," said NATO in a statement about the news of Tenet's move. The theaters owners organization has been working closely with Nolan on the reopening of cinemas, the five-time Oscar nominee is a huge proponent of showing movies on the big screen.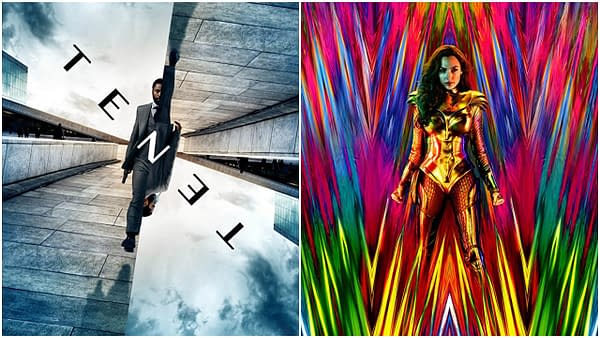 Tenet is not the only Warner Bros. movie that got a release date. Wonder Woman 1984 was supposed to come out last week but saw a delay to August 14th. However, according to The Hollywood Reporter, Warner Bros. has decided to shift the movie yet again to October 2nd. This release date did very well for Joker, but it's also the third time this movie been delayed. It was first moved from November 2019 to June 2020 because Warner Bros. wanted to replicate the success they had with the first movie. Then it had to be moved again due to COVID-19 and now a third time.
This delay doesn't make as much sense, though. Warner Bros. has enough confidence that people will see Tenet in July, so why move Wonder Woman 1984? Do they think the summer season is going to get too busy? Perhaps, there isn't any word about Disney moving Mulan's release from July 24th at the moment. The fall season is always packed and is probably going to be just as packed this year only with the added benefit of some of the summer 2020 movies moving into the fall like No Time To Die, for example.
Tenet, directed by Christopher Nolan, stars John David Washington, Robert Pattinson, Elizabeth Debicki, Dimple Kapadia, Aaron Taylor-Johnson, Clémence Poésy, Michael Caine, and Kenneth Branagh. It will be released on July 31st, 2020.
Wonder Woman 1984, directed by Patty Jenkins, stars Gal Gadot, Chris Pine, Kristen Wiig, Pedro Pascal, Connie Nielsen, and Gabriella Wilde. It will be released on October 2nd, 2020.