Another movie runs the hell away from 2020 today. The movie industry is trying to get back on its feet at the moment but things are still a mess when it comes to the ongoing COVID-19 pandemic. There haven't been any major releases at the box office domestically since March and while studios are looking to change that this weekend and next that doesn't mean it's time to bring out a bunch of movies at once. This isn't going to be the normal fight to get butts in seats but a fight to get a much smaller population to take the risk to see your movie and the fact of the matter is overwhelming the box office with a ton of new movies right now isn't really the right idea. So no one should be that surprised that Disney and 20th Century Studios have decided to move yet another movie to 2021. According to Deadline, The King's Man, the prequel to the Kingsman movies, has moved from its September 12th release date to February 26th, 2021. In retrospect, that isn't that surprising since Disney and 20th Century Studios have not been promoting the movie at all.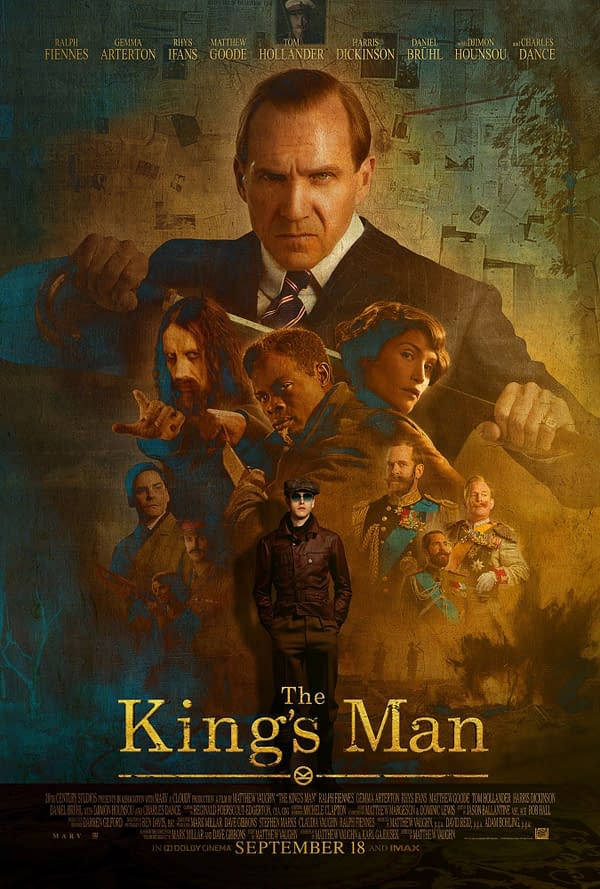 Disney and 20th Century Studios are dipping their toes into the big release pool this weekend with The New Mutants which is incidentally another forever delayed movie much in the same way that The King's Man is. Warner Bros. released Tenet in select markets internationally last weekend and will release the blockbuster in the United States in select cities next weekend. There are a lot of factors at play here and it'll be interesting to see if there is any desire to go to the movies.
As a collection of history's worst tyrants and criminal masterminds gather to plot a war to wipe out millions, one man must race against time to stop them. Discover the origins of the very first independent intelligence agency in "The King's Man."
The King's Man, directed by Matthew Vaughn, stars Ralph Fiennes, Matthew Goode, Harris Dickinson, Djimon Hounsou, Gemma Arterton, and Aaron Taylor-Johnson. It will be released on February 26, 2021.
Enjoyed this article? Share it!