Carol Channing, whose signature voice propelled her to stardom on Broadway and Hollywood, died at the age of 97 at her home in Rancho Mirage, CA.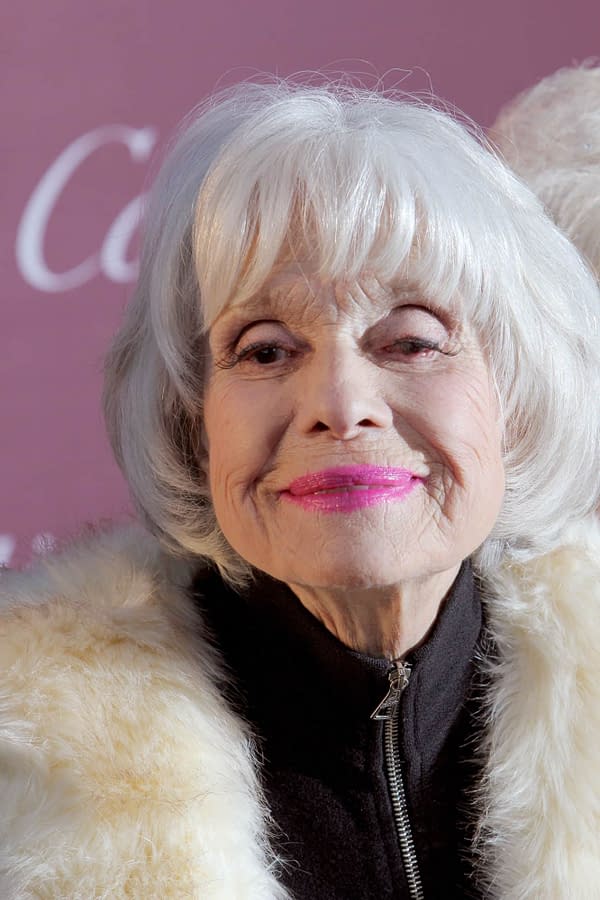 Channing's best-known roles were in Hello Dolly! as Dolly Gallagher Levi and Gentlemen Prefer Blondes as Lorelei Lee.
According to Channing's publicist B. Harlan Boll, she died of natural causes Tuesday and released the following statement:
"It is with extreme heartache, that I have to announce the passing of an original Industry Pioneer, Legend and Icon — Miss Carol Channing. Saying good-bye is one of the hardest things I have ever had to do, but I know that when I feel those uncontrollable urges to laugh at everything and/or nothing at all, it will be because she is with me, tickling my funny bone."
Her friends on Broadway including Lin Manuel, Bernadette Peters, and Viola Davis took to Twitter to pay their respects.
Carol Channing brought more magic into this world than just about anyone. She's completely irreplaceable. How fortunate are we that her artistry will continue to entertain us for generations to come. Carol, thank you for being so uniquely & gorgeously, You. #CarolChanning pic.twitter.com/Ew1L6HJNBZ

— Mitzi Gaynor (@TheMitziGaynor) January 15, 2019
Farewell, Dolly. When someone in the theater is as beloved as Carol Channing, it's hard to believe they will ever pass away.. But today, she has left us, full of song, happy memories and… https://t.co/6cocSVUpfe

— Ann Hampton Callaway (@annhcallaway) January 15, 2019
RIP Carol Channing. The original Dolly and a "helluva" performer! You had a great run! Rest well. https://t.co/6kMpQgonHt

— Viola Davis (@violadavis) January 15, 2019
Goodbye, Dolly. What an amazing run you had. ❤🕊
Carol Channing 1921-2019 ♡♡♡♡♡♡♡♡♡♡♡♡♡♡♡♡♡♡♡ Reposted from @AnikaNoniRose – My Life. Got. I felt so very blessed to be a part of this… https://t.co/ERq4g5v2HS

— Anika Noni Rose (@AnikaNoniRose) January 15, 2019
"When the whistles blow
And the cymbals crash
And the sparklers light the sky
I'm gonna raise the roof
I'm gonna carry on
Give me an old trombone
Give me an old baton
Before the parade passes by!"
Goodbye, Carol.
❤️❤️❤️❤️❤️❤️❤️❤️❤️❤️❤️ https://t.co/Z6KFQzrcWV

— Lin-Manuel Miranda (@Lin_Manuel) January 15, 2019
She was show business and love personified ❤️❤️❤️❤️ https://t.co/isNzReB733

— Bernadette Peters (@OfficialBPeters) January 15, 2019
I am so sad just lost my incredible original inspiration #carolchanning I saw her in Hello Dolly when I was 8 and she changed my DNA love you lady forever one of the greatest entertainers of all times

— Sandra Bernhard (@SandraBernhard) January 15, 2019
One of Broadway's greatest lights, Carol Channing, has passed on. She rejoins the heavens as a new diamond in the night sky, and as she famously sang, they are a girl's best friend. Goodbye and farewell, forever our Dolly. https://t.co/0u2zLcAnff

— George Takei (@GeorgeTakei) January 15, 2019
"We feel the room swayin'
While the band's playin'
One of you old favorite songs from way back when…"

You defined Broadway.
Rest In Peace, Carol Channing.

— RUTH BUZZI (@Ruth_A_Buzzi) January 15, 2019
Dazzling. Priceless. Durable. Flawless. A diamond.

Carol Channing, 1921-2019.
Rest in peace.

Pic with LL Cool J on stage at the 2004 Tony Awards.#CarolChanning #CarolChanningRIP pic.twitter.com/XMQwkR2fwj

— The Tony Awards (@TheTonyAwards) January 15, 2019
RIP Carol Channing. pic.twitter.com/WJNJIdp5il

— Gilbert Gottfried (@RealGilbert) January 15, 2019
So sad! She came from an era when individuality was prized and celebrated. Could she really sing? Who cares? She had star power to spare and gave joy and laughter for close to 8 decades. Truly one of a kind ❤️ #CarolChanning https://t.co/cGN1gDcOY0

— Matthew Bourne (@SirMattBourne) January 15, 2019
With over seven decades of performing, Channing's primary calling was the stage. She won a Tony for best actress in a musical in 1964 for Hello Dolly!. She was also nominated two other times the same year for The Vamp and Show Girl for the same category. Despite Channing's signature roles in Gentlemen Prefer Blondes and Hello Dolly! on the Broadway, Hollywood passed her up in favor of Marilyn Monroe and Barbara Streisand, respectively. Her Tony Award in 1964 bested Streisand's performance in Funny Girl.
Channing became a staple on Broadway with noteworthy performances in Wonderful Town, My Sister Eileen, Lend an Ear, The Millionairess. and Sugar Babies.
She took advantage of her Broadway fame appearing on film and television on occasion with her most critically-acclaimed role in 1967's Thoroughly Modern Millie, which garnered her an Academy Award nomination and a Golden Globe for Best Supporting Actress categories. She also won an Emmy in her TV special with George Burns in George Burns and Carol Channing.
Channing appeared in only 29 projects for film and TV, mostly in cameo roles or voiceovers. Her final screen role was a voiceover as herself in the FOX animated series, Family Guy in the episode "Patriot Games." Her only scene was as a contestant on Celebrity Boxing where she fights "Mike Tyson" telling him that she's going to "bop him."
Channing won three other Tonys in her career, including the Lifetime Achievement Award, and she was enshrined on the Hollywood Walk of Fame in 1960.
Channing is survived by her son, Channing Lowe and close family member, Sylvia Long.
Enjoyed this article? Share it!