J.K. Simmons Confirms That More Than One J. Jonah Jameson Appearance
When it comes to page to screen comic book casting, there is precisely one incidence where they 100% nailed it, and that's J.K. Simmons as J. Jonah Jameson. Simmons played Jameson in the first three Spider-Man movies for Sam Raimi and really brought the role to life. The Spider-Man films were part of the 1-2-3 punch of Blade and X-Men that kicked off the modern superhero boom that we are enjoying today. The Amazing Spider-Man series didn't even bother to try and recast Jameson as a character. As soon as Marvel announced that they were working with Sony Pictures to bring Spider-Man to the Marvel Cinematic Universe, everyone was wondering if they would recast and who they would choose. It turned out that Marvel pulled a fast one on all of us as the post-credits scene revealed that Simm0ns was taking on the role again, reframing Jameson as an Alex Jones type host of an InfoWars type version of The Baily Budgal. That is such an interesting angle, but Simmons made it sound like he wasn't entirely sure they were going to do another cameo appearance for him. That seems to have changed in recent months when Simmons was interviewed on SiriusXM's The Jess Cagle Show (via The Hollywood Reporter) be confirmed more than one appearance.
"Well yeah, [I'll be back as Jameson] that's the short answer," Simmons told his host. "There is a future for J. Jonah Jameson after a several-year hiatus. He showed up very briefly for those who were wise enough to stay through the credits of Far From Home. … There is one more JJJ appearance in the can, and from what I'm hearing, there's a plan for yet another. So hopefully, JJJ will continue now and forever."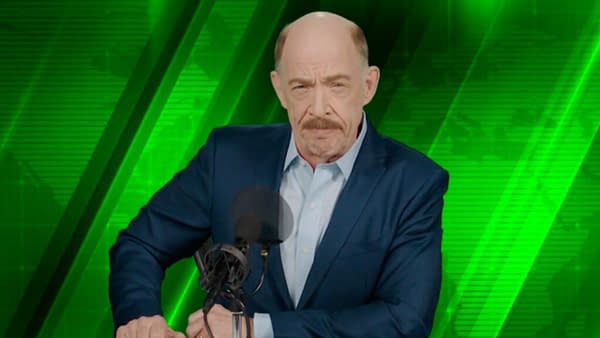 The cameos wouldn't be that hard to film even more so if they are just more "reports" that Jameson is giving. It's basically putting J.K. Simmons in front of a green screen and telling him to channel some Alex Jones into that J. Jonah Jameson's performance he was so infamous for. When will we see Jameson next? Maybe the now delayed Morbius or Venom: Let There Be Carnage? As we said, these scenes wouldn't be particularly hard to throw in as a post-credits scene for movies. Sony and Marvel seem to know they aren't recasting this role anytime soon, so they might as well take advantage of it.
Morbius, directed by Daniel Espinosa, stars Jared Leto, Matt Smith, Adria Arjona, Jared Harris, Al Madrigal, and Tyrese Gibson. It will be released on March 19, 2021