Boris Karloff's Guide to Holiday Shopping
Horror film icon Boris Karloff was born William Henry Pratt in East Dulwich, London on November 23, 1887. Legendary for roles such as the Monster in Universal's Frankenstein (1931) and as Imhotep in The Mummy (1932), Karloff went on to an incredible career of nearly 200 films. He was also a founding member of the Screen Actor's Guild. But for all of that acclaim and professional achievement, there's still something that often goes unnoticed: it should come as no surprise that a man whose birthday falls on Black Friday every few years was also the absolute master of the modern spirit of Christmas. His daughter Sara Karloff once noted, "He was fortunate enough to own two holidays — Halloween and Christmas."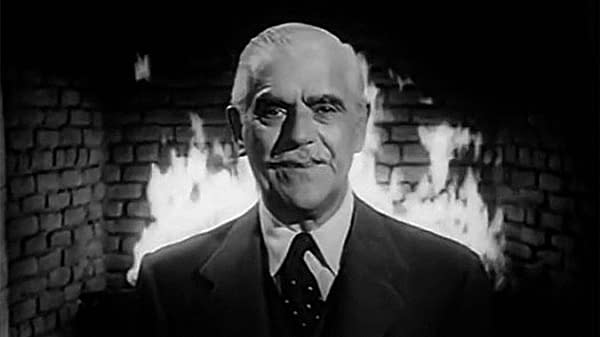 I couldn't agree more. Karloff, channeling Dr. Seuss for his role in voicing the Grinch, spoke this when obsessing about what he initially saw as the true spirit of Christmas in 1966:
…they'll play noisy games like zoozittacarzay,
A roller-skate type of lacrosse and croquet!
And then they'll make ear-splitting noises galooks
On their great big electro whocarnio flooks!
While the Grinch was proven wrong about Christmas back then, I noticed recently that the current version of this Christmas Classic has not been nearly so well received. Was the Grinch's first impression more right than wrong, over half a century later? It would seem to be an open question!
How the Grinch Stole Christmas is not Boris Karloff's only claim to modern, commercial holiday fame. It's no coincidence that the man who has become the voice of the modern holiday spirit was also born on a date that falls on Black Friday every few years. The next Karloff Black Friday will be in 2029, and the one after that will be in 2035. It's like leap year, only more rare, and more commercially terrifying.
So, I'd like to make the most of this rare seasonal holiday year by interpreting what this great holiday icon had to say on the subject in his 1940 film with Bela Lugosi on this matter, Black Friday — which of course applies throughout the holiday shopping season.
1: It's Not Worth Dying For
The premise of this film is set into motion when kindly old Professor George Kingsley (Stanley Ridges) is run down and horribly injured by criminals engaged in a high-speed getaway. Professor Kingsley is brilliant surgeon Dr. Ernest Sovac's (Boris Karloff) best friend, and he'd been crossing the street to pick up his one and only hat from the dry cleaner's shop. Ruthless criminal Red Cannon is also injured in the collision.
The lesson? No article of clothing, accessory, or any other give item is worth your life. Stores put hats on sale all year round.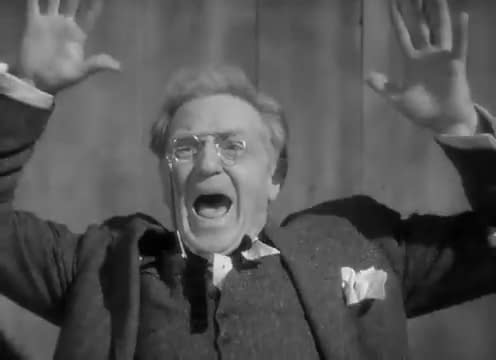 2: Keep Your Wits About You
As it turns out, the criminal Red Cannon had severe spinal injuries and other wounds that were soon-to-be fatal. Professor Kingsley had a brain injury. Given this situation, the brilliant Dr. Sovac did the only thing he could do: perform a partial brain transplant, putting a portion of Red Cannon's brain into his friend Professor Kingsley's body. The operation went as expected, and Red Cannon's mind slowly began to emerge within Professor Kingsley's body (we'll get to why this was expected shortly).
The lesson? Being of both sound mind and body will always serve you well, particularly during the holiday shopping season.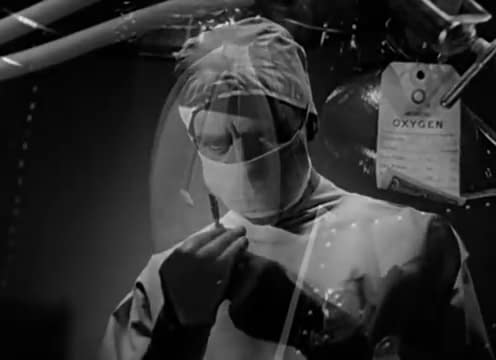 3: Seize the Moment
Dr. Sovac quickly learned the impetus for the car accident that led to his friend Professor Kingsley's horrible predicament: Red Cannon was being chased by other members of his gang, led by criminal mastermind Eric Marnay (Bela Lugosi), who had come to discover that Canon had hidden away some $500,000 on his own, which of course the rest of his gang thought they were entitled to have. On his deathbed, Cannon desperately told Dr. Sovac that if he saved him, Sovac could have some of that money. Sovac subsequently muses that if he got all of that $500,000, he'd be able to open a research hospital. Wanting both the money and to save his friend, Sovac hastily and in secret devises the partial transplant plan, under the assumption that Cannon's memories would begin to surface within his friend Professor Kingsley's mind — and they do.
The lesson? Both quick thinking and planning are essential on Black Friday, Cyber Monday, and for any major holiday sale. Check those deals out in advance, and then make a plan.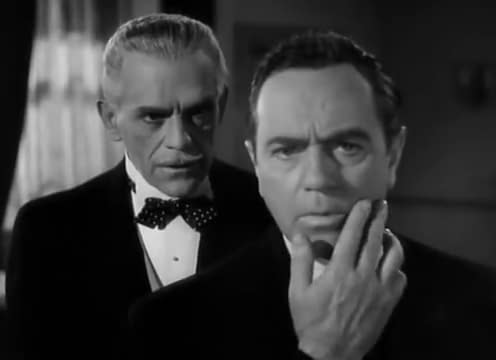 4: Hit the Ground Running (Metaphorically)
With Professor Kingsley on the mend after a successful partial brain transplant, Dr. Sovac takes him on a trip to New York City under the pretext that he needs a fresh environment to recover from his tragic ordeal in their small hometown. But Sovac's true motive is to jog Cannon's memories to the forefront of Professor Kingsley's mind. Predictably, that works a little too well, and Cannon's personality becomes dominant in Kingsley's brain. Cannon takes over Kingsley's body, reverts to type, and then begins to commit crimes.
Incredibly, despite being in the body of a sedate college professor who was recently run over by a car, Cannon returns to top criminal form quickly. In the scene shown here, Cannon leaps over the side of a building and hits the ground running, with police in hot pursuit.
The lesson? He who hesitates is lost, on Black Friday, Cyber Monday and every other day.
5: Diamonds May Be Forever, but Forever Doesn't Mean Much without a Good Watch
Reconnecting with some of his old life in New York City, Cannon discovers that a member of his old gang has taken up with his girlfriend. He resolves the matter by killing the man, taking the diamond-encrusted watch the man intended to give the woman that night, and using that as a pretext to re-introduce himself into her life.
The lesson? Some of the best holiday gifts combine fun with practicality.
I've left out a few fun little twists that make Black Friday well worth seeking out and watching. And never forget: even though Karloff Black Friday won't happen again until 2029, the spirit of this holiday icon will serve you well every holiday season, and all throughout the year.