Viking Wolf Trailer Shows Off First Norwegian Werewolf Movie
Check out the trailer for new #werewolf film Viking Wolf coming to Netflix this Friday. We have pretty high hopes for this one.
---
Viking Wolf is a new Norwegian werewolf film coming to Netflix in February. This Friday, as a matter of fact. Billed as the first werewolf film from the region, it is directed by Stig Svendsen. Judging from this trailer, they should make as many werewolf films as they can. This can potentially be one of the horror sleepers of the early part of 2023, and you can see the trailer for the film below.
Viking Wolf Synopsis
"17-year-old Thale must move with her parents to a small town when her mother gets a job at the local police department. After a student is brutally murdered at a party that Thale attends, she suddenly becomes a key witness. Who, or rather what was the killer?" As I always say, this world needs way more werewolf films. More so than other horror monsters, there is something tragic about someone who is cursed with lycanthropy, yet a feral beast is terrifying at the same time. When done right, the savage nature of the werewolf is one of the most challenging and emotionally charged stories in the genre. It was smart of Netflix to snag this one for the service and then even smarter to release it worldwide.
Viking Wolf is also such an amazing title. When someone hears that, who wouldn't want to see that? This apparently came out in theaters over there in November and did well, so this could be a huge hit for them, and I would be lying if I said that I hope that this kicked off a new renaissance for werewolf films. No comedy, no other monsters, just straight werewolf horror. Is it Friday yet?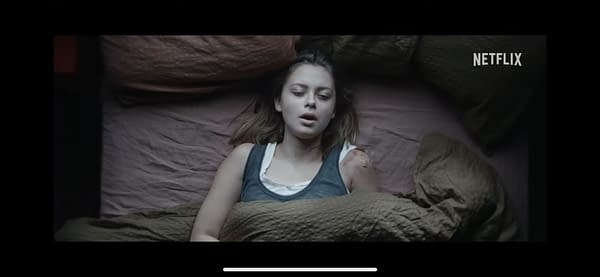 Viking Wolf will be on Netflix this Friday, February 3rd. It looks like the perfect film for a Friday night to me.