Walking Dead Producers Take AMC Lawsuit To The Supreme Court Of New York
Following yesterday's lawsuit filed in the Superior Court of California, Walking Dead producers Gale Anne Hurd, David Alpert, and Charles Eglee have filed a second lawsuit, this one with the Supreme Court of the State of New York. The California lawsuit was filed by Hurd and Alpert along with Glen Mazarra and Walking Dead creator Robert Kirkman.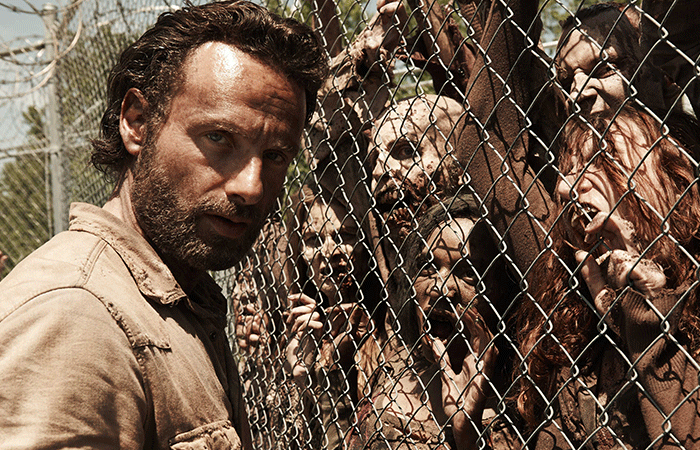 Like yesterday's lawsuit, and like former showrunner Frank Darabont's long-running lawsuit, the new suit alleges AMC "exploited their vertically integrated corporate structure to combine both the production and the exhibition of TWD, which allowed AMC to keep the lion's share of the series' enormous profits for itself and not share it with the Plaintiffs, as required by their contracts. Plaintiffs and the other talent behind TWD are the ones whose work to create, develop, write and produce the series has brought its huge success, but the fruits of that success have not been shared as they should be." The process of alleged creative accounting is known as "self-dealing."
The Plaintiffs in the New York case are asking AMC to "waive their exclusive New York jurisdiction contractual provision and agree that the claims asserted in this action may be asserted in the preceding California action."
In response to yesterday's filing, AMC released a statement saying:
"These kinds of lawsuits are fairly common in entertainment and they all have one thing in common – they follow success. Virtually every studio that has had a successful show has been the target of litigation like this, and The Walking Dead has been the #1 show on television for five years in a row, so this is no surprise. We have enormous respect and appreciation for these plaintiffs, and we will continue to work with them as partners, even as we vigorously defend against this baseless and predictably opportunistic lawsuit."
Kirkman, Alpert, and Hurd issued a joint statement in response:
"While we disagree with AMC on the merits of our lawsuit, we appreciate its statement that it will continue to work with us as partners on the continued success of The Walking Dead, Fear the Walking Dead and The Talking Dead. We also reaffirm our commitment to continue to make the best programs possible."
The filing of the lawsuit came just days after Kirkman's Skybound Entertainment announced it was ending its first look deal with AMC for new properties and moving to Amazon Prime instead.
AMC has up to 30 days to legally respond to the New York lawsuit. We'll keep you posted as more details become available. You can read the full New York complaint here.