Grey's Anatomy: Jessica Capshaw and Sarah Drew Leaving ABC Series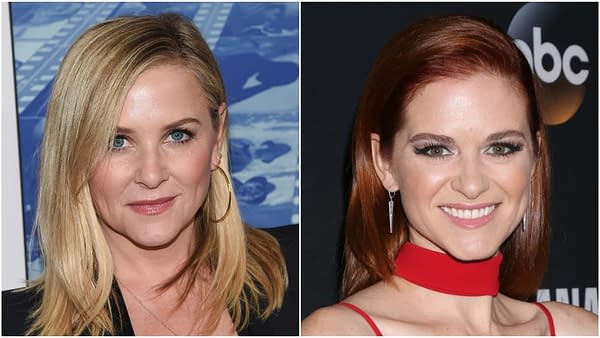 Looks like ABC's Grey's Anatomy will have two series regular "discharges" on their hands when the show returns for an expected Season 15: longtime cast members Jessica Capshaw and Sarah Drew will be leaving the long-running hit ABC medical drama at the end of its current 14th season. Capshaw has been with the show since season 5, nine of those as series regular Dr. Arizona Robbins, while Drew has been with the show since season 6, eight of those as series regular Dr. April Kepner.
Capshaw and Drew are the only series regulars departing the series this year; though sources close to the decision stress that Capshaw and Drew's departures were based solely on the show's creative direction:
"The characters of Arizona and April are permanently woven into the fabric of Grey's Anatomy thanks to the extraordinary work of Jessica Capshaw and Sarah Drew. As writers, our job is to follow the stories where they want to go and sometimes that means saying goodbye to characters we love. It has been a joy and a privilege to work with these phenomenally talented actresses." – Krista Vernoff
Drew's Dr. Kepner is an attending trauma surgeon at Grey Sloan Memorial Hospital, joining after the merger with Mercy West Medical Center after the merger; and shares a daughter with ex Dr. Jackson Avery (Jesse Williams). Capshaw's Dr. Robbins is Head of Fetal Surgery, an Attending Pediatric Surgeon and a board member at Grey Sloan Memorial Hospital, who was married to Callie Torres (Sara Ramirez) until she left at the end of season 12.
"It's always hard for me to say goodbye to any of my characters. Both Arizona Robbins and April Kepner are not only beloved but iconic — both the LBGTQ and devout Christian communities are underrepresented on TV. I will be forever grateful to both Jessica and Sarah for bringing these characters to life with such vibrant performance and for inspiring women around the globe. They will always be a part of our Shondaland family."

– Shonda Rhimes
For her part, Drew took to Twitter to thank fans for their support and reaffirm her love for the show:
https://t.co/IIBdRdCH9D pic.twitter.com/K9rdrcJXGx

— Sarah Drew (@sarahdrew) March 8, 2018
"I know you're sad. I'm sad, too. I haven't really had time to process the information. I've been with it for less than 48 hours so I'm not ready to say my thank yous and give an all encompassing statement. That will come later. For now, I'd like to say: I love you April and her story isn't over yet. And the really good news (for me at least), is that I'm here on set shadowing one of my favorite people, Kevin McKidd, with my beloved Grey's family all this week and next, so I get to process my feelings surrounded by the community that has nourished and nurtured me for almost a decade. For that I am grateful."
Created/executive produced by Rhimes and executive produced by co-showrunner Vernoff, Grey's Anatomy has not been officially renewed for a 15th season; though a greenlight is expected considering that series star Ellen Pompeo recently signed a new two-year deal. With her new deal comes a significant salary increase; with a signing bonus, producing fees, ownership in the show and other extras that could net her as much as $20 million per year.