If you haven't seen the season finale of Marvel's Agents of SHIELD, then go watch that while I tell other people about Graviton. Spoilers Warning.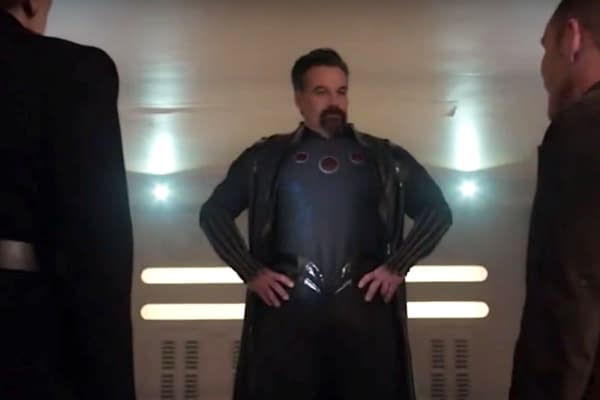 One of the coolest moments in the series was bringing the introduction of gravitornium in the first season all they way around to having Glenn Talbot (Adrian Pasdar) become the villain Graviton that the series hinted at so long ago. Not only did he get the powers, but he got the look of the graying temples, the full goatee and the alien costume. It was a definite geek moment for fans. And the last we saw of him, Daisy Johnson (Chloe Bennet) shot-putted him into space where he appeared to die. Or did he? Executive producer Jed Whedon talked to EW.com about the final fate of Talbot.
This is Marvel, and even more, it's Agents of S.H.I.E.L.D. I know we see him floating in space, but he's Graviton, so you never know.
Plus there was that force field around him when Yo-Yo (Natalia Cordova-Buckley) tried to attack him that could also be a factor. I think the bottom line is that had the series ended, no one would be asking. But now that there is a second season, the questions begin. When told that some folks really like the Talbot turn to Graviton, Wedon replied:
So if the rest of the fans feel the way you do, then chances are he might not be super dead.
Appropriately vague for a guy that writes about a super secret government agency.
Enjoyed this article? Share it!