American Horror Story: Apocalypse's Kathy Bates on Season Finale, Not Praying to Satan, BFF Joan Collins, and More
We've already seen what the future holds: fire and damnation, brought to you courtesy of Michael Langdon (Cody Fern) and his earth-bound army of influence The Cooperative (aka The Illuminati). Can Cordelia (Sarah Paulson), Mallory (Billie Lourd), Coco (Leslie Grossman), Madison (Emma Roberts), and Myrtle (Frances Conroy) tap into the powers needed to turn the tide in their favor and take down Michael?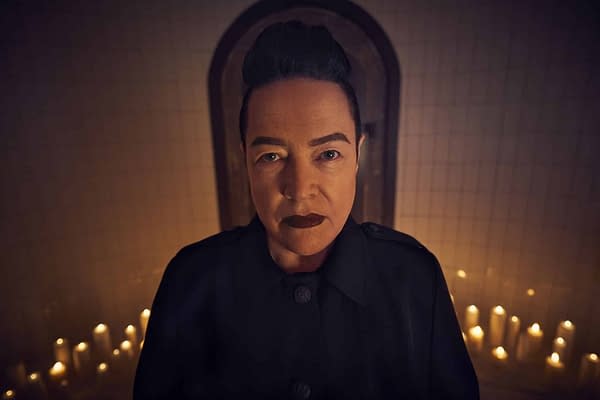 With FX's American Horror Story: Apocalypse season finale 'Apocalypse Then' set to bring the Murder House / Coven crossover to a close, Oscar-winning actress Kathy Bates (Miriam Mead) sat down with Entertainment Weekly to discuss returning to the series after a season off, what it was like playing a robot (easier than Satanist), working with Fern, what fans can expect from the season finale, and if she would return for American Horror Story's ninth season:
● For Bates, playing a robot was a surprise but not a big deal – but playing a Satanist? Well…
"I have to tell you, when I got that script and they had me praying to Satan, I called them down to my trailer and I said, 'Dudes, I am not praying to Satan. Cody can pray to Satan because he is Satan.' But I was quite serious about it because I'm a two-time cancer survivor and I'm not gonna screw around with that! [Laughs] It's bad enough I have to say 'Hail Satan' a couple of times. I know it's entertainment but I just didn't want to do it. But Tim [Minear] gave me a little more information about it but it was the same as it was every year. They give you kind of a rough idea and then you get a script and go, 'Oh my God! I didn't know that was going to happen!'"
● Though Bates wasn't a part of season 7 (joining the cast of Netflix's since-cancelled Disjointed), the actress found it easy reconnecting with the cast and crew – and even gained a new BFF:
"You know who I just adore? We've just fallen in love — Joan Collins. I just adore her. We've been out to dinner a few times. I just love her and her husband, Percy. They're just keepers. That's been an unexpected pleasure.
● If Mead is the darkest character she's played on American Horror Story:
"Yeah, she's…I don't know if I can really describe her because she's kind of a cipher in a lot of ways. I really plugged into the whole Mossad thing. She was a killer and she was emotionless about that. She was very robotic and mechanical and still, and I think she was full of fervor and rage and all those things. But it was kinda cool to play someone as still as that."
● On working with Fern (Michael Langdon):
"What I first noticed about him is how focused he is and how much research he does and how much he thinks about it. He gave me a beautiful book of Blake's drawings. We talked a lot about craft together and shared a lot of notes. He's well aware this is only like the third thing he's done. He's very excited. It takes you back to when you were young. I'm still passionate about what I do but it's fun to see him so excited and so focused and working so hard and being part of that. I think he's doing a wonderful job. I love his stillness. He's incredibly prepared and is really seizing the opportunity to do his very best."
● Bates believes viewers are in for a big surprise with American Horror Story: Apocalypse wraps up its season – if she's remembering it correctly (????):
"It's definitely coming to a head. That was one where we were shooting two or three episodes at the same time so I'm actually having a hard time actually remembering! [Laughs] But I think it's going to be really great from what I can remember. I think also it will be a real surprise."
● When asked if she would return for another season of American Horror Story, Bates left little room for doubt:
"I don't know. I'd love to! I love working with Ryan. He's such a genius. And Tim is a love. It's like coming home. I also really love John Landgraf and I love FX. It feels so good to be there."