Ahsoka: Rosario Dawson Series Eyeing Slightly Earlier Disney+ Debut?
Could Lucasfilm & Disney+'s Rosario Dawson-starring The Mandalorian spinoff Ahsoka be eyeing a streaming debut slightly sooner than this fall?
---
Could viewers be getting a chance to check out Disney+ & Lucasfilm's Rosario Dawson, Natasha Liu Bordizzo & Eman Esfandi-starring Ahsoka a little sooner than expected? Last month, offered a heads-up during an interview with TODAY with Hoda & Jenna. "'Ahsoka,' yeah, that's probably gonna come out in the fall. We're gonna have 'Haunted Mansion' come out in August first, and I just did some beautiful Disney Plus commercial voice-over. And I'm like, have I just become a Disney Princess?" Dawson shared. But now, in a rundown of the changes taking place over at Lucasfilm on the feature film side, The Hollywood Reporter adds that "The Mandalorian" spinoff "aims to debut in late summer." While it might not seem like much of a difference (and the streaming series could easily end up in the fall), a month or two in the streaming world is huge.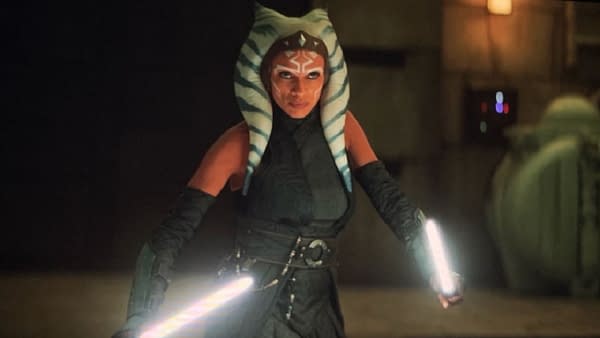 Ahsoka: Dawson & Bordizzo on What Viewers Can Expect
Last summer, EW sat down at "Star Wars Celebration" with Dawson and Bordizzo for some early intel on what viewers can expect from the streaming series:
Dawson on What Leading "Ahsoka" Means to Her: "What I love is that these little things we've gotten to hint at in these other shows, we get to more deeply explore. I think whether you've seen the previous animations or have only seen these episodes, she's still quite mysterious at this stage and point in her life. That's what I think is the most exciting part of Ahsoka having her own series here, that you get to better understand her in this part of her journey."
Dawson on Committing to Ahsoka Tano: "Every single day, you're not dialing it in. There's no dialing it in in Star Wars."
Bordizzo Is Still Amazed By "Quick" Audition Process After Submitting a Self-Tape: "It was a very, very quick process. I was suspicious! I was like, 'Wait, I have the offer for this?' I met Jon Favreau later, and he was basically like, 'I get it. I'm an actor. I don't want to put you through the ringer, and I don't want to make you do a million takes and auditions and tests. We know we want you, and that's it.' I really appreciated that."