Altered Carbon Season 1, Episode 1 Recap: Out of the Past
This article contains spoilers for Altered Carbon episode one – Out of the Past.
.
.
.
.
.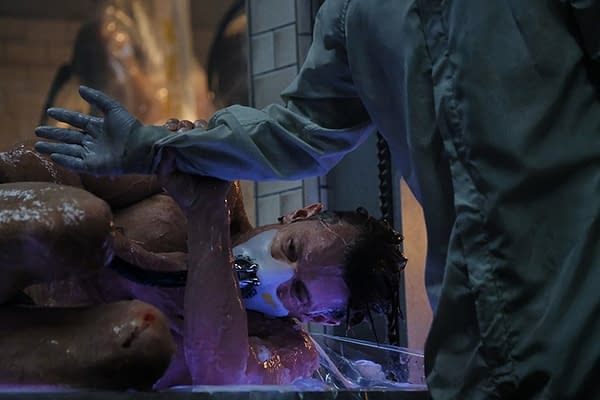 Netflix has rolled out their new science fiction/thriller series Altered Carbon based on the novels by Richard K. Morgan. I've recently finished the first novel in the series and am excited to watch the adaptation. I'm going to be recapping and reviewing the whole season this weekend, keeping in mind not only the story, but the changes from the source material. The first episode is basically the set up and introduction to the world. We meet Takeshi Kovacs (Joel Kinnaman), one of a breed of special solders called Envoys who can be deployed onto any world, immerse themselves into the culture and be ready to fight like a native in minutes. They were trained to be soldiers, detectives or anything else that was needed. Kovacs went astray of the Envoy Corps, becoming a criminal and being put on ice for 250 years. How he's still alive is that in this world you get a chip implanted in the base of your neck called a stack and it basically copies who you are. If you die, they can put that stack in a new body, called a sleeve. And you can live forever. The episode opens with Kovacs waking up in a new sleeve after having died a violent death that we flash back to as he is in a different sleeve (Byron Mann).
Kovacs awakens on Earth where he's never been before. He is taken by Kristin Ortega (Martha Higareda) to the house of Laruens Bancroft (James Purefoy) where we learn she's a cop and Bancroft has been alive for over 300 years. He wants to hire Kovacs to investigate his own murder. Bancroft was found dead, an apparent suicide, in his own office with his own gun, but he has a back-up system that copies his stack every 48 hours meaning that his death would not be permanent. He offers Kovacs a lot of money and his freedom to take the case. Kovacs says no, but Bancroft gives him a day to think about it. Kovacs heads into the city where he gets extremely high. Ortega follows him and the meet for a drink where we learn he has no intention of taking the case. He goes to check into an AI hotel with an Edgar Allen Poe theme called the Raven. He is confronted by Dimitri Kadmin (Tahmoh Penikett) and a half dozen gun men. After checking into the Raven, the Poe looking desk clerk (Chris Conner) turns on the hotel defenses and helps Kovacs take out the gun men. Ortega shows up with other cops and we learn that Dimitri is a high paid hit man, and since no one should be gunning for Kovacs 250 years later, someone must have really murdered Bancroft. Kovacs takes the case.
Besides the flashback to when he last died, we also see him talking to a few other people including the woman who trained him (Renée Elise Goldsberry) and a girl (Dichen Lachman) who says he's her big brother. We also get a glimpse of the original Kovacs (Will Yun Lee).
There are some big changes to the series from the books. The scene where Kovacs is killed he is with a woman who has her stack destroyed by a soldier he knows. In the novels, the woman doesn't suffer real death, she's someone Kovacs really loves and she's used against him later. This girl is dead. Kovacs affections now seem tied to the woman who trained him, Quellcrist Falconer. And his 'sister' that he hallucinates about appears to be Reileen Kawahara who he is very much not related to in the book. The person sent to collect him at the prison is a chauffer who has a think for Miriam Bancroft (Kristin Lehman), but now the character is Issac, their son. Some of these are important to the story in the book. Another interesting, yet less substantial change is the hotel theme. In the book it's called the Hendix and is themed after guitarist Jimmy Hendrix. Those are just the differences I've noticed so far. Back into the binge.