The Twelve Days of 'Sunny': Season 10, Episode 4 'Charlie Work' (Day #10)
On The Tenth Day of 'Sunny,' The Gang from Paddy's gave to me…
…ten crates of live chickens…
…nine ninjas fighting…
…eight hits of bath salts…
…seven Thunder Gun Express sequels…
…six stolen Omnibots…
…FIIIIIIIIIVE INCH WOUND ON CRICKET'S NECK!
Four times Charlie lost it…
…three huffs of spray paint…
…two months community service…
…and Dee Reynolds in a pear tree!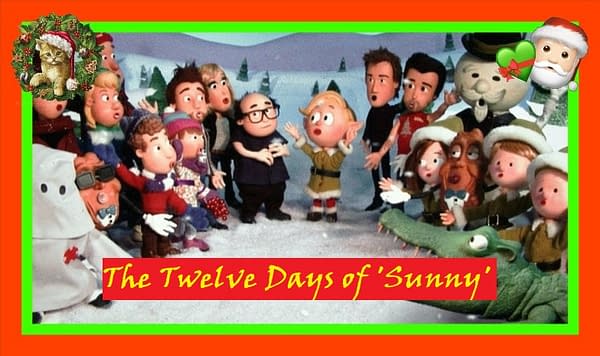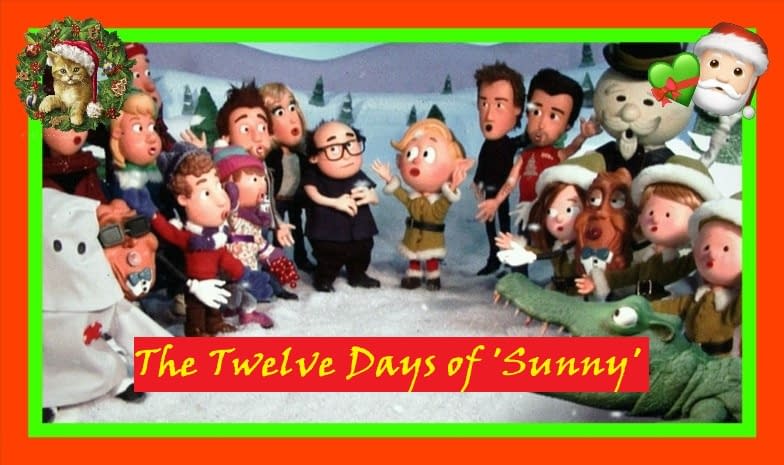 For the past thirteen years and thirteen seasons, The Gang from Paddy's Pub–Charlie (Charlie Day), Mac (Rob McElhenney), Dee (Kaitlin Olson), Frank (Danny DeVito), and Dennis (Glenn Howerton) – have quietly turned FX/FXX's It's Always Sunny in Philadelphia into one of the most shocking, tasteless, and subversive sitcoms to ever hit the airwaves. It's also one of the best.
Because for nearly 1-1/2 decades, The Gang's put themselves on the frontlines of major social and political issues with all the satirical subtlety of a hand grenade–with Dennis, Dee, Charlie, Mac and Frank usually finding a way to blow themselves up in the process.
"We immediately escalate everything to a ten… somebody comes in with some preposterous plan or idea, then all of a sudden everyone's on the gas, nobody's on the brakes, nobody's thinking, everyone's just talking over each other with one idiotic idea after another! Until, finally, we find ourselves in a situation where we've broken into somebody's house – and the homeowner is home!"

– Dennis (s07e09 'The Gang Gets Trapped')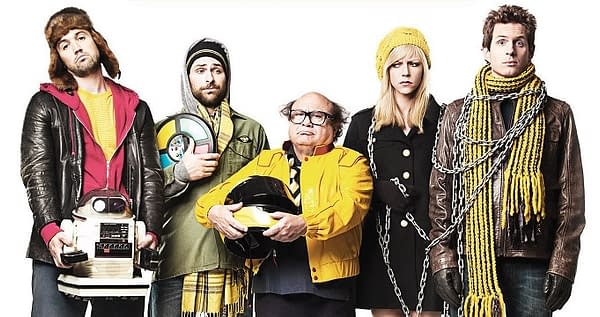 So with the holidays being a time to spend wih family and friends, the fine folks at Bleeding Cool are honoring South Philly's favorite sons (and daughter) with a rundown of our 12 favorite It's Always Sunny in Philadelphia episodes–one per season (sorry, season 13: you're sitting this one out until next year) – with "The Big Present" on Christmas Day as we crown an overall champ – and dump a little coal in your stocking in the form of the worst It's Always Sunny in Philadelphia episode of the first 12 seasons (spoiler: it's probably holding the crown next year, too).
It's Always Sunny in Philadelphia s10e04 'Charlie Work': Charlie tries to keep the gang working together to make sure Paddy's passes a surprise health inspection. Writer: Rob McElhenney, Charlie Day, & Glenn Howerton / Director: Matt Shakman
You could easily make the argument that It's Always Sunny in Philadelphia's main protagonist is Charlie – he's clearly the only one in the group with any semblence of a "moral code" (though there's not a high bar being set there, and it's not really a coherent one). Beyond that, the man's an idiot's idiot savant: master composer, practitiononer of bird law, and – as we see in this episode – the glue that holds The Gang and Paddy's Pub together. Granted, it's the kind of glue Charlie would probably huff through a sweat sock – but that's another conversation.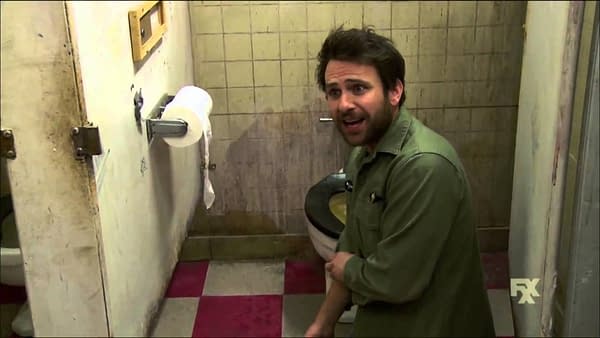 Faced with a new, strict health inspector (Francesca P. Roberts), an unexpected health inspection, and the rest of The Gang engaged in a scam involving airline miles, a whole lot of meat, and a posse of chickens, Charlie proves himself to be the "Jason Bourne" of bar scamming. Straddling two storylines and giving both equal comedic importance, this episode really gives Day a chance to shine (he'll have more opportunities at that in season 13) while reminding fans that Charlie's lot in life is more by choice than circumstance. So spare him your pity! He might drink paint and write in picture form – but he's also a lot more like you and I than we'd like to admit.
(stands on chair, hand on heart) Oh, Charlie! My Charlie!