Always Sunny Season 16: Charlie's "Americas," Familiar Faces & More
Charlie Day, Glenn Howerton & Megan Ganz has some interesting Season 16 updates in this week's episode of The Always Sunny Podcast.
---
With Rob McElhenney, Charlie Day, Glenn Howerton, Kaitlin Olson & Danny DeVito currently filming the 16th season of FXX's It's Always Sunny in Philadelphia, new episodes of The Always Sunny Podcast have become a great source for updates on how things are going. But it's a tough call sometimes because we don't want to strip-mine all of the Season 16 stuff from an episode that deserves to have listened to in its entirety. But… that doesn't mean we can't drop a few interesting bits of intel on what's to come. During the episode that dropped earlier today, Day, Howerton & Megan Ganz (McElhenney is out for this one) kicked things off by letting us know that they had been filming for the past two days. And while details were being kept under wraps, they did share that Day had spent most of his filming day with "his Americas on" (with Ganz explaining that "Americas" was a term Day came up with for Charlie's pro-USA clothes and it's now it the IASIP dictionary).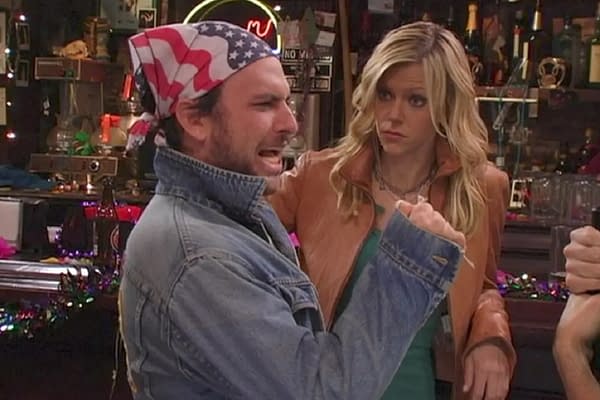 We then learned that Ganz will be directing two episodes this season and is currently spearheading the wrap-up of the last two scripts. Ganz updated that one of the scripts was sent to them, and she thought they were really going to like it (especially with it clocking in at 25 pages, which Howerton liked because it meant they had space for some improv). In addition, it sounds like we can expect some familiar faces from the IASIP ensemble to return this season, with Andrew Friedman (Charlie's Uncle Jack) name-dropped. One more before we leave you to enjoy the episode? For one episode this season, a "specific gag" will happen to Mac (McElhenney) that will result in how he looks physically and how he sounds (which was followed by laughter). Okay, that's good enough for now. The rest is for you to discover and enjoy. So here's a look at what Day, Howerton & Ganz had to share about how production is going on the 16th season and have a "bigger picture" conversation about acting:
Last week, McElhenney, Day, Howerton & Ganz took a look at S05E02 "The Gang Hits the Road," which sounded like it was recorded before The Gang started filming Season 16. The episode kicked off with a brief update on how things were going from a writing standpoint, sharing that some things have been finished while others are still being worked up (referencing how sometimes scripts are being worked on in trailers during season filming) while also adding that it's running pretty much how it always does at this stage of the game. And then, towards the end of the podcast episode (at around the 49:00 mark), Day shares some personal perspectives on how it feels walking back onto the set again and how it impacts his getting back into character, with McElhenney, Howerton & Ganz joining in to discuss how they get back into the swing of things. Here's a look back – and if you haven't subscribed to The Always Sunny Podcast's YouTube Channel, head on over here to make that dream a reality:
Little did we know that McElhenney, Day, Howerton, Olson, DeVito, and co-star/writer/EP David Hornsby (Father Matthew "Rickety Cricket" Mara) would be back at Paddy's at the end of last month… and that they would be kind enough to share some video of their return (which might still be up & running here and here). Here's a look at some screencaps to properly honor the special occasion: