The long anticipated tv adaptation of Neil Gaiman's seminal "American Gods" 2001 novel has finally arrived on STARZ.  After leaving the CBS Star Trek: Discovery show, series runner Bryan Fuller able to devote his full attention to the strange and wondrous tale, bringing the old as mountain characters to life.  This will be a lengthy recap review, be forewarned, subsequent episodes won't be so wordy.
The pilot episode of American Gods "The Bone Orchard" opens with Mr. Ibis writing the story of the first Nordic visitors to the Americas.  Fans of History's Vikings will certainly appriciate the brutal berserker sequences of the first 3 minutes, from the surprise arrowing to the ritual sacrifices of an eye to Wodin. By worshiping their home gods in this new place, the Vikings have brought them to life there. The high contrast and dark saturation of the scenes set the tone for the rest of the episode, as well as the blood.  So. Much. Blood.  Like Tarantino's sanguinated wet dream about a Robert Rodriguez movie.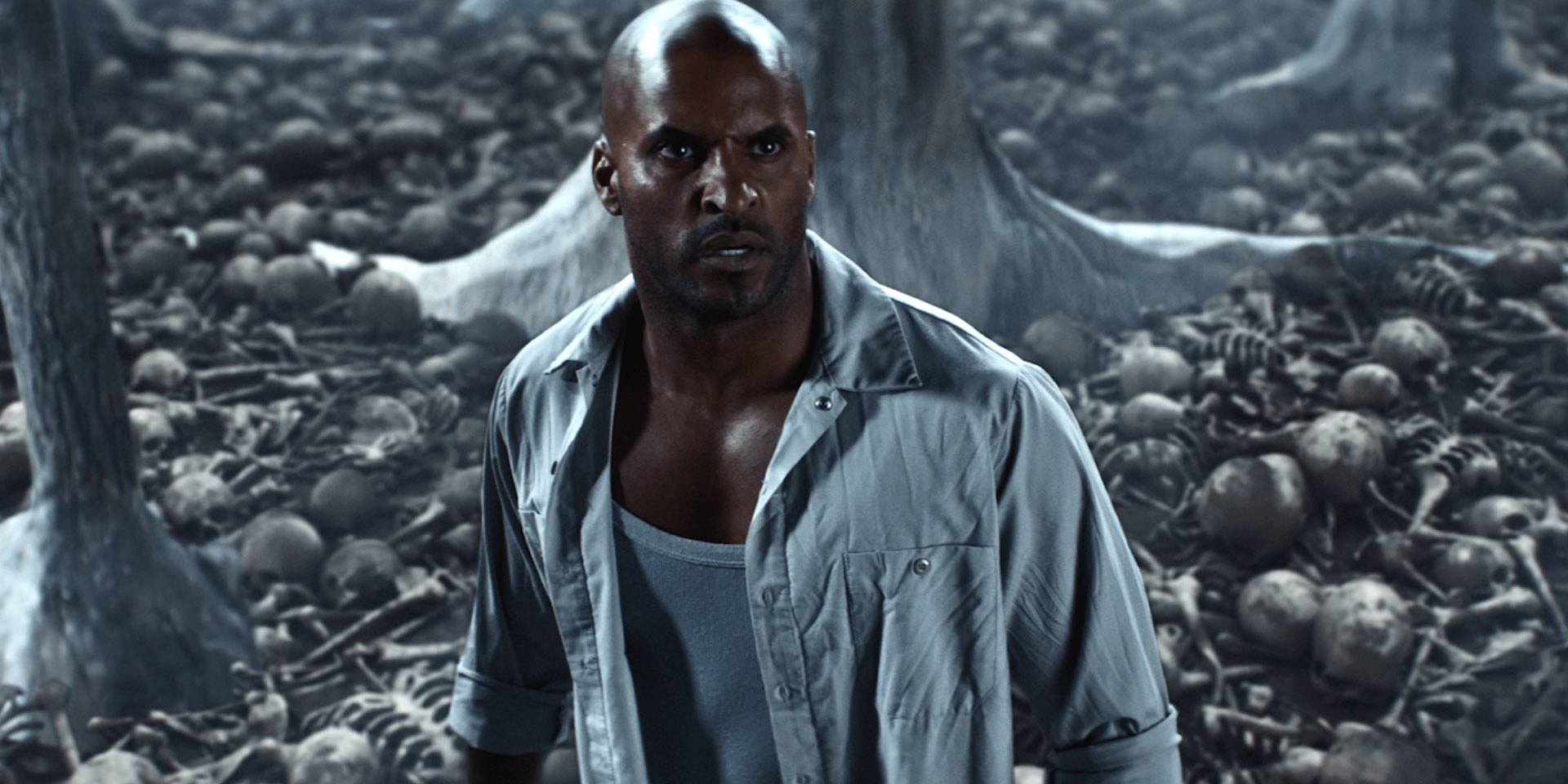 Flash to the present, and Shadow Moon (Ricky Whittle) is pumping iron in prison, telling his compatriot Low Key Lyesmith (Jonathan Tucker) he can't shake the feeling of an axe hanging over his head.  Shadow calls his wife Laura Moon (Emily Browning), sharing his concern that something doesn't feel 'right'. Laura calls Shadow 'Puppy', and tells him about the plans for a surprise party for his return.  Shadow falls into a troubled sleep, dreams showing a literal bone orchard under a galaxy sky, with a large bleeding tree almost beckoning him from it's spiky dropped noose.  He's brought out of his sleep by a guard coming to get him, for the unfortunate news that his wife has died in a car accident.  But also that he's being released ahead of schedule. Shadow runs into some trouble at the airport trying to get home for Laura's funeral, and we're treated to a flashback where Low Key shares the best advice: "Don't piss off those bitches in the airport".
Our first view of Ian McShane comes as a bumbling man, arguing with the desk agent, but of COURSE he ends up getting what he wants, a seat in first class.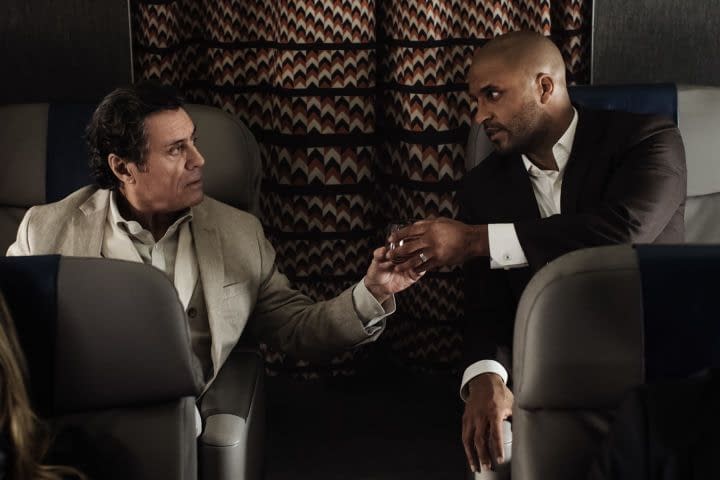 "I offer you the worm from my beak and you look at me like I fucked your mom?"  You REALLY can't get much better than that with dialog, now can you?  I'm not too proud to admit how giddy and thrilled this exchange made me.  Casual mentions of only having "one eye", and being "able to sleep anywhere" lead you to believe that Mr. Wednesday (as McShane introduces himself) is much more than he appears.  Shadow shows off his ability with a coin trick, and Mr. Wednesday offers him a job before falling into a deep sleep.  Another dark dream for Shadow, this time with a flaming eyed Buffalo slowly lumbering it's way towards him, uttering "Believe". He wakes, Mr. Wednesday is gone, and has to rent a car to drive the rest of the way towards his wife's funeral. On the other side of the country, Bilquis (Yetide Badaki) meets her date in a dark Los Angeles bar, and everything seems normal.  But then she takes him home, to her scarlet and crimson room, and proceeds to devour him with her lady parts.  This demon goddess of fertility needs her lovers to worship her, to feed her powers, their belief bringing her youth back after they slip inside her.  No really, dude's ENTIRE body disappears into Bliquis.  This will no doubt be a scene talked about for a long time.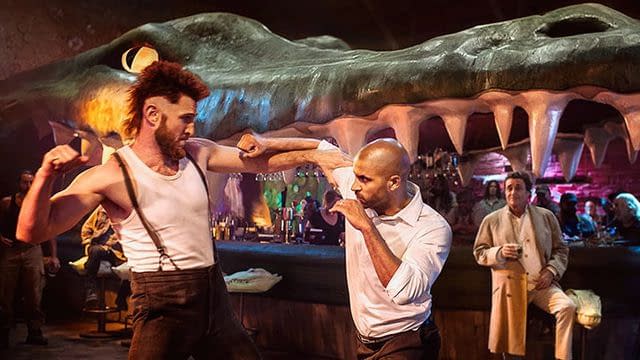 Jack's Crocodile Bar feels a little bit like Merlotte's (the bar from True Blood), questionable watering hole catering to who knows what type of creatures.  Shadow stops there for food and relieve himself, running into Mr. Wednesday.  The terms of a job come up again, and after learning his wife died ALONG WITH Shadow's best friend, he reconsiders the offer and agrees after losing a coin toss.  Wednesday gives him shots of mead, 'sealing their bargain', as Mad Sweeney (Pablo Schreiber) the Leprechaun does his best to paint Wednesday as a swindler. Mad Sweeney shows off his coin tricks, offering to teach Shadow the best tricks if they fight.  The fight of course happens, two not small men throwing hefty punches and breaking bottles a gold coin spins on it's edge. The fight goes on, and Shadow wakes up the next morning in a large boat of a car being driven by Wednesday. At Laura's funeral, Shadow is confronted by his best friend's wife Audrey, and finds out Laura died in a compromising position with his best friend.  All throughout the service and burial, he thinks about it until only he remains at her graveside and night falls.  He asks her out loud, all the questions you would in that situation, letting his grief and anger out.  After another confrontation with Audrey, who climbs on top of him in an effort to sleep with him, Shadow drops the coin from Mad Sweeney on Laura's grave and walks away.  The coin sinks into the dirt.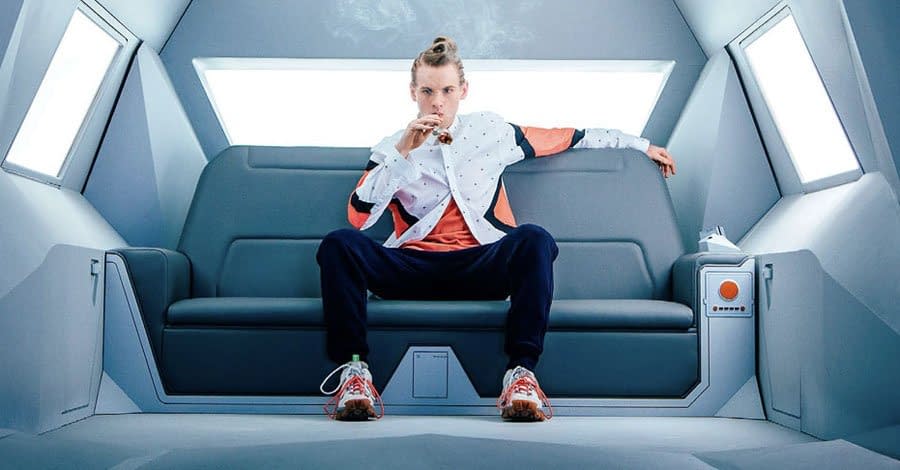 As he walks away from the grave, Shadow encounters a strange glowing box on the ground and naturally picks it up.  It turns into a robot face hugger, and transports him to a cubical limo, in habited by a pixel built young man called Technical Boy (Bruce Langley).  Tech Boy wants to know what Mr. Wednesday is up to, and does his best to get Shadow to talk.  Two Tron Legacy rejects beat the crap out of Shadow, leaving him outside in the rain, hanging from a tree while the water turns to blood. Luckily for our hero the rope breaks, and Shadow falls to the ground as some invisible force inside his attackers tears them apart from the inside, waves of blood falling from their bodies.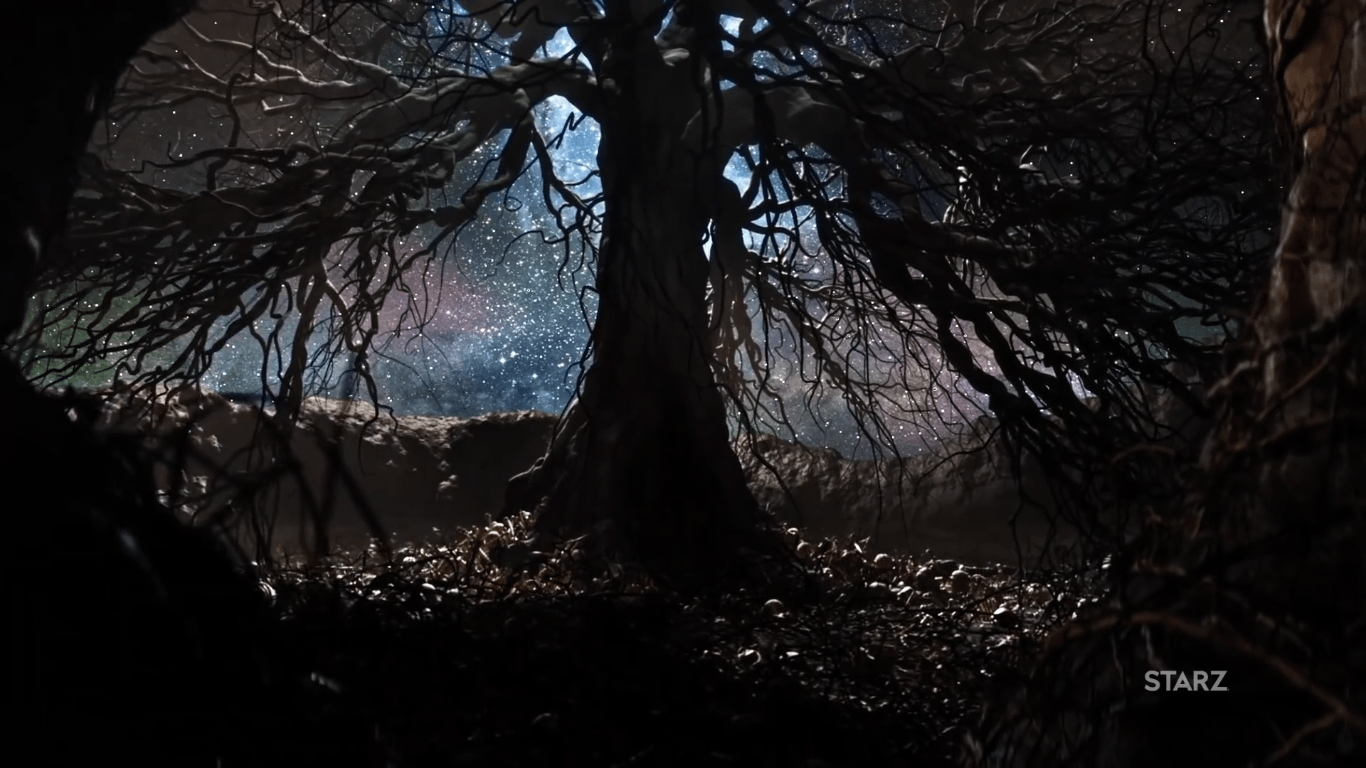 Pretty bloody for a series opener, but "The Bone Orchard" hits the tonality of the book rather well.  The casting thus far seems on point, McShane in a white suit as some type of questionable conman deity was a great move; he brings the character easily to life. Ricky Whittle seems perfectly out of place alongside Wednesday, his stoic sorrow plainly presented.
Without question, American Gods will raise some eyebrows from book readers and newcomers during this 1st season.  Early teases from Gaiman and others say the ending of the season will be VASTLY different from the book.  Episode 2 "The Secret of Spoon" will introduce even more characters and twists, so stay tuned to STARZ on Sunday nights.
Enjoyed this article? Share it!