On September 4th, Netflix is set to launch its new sci-fi drama Away, starring Hilary Swank as Emma Green and Josh Charles as Matt Logan, and now we have an official teaser that gives viewers a strong sense of the personal sacrifices being made for the proverbial "greater good." The streaming service series centers on Green, an American astronaut who must leave her husband and teenage daughter behind to command an international space crew embarking upon a treacherous mission that will teach the crew about hope, humanity, and how we need one another to achieve the impossible.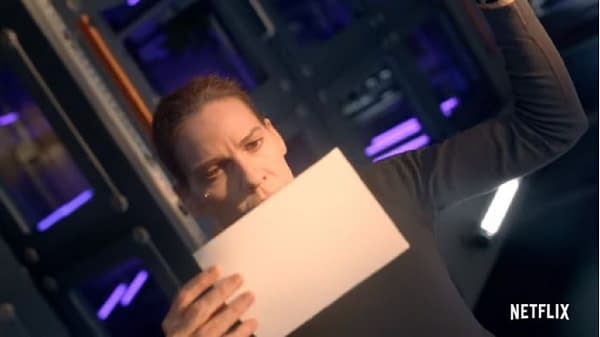 Talitha Bateman (Love Simon, Annabelle: Creation) stars as Alexis Logan, Emma and Matt's teenage daughter who must now come of age with her father facing life-changing health challenges and her mother in space. Ato Essandoh's (Altered Carbon, Blue Bloods) Kwesi is a British-Ghanaian botanist and the mission's only rookie astronaut. Mark Ivanir's (Homeland, Barry) Misha is a veteran Russian cosmonaut and the ship's engineer, while Ray Panthaki's (Gangs of London, Marcella, Colette) Ram is an Indian astronaut and the crew's medic, co-pilot and second-in-command. Vivian Wu's (Cathy Yan's Dead Pigs, Rúyì Zhuàn) Lu is a Chinese taikonaut and the crew's geologist and chemist.
In the near future, a manned spacecraft is sent to Mars. For this high-stakes mission, a crew of elite astronauts are assembled from around the globe. They hail from the United States, Russia, China, India, and Great Britain. If all goes well, they will be away from the place they call home and the people they love for three years. During this time, their relationships both on Earth and in space will be tested, as they struggle to stay alive and stay on track in pursuit of humanity's most important goal. The world will be watching.
Jessica Goldberg (The Path) serves as showrunner and writer, with Ed Zwick (Nashville, Jack Reacher: Never Go Back, The Last Samurai) directing the first episode. Series creator Andrew Hinderaker wrote the first episode, with Jason Katims (Friday Night Lights, Parenthood) also writing. Swank, Goldberg, Zwick, Hinderaker, Katims, Matt Reeves (Dawn of the Planet of the Apes, Cloverfield, Felicity), Adam Kassan, Michelle Lee (episode 101 only), and Jeni Mulein (for episodes 102-110) executive produce.
Enjoyed this article? Share it!