Black Lightning Cast Visits Ben's Chili Bowl in Washington DC
Over the Martin Luther King Jr. holiday, the cast of the CW's Black Lightning visited Ben's Chili Bowl, a historic African-American landmark in Washington, DC. The cast was in the nation's capital as part of a DC in DC Weekend where the new series had its world premiere.
Black Lightning was the first African-American DC superhero to have his own standalone comic title from creators Tony Isabella and Trevor Von Eeden. The attending cast included Cress Williams, Marvin 'Krondon' Jones III, Nafessa Williams, Chistine Adams, China Ann McClain, Damon Gupton, and James Remar.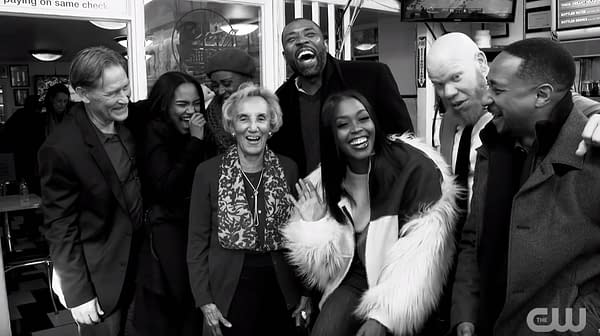 While at the restaurant, they talked to owner Virginia Ali, who told them the history of the community and how everything changed after the assassination of King. Ben's Chili Bowl was the only restaurant in the area that was allowed to stay open during the three-night curfew as the staff served food to both black activists and the police and firemen working the neighborhood.
Ali, now 84, opened the place with her husband 60 years ago this August. A few days prior to his inauguration in 2009, Barack Obama visited Ben's Chili bowl. There is a marker on the wall showing where he sat. Ben's Chili Bowl has been featured in many films and television series including the Pelican Brief, State of Play, and Kevin Hart Presents: Hart of the City.
Black Lightning airs Tuesdays at 9 p.m. ET on the CW.