The animation field has been made to confront the matter of fair and equal representation when it comes to voice acting. with this week bringing Kristen Bell (Central Park), Jenny Slate (Big Mouth), and Mike Henry (Family Guy) stepped down from their respective roles so that those characters could be voiced by a Black voice actor. Producers for FOX's The Simpsons released a statement pledging that white actors will no longer voice non-white characters on the long-running animated sitcom. Though the series wrapped up its sixth and final season earlier this year, Netflix's BoJack Horseman is another series to be added to the list of shows with white actors who regret voicing non-white characters. Alison Brie (Community, GLOW) took to social media on Friday to post her regrets over voicing Diane Nguyen, a Vietnamese-American character.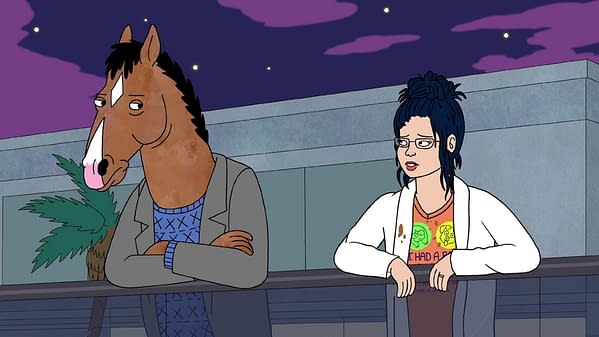 Playing the character for the series' entire run, Brie apologized for what she feels was a "missed opportunity," writing: "In hindsight, I wish that I didn't voice the character of Diane Nguyen. I now understand that people of color, should always voice people of color. We missed a great opportunity to represent the Vietnamese-American community accurately and respectfully, and for that I am truly sorry. I applaud all those who stepped away from their voiceover roles in recent days. I have learned a lot from them."
View this post on Instagram
Series creator Raphael Bob-Waksberg was asked about his decision to go with a white actor for the role of Diane, and he offered some background on the decision process and what he was looking get out of the character. By the time his social media statement ended, Bob-Waksberg wanted to make something clear to any fans out there hurt by the casting: "We should have hired a Vietnamese writer, and a Vietnamese actress to play Diane – or if not that, changed the character to match who we did hire." Here's a look at the start of the thread:
This is something I am happy to talk about! I can tense up when asked about my mistakes (because I'm worried I'll say the wrong thing) but it's good for me to reflect on them and I hope others seeing me do so will help them not make the same mistakes! THREAD (with links!): https://t.co/8mLehLoAHV

— Raphael Bob-Waksberg (@RaphaelBW) June 24, 2020
Enjoyed this article? Share it!