Breaking Bad: Bryan Cranston, Aaron Paul Swap Blue Sky for PopCorners?
It's official! Breaking Bad stars Bryan Cranston and Aaron Paul are reuniting on-screen for PopCorners for an upcoming Super Bowl ad.
---
Though Rihanna performing during the NFL, Apple Music & FOX's Super Bowl LVII Halftime Show is still the main reason why we're tuning into the big game, Frito-Lay's PopCorners has earned the honor of being the second-best reason to tune in. Why? Because it's feeding my obsession with Vince Gilligan's and Peter Gould's Breaking Bad/Better Call Saul/"El Camino" universe. Earlier this month, we learned that Bryan Cranston would be returning as Walter White, aka Heisenberg, to promote the snack chips (even getting a preview image). Now, we're getting official confirmation that Aaron Paul will be returning as Jesse Pinkman (or maybe they're both playing "heightened" versions of themselves?), and we've got a teaser to share that helps set the mood.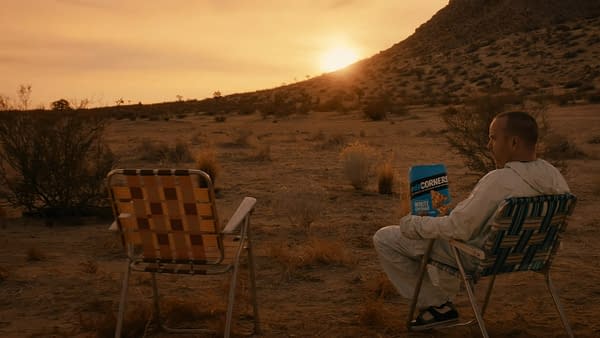 Here's a look at the newest tease that was released earlier today, followed by a look back to when we first learned about Cranston & Paul's return to the desert:
Here's a look back at the official image reveal via PopCorners' & Cranston's Twitter accounts, with more to come between now and February 12, 2023:
"I can definitely imagine revisiting it. Selfishly, I'd like to do so to keep this thing going," Gilligan revealed during an interview last year with Rolling Stone. But before folks start hitting social media looking for when the next spinoff will hit their screens? Relax because if Gilligan does return, it won't be anytime soon. "But without naming any names, I look around at some of the worlds, the universes, the stories that I love, whether they're on TV or in the movies. And I think there's a certain point, and it's hard to define, where you've done too much in the same universe. Just leave it alone," Gilligan elaborated. "And some universes are much bigger and more elastic. Ours is a very small one, Albuquerque, New Mexico, versus some of these worlds and series of movies and TV shows. The main thing I'm scared of is becoming too much of a one-trick pony. Yes, I could do more with this universe. And maybe someday I will, especially if I fail at everything that comes next. Then I'll come crawling back. But right now, whether there's more room to grow or not — and there probably is — I feel like it's time to do something new."