Castlevania Ending with Season 4 This May; New Series Being Eyed
For fans of Castlevania, the end of the week proved to be a mixed bag of bad news and (possible, long-term, down the road) good news. On the bad news front, Deadline Hollywood first reported exclusively that Netflix's first anime and second adult animated series will be ending its run with the upcoming 10-episode fourth season- set to premiere on May 13. But all may not be lost, with DH also reporting that the streaming service is considering a new series set in the same universe but with a new run of characters. Here's a look at the new key art for the season that was released on Thursday: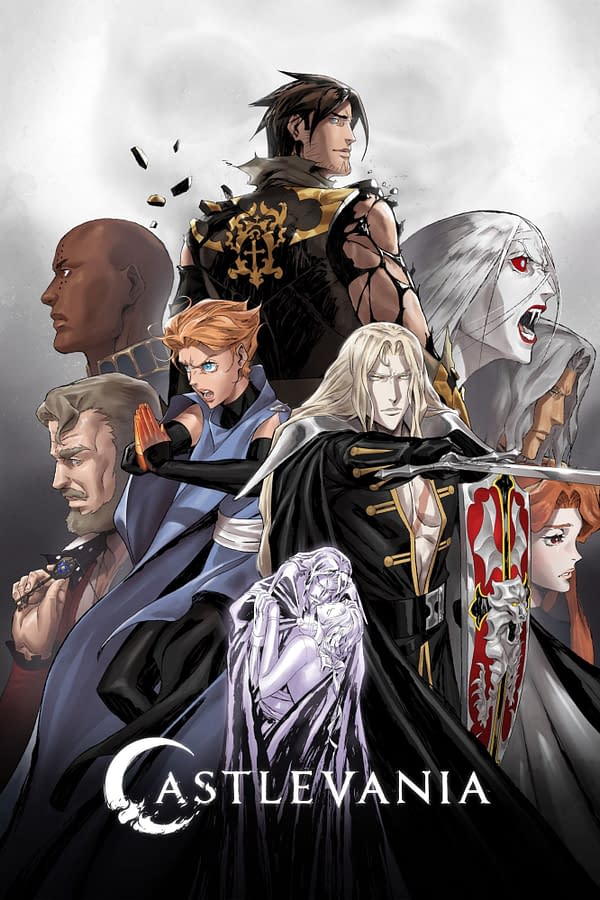 Facing allegations last summer of sexual misconduct (which he denied), author, comic book writer, and Castelvania series creator/writer/EP Warren Ellis and the streaming service parted ways- but not before Ellis had finished the scripts for the fourth season. Ellis will not be involved in the upcoming season beyond what he had already completed, and DH also reports that Ellis has not been a part of any of the conversations about taking the franchise in another direction. Here's a look at the newest teaser:
Inspired by the classic video game series, Castlevania is a dark medieval fantasy that follows Trevor (Richard Armitage), the last surviving member of the disgraced Belmont clan, who is trying to save Eastern Europe from extinction at the hand of Vlad Dracula Tepes (Graham McTavish). But Trevor no longer is alone, and now he and his misfit comrades race to find a way to save humanity from extinction at the hands of the grief-maddened Dracula and his sinister vampire war council. James Callis, Emily Swallow, Matt Frewer, Tony Amendola, and Alejandra Reynoso also star.