CBS All Access Releases Teaser Trailer for Season 2 of 'Strange Angel'
CBS All Access series Strange Angel will return for a second season this summer, and we've got our first look via teaser trailer at what's in store for the story.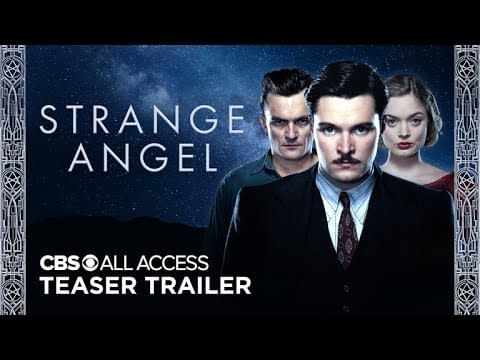 Executive produced by Mark Heyman and David DiGilio, Strange Angel stars Jack Reynor as Jack Parsons, a brilliant janitor directly involved in the foundation of rocket science who finds his life entangled with the life of occultist Aleister Crowley, who will be played in season 2 by Angus Macfadyen (Braveheart).
Season 2 of Strange Angel will deal largely with the US being fully engaged in World War II, which will transform Jack's rocketry work into a lucrative business and further entrenching him in the military-industrial complex. While Jack's career takes off, he and his wife Susan's devotion to their new occult religion grows, leading them to invite the sex cult into their Pasadena mansion and to forge a personal relationship with the group's notorious founder, Aleister Crowley himself.
Strange Angel is based on the true story of Jack Parsons (Reynor), a brilliant and ambitious janitor at a chemical factory in 1930s Los Angeles who dreams of building rockets that will take a human being to the moon. As he helps pioneer the unknown discipline of rocket science by day, by night, Parsons is pulled into Crowley's new occult religion that includes performing sex magick rituals to bend the world to his will and make his fantastical dreams a reality.

Rupert Friend, Bella Heathcote, and Peter Mark Kendall also star.